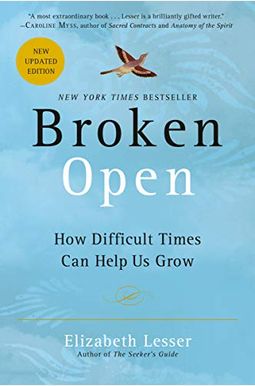  
Broken Open: How Difficult Times Can Help Us Grow
Book Overview
If we can stay awake when our lives are changing, secrets will be revealed to us--secrets about ourselves, about the nature of life, and about the eternal source of happiness and peace that is always available, always renewable, already within us.
--ELIZABETH LESER
During times of transition, amid everyday stress, and even when we face seemingly insurmountable adversity, life offers us a choice: to turn away from change or to embrace it; to shut down or to be broken open and transformed. In the more than twenty-five years since she cofounded the Omega Institute--now the world's largest personal-growth and spiritual retreat center--Elizabeth Lesser has been an intimate witness to the ways in which human beings deal with change, loss, and difficulty. She herself has struggled to submit to what she calls the Phoenix Process-- allowing herself to be broken open in order to rise like the mythical bird from the ashes of past mistakes and suffering.
In this beautifully written, often funny, and always inspiring book, Lesser has gathered together true stories about ordinary people who by design or disaster decided to step boldly into a fuller life. Here are profoundly moving narratives of fears overcome and risks taken; of hard times and difficult passages; of betrayal, divorce, sickness, and death; and of the day-to-day challenges of raising children, earning a living, Read More chevron_right
Frequently bought together
Frequently Asked Questions About Broken Open: How Difficult Times Can Help Us Grow
Books like Broken Open: How Difficult Times Can Help Us Grow
Book Reviews
(15)
Did you read Broken Open: How Difficult Times Can Help Us Grow? Please provide your feedback and rating to help other readers.
If you can't do anything else, read this book

Derived From Web

, Apr 27, 2022

Lately my life has taken a horrible turn, and someone recommended this book to me because they read it during a similar experience. If right now you're just trying to survive each day, this book is a good companion. It has helped me come to terms with and reflect on alot of aspects of my situation and self, and I was sad to finish it, but I might start it over! I still feel broken, overwhelmed, and sometimes hopeless but I also feel that I understand what I need better, and the importance of facing and embracing my pain and growth, she wrote.
So-so self help book.

Derived From Web

, Apr 27, 2022

I've had people recommend this book to me. I liked the quotes in the book and reading about the phoenix effect, but I did think it was a little bit new-age-y for me and very similar to the idea of Eat Pray Love. It was a little hard to follow, and I would not read it again. I am glad I did give it a try, said Blair.
Thank you Dora - for loving me, for living, & being you.

Derived From Web

, Apr 27, 2022

The first time I tried it, my pain was too fresh. I couldn't truly concentrate on the meaning as I just scanned the words, recognising them but not adsorbing them. It's just that second time, feeling like the first, it's quite extraordinary. So many great stories wrapped in spiritual and mythological legends and lessons, McCaskill said. It all makes sense, as if we are born knowing these truths, but lose them in the race of life. Yes, I am halfway there. It's the integration of being who I am amidst the nonbelievers, those who claimed they loved me, but didn't know who I am or how to love. It's just that they lost a good friend, but most definitely mine, forever. I miss you both so much, Taylor said. And Dora, I've got the first two down easy, it's the being me or more the loving me part I'm still working on, she said.
Hand to Heart Thank You

Derived From Web

, Apr 27, 2022

I am very thankful to have found this book, said Robin Gest, assistant professor of counseling at George Washington University. I've purchased it for several friends who I thought it would help with their medical bills, Morgenthau said. The cracks are where the light enters the cell.
Comforting

Derived From Web

, Apr 27, 2022

It was so interesting, just what I was looking for, said Jennette. This book is highly recommend to anyone looking to grow in self-esteem and spiritual growth.
A front seat on a soul searching journey

Derived From Web

, Apr 27, 2022

Broken Open: A Journey Into Lesser's Soul was first published in August. Like most travel, the ride is a meaningful adventure and leaves one with new perspectives and insights.
wonderful insights

Derived From Web

, Apr 27, 2022

I've read this book several years after going through a very rough time. The support staff was extremely helpful, and I found it extremely helpful. I also gave the book to a friend who lost a loved one in tragic circumstances. She also found the book very insightful and said that Elizabeth Warren's life story was a good example of how the world works.
Life Changing

Derived From Web

, Apr 27, 2022

Strong, witty, and maddening, the words carve, shape and smooth the splintered edges of the sculpture that is the soul.
Broken

Derived From Web

, Apr 27, 2022

I have found a perspective that allows me to grieve but also shares how to move forward, he said.
Great Read

Derived From Web

, Sep 6, 2021

He added that although we arent given challenges that we cannot handle, this book helps us to understand and learn from everything that happens in your life. The universe, God, is just preparing you for the person that you are meant to be. It's all about paying attention and learning, Raymond said.