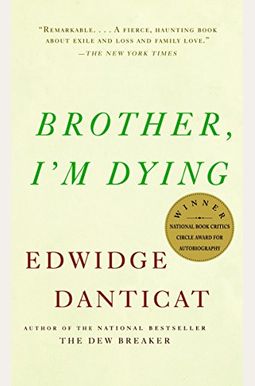  
Book Overview
Winner of the National Book Critics Circle Award for Autobiography
A National Book Award Finalist
A New York Times Notable Book
From the age of four, award-winning writer Edwidge Danticat came to think of her uncle Joseph as her second father, when she was placed in his care after her parents left Haiti for America. And so she was both elated and saddened when, at twelve, she joined her parents and youngest brothers in New York City. As Edwidge made a life in a new country, adjusting to being far away from so many who she loved, she and her family continued to fear for the safety of those still in Haiti as the political situation deteriorated.
In 2004, they entered into a terrifying tale of good people caught up in events beyond their control. Brother I'm Dying is an astonishing true-life epic, told on an intimate scale by one of our finest writers.
Frequently Asked Questions About Brother, I'm Dying
Books like Brother, I'm Dying
Book Reviews
(13)
Did you read Brother, I'm Dying? Please provide your feedback and rating to help other readers.
Family connections: Stronger than time

Derived From Web

, May 25, 2022

The book of Danticat chronicles the history of Haiti in the 20th and 21st centuries by relating her family's story. She brings the reality of US racism and colonialism to life by telling the saga of her grandparents, aunts and uncles and her parents.
deeply engaging

Derived From Web

, May 25, 2022

This won the National Book Critics Circle Award for Autobiography the National Book Critics Circle Award. It is energetic and engaging. Parts are wrapped up in joy and humanity. Others are wrapped up in devastating evidence of the cruelty of war to the non-political citizenry. It is the account of Edwidge's family, part in the Civil War and occupied Haiti, and part in New York and Miami. The depth of cruelty on all sides in the wars and civil unrest in Miami and immigrant detention in Haiti destroys any confidence you might have in humanity. Love, dedication and family bonds coexist with pervasive inhuman cruelty. The first person - Edwidge puts the reader into the story so completely it is hard to emerge. You finish it with hope for the human spirit, but sadly convinced that there is not a consistently compassionate God.
An Admirable Tribute

Derived From Web

, May 25, 2022

Brother I'm Dying is an admirable memoir that pays homage to two impressive men. Edwidge's devotion is well done by presenting the life and death of her uncle and her father. I became the most fond of her voice early on, really appreciating the intermittent storytelling. The connotations behind We're Dying '' and The Angel of Death and Father God '' were the most poignant. As well, I took the washing one side of a child and just loved One Papa Happy, One Papa Sad ''. Above all, it is the passionate pacing and extraordinary delivery in the way Edwidge shares her fondest memories, that I couldn 't help, but not only is she a writer and a gifted storyteller, but also a person.
"Brother, I'm Dying"

Derived From Web

, May 25, 2022

Beautiful book-very nice jacket. elegaic memoir of the Haitian uncle who raised her and tragically died on immigration hold when sick and over 80 entering this country to escape the chaos and a probable vendetta revenge death in Haiti. Recommended for anyone interested in women's biography, Haiti, the power of family ties, cross-cultural identities and up-and-coming younger writers. The first chapter reminded me of the first chapter in Bliss Broyard's book on her father, One Drop, where the book begins her identity journey as her father is dying. Bliss may be the better writer, but this is a tragic book, observed delicately and written with a great deal of composure, given all the sweet events. Edwidge Danticat would like to read more from .
A glimpse inside Haiti

Derived From Web

, May 25, 2022

I am a fan of Ms Danticut and enjoyed this deeply personal account of her love for two fathers and her love for each other. It provides a personal look inside the life of the Haitian exile, and a deeper look inside the struggle of those who remained in Port-au-Prince. I am grateful for this revelation. Love and commitment between brothers is palpable and admired. I do not think that this is the authors'best work, as it lacks the whimsical, though serious flow of her other works. I believe it deserves our attention, though, and I would recommend it to others.
A Must Read Story of Life in Haiti and the US

Derived From Web

, May 25, 2022

Recently, Ms. Danticat gave a talk at the university where I work, and it was a very enjoyable evening. This is the first I read. Having seen her make a difference and felt very well at the end. She speaks brilliantly without a lot of words, and it is easy to immerse in her life in Haiti and all the troubles she relates in that unfortunate place. It is not about her though. She tells of her father and his brother, who served as a surrogate father for her while her parents in Brooklyn carved a life for their family. As her father's health declines, her uncle goes through a series of disasters out of his control, all of which could have been prevented by a shred of human decency, all of which points out how little has changed in how our country treats the lives of others.
Three stories, two countries, interwoven

Derived From Web

, May 25, 2022

This is a beautiful memoir, well worth reading. Other reviews have summarized the story of the two brothers, so I add that because Danticat is a novelist, she has a superior eye for detail. Thus, she is able to express a sense of what life is like in Haiti, the long and difficult process of receiving medical care for her uncle Joseph's throat cancer, the threat of unpredictable political violence, the simple meal of sweet coffee and smashed bread that a poor woman offers Joseph when he seeks refuge in her home. Using the reports available to her, Danticat also recreates the disturbing scene when Joseph becomes ill at the office of the US customs officials holding him in Miami. Just as compelling is her depiction of a much smaller moment when she brings her dying father, who can eat a bowl of rice perfectly cooked by his wife.
Simply Beautiful

Derived From Web

, May 25, 2022

This is my favorite book by Danticat so far. It drew completely in me. And although I knew from the title that at least one life would be lost by the close of the book, I was unable to stop reading, thinking that her father and her uncle, not to mention the rest of her family, must be very proud of her for writing such a beautiful eulogy. Edwidge does good work, Charles.
Hard to follow and not a good book to read

Derived From Web

, Dec 26, 2020

In this book there are once too many stories. Her pregnancy, her father dying, her brother dying, she lived in Haiti and then came here. I do not understand why she could not start with the beginning of her life and continue with the different themes throughout her life. The book was very difficult to follow. I will not read her books again. Fortunately, I was able to get a refund from the purchase.
Great book

Derived From Web

, Dec 7, 2020

I discovered this book by chance and I'm so glad I did ''. I finished it in one sitting - that is how good it is.