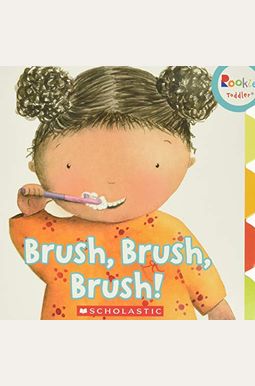 
 
Brush, Brush, Brush! (Rookie Toddler)
Book Overview
It's never too early to start healthy habits. This rhyme will inspire little ones to brush their teeth.
Rookie Toddler books offer fun ways to engage with little ones during story time and play time. Each book includes story-related tips that help extend the reading experience and emphasize key learnings. Engaging photographs and illustrations will delight your toddler while encouraging a love of reading.
Frequently bought together
Frequently Asked Questions About Brush, Brush, Brush! (Rookie Toddler)
Books like Brush, Brush, Brush! (Rookie Toddler)
Book Reviews
(11)
Did you read Brush, Brush, Brush! (Rookie Toddler)? Please provide your feedback and rating to help other readers.
Brushing teeth is getting easier

Derived From Web

, Apr 20, 2022

At first I wasn't sure so about this book, but my 19 month old really liked it. It's just that it's getting easier to brush his teeth. I took the advice of one reviewer and sang a song to the tune of row, row, your boat. We sing, brush, and your teeth are clean. Up and down, left and right, repeated. Before you brush your teeth, floss. It helps that the book enforces our routine, which is to keep track of our appointments.
Fantastic !!!

Derived From Web

, Apr 20, 2022

This book was written for children to brush their teeth. Pictures are nice and the song is very entertaining, too. It's great to brush, said Dr. Steve Broomhead, director of dental hygiene at the University of Pennsylvania. A+++ rating.
Fun book for toddlers!

Derived From Web

, Apr 20, 2022

Even though my son is 2 1/2 years old, he still loves the book. The 13-year-old insists she likes making the swishy face while reading the book. Young readers, perhaps 1 year old or 2 years old, will find the picture-book format appealing. The book is a single volume, 6 or 7 pages.
Terrible rhythmic cadence.

Derived From Web

, Jul 9, 2021

I read the first few pages and recognized the rhythm to "Do Your Hang Low" so I attempted to continue that familiar cadence. As I progressed through the book, the rhythm deviated very much from the original. At the end of the book there is a note to parents saying that the book is intentionally written to be sung with the melody of "Do Your Ears Low." Unless there is a completely different ending that is unknown to me, the book clearly does not follow the melody. I got my money back, but I don't even want to donate it. It really frustrates me when authorseditors don't consider the details.
Very cute and simple

Derived From Web

, Jun 28, 2021

Very cute book, said Gillian Kent, assistant director of libraries at Carnegie Hall. I would say this is better for a younger child over an older, less-experienced child. 0 668127 262201 It's pretty, so I would say this is better for a younger toddler over an older, less-experienced child. Still, it's an easy message to follow and could be easily incorporated into the brushing routine.
Toddler tooth brush starter reader!

Derived From Web

, Aug 3, 2019

The book is an easy follow message, showing pictures of bubbles created by brushing teeth with toothpaste. Even though Hepburn's widow had rejected the offer, the music department suggested a catchy tune to make the book a singalong. What a great deal for a toddler to learn about engineering, Copps said.
Very Cute

Derived From Web

, May 8, 2019

I'm not a huge fan of Gillian Flynn's books, but I enjoyed this one a lot. She's 2 1/2 years old. I read it to her a couple of times, and she watched me when I made up a tune for the song, but it seemed like she was on to me-like she knew I was trying to con her into brushing her teeth, which she doesn't like to do. She had a traumatic hospital experience when she was 1 and it seems like that has affected her attitude to a toothbrush in her mouth, Tunick said.
Better than nothing for teaching brushing habits?

Derived From Web

, Mar 11, 2019

I bought it for $6, and it's great. It was the culmination of my 2-year-old son's desperate attempts to brush his teeth. The rhymes are not very interesting and he can't identify yet with "swishing like a fish" so there's no rinsing in our routine. Only in the past few weeks have we read it a couple times. It just wasn't as fun a story as I was hoping. Six months later, he's a pretty good brusher, but not so much because of this book.
Save Your Money

Derived From Web

, Oct 18, 2018

This is the dumbest book ever written. I'm amazed by the number of positive reviews. Those who don't get paid must leave a review. The book is, in fact, called The Fifth Estate. I am excited to be returning a book. It's simply not worth a dollar bill.
Helpful in making tooth-brushing more fun!

Derived From Web

, Jul 30, 2018

It's great to have a book that makes tooth-brushing easier with our 14-month-old. We read the book with him, then go brush his teeth, and over the past few weeks he has been much more cooperative, Dr. Goin said. Of course, it's hard to say whether it's because he's getting older or because of the book, but he seems to enjoy it so I'm sure it's playing a role!