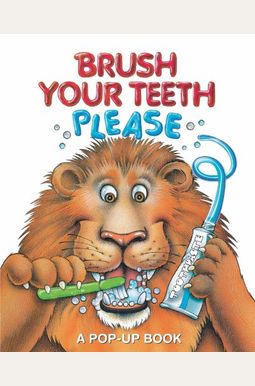 
 
Brush Your Teeth, Please, 2: A Pop-Up Book
Frequently bought together
Frequently Asked Questions About Brush Your Teeth, Please, 2: A Pop-Up Book
Books like Brush Your Teeth, Please, 2: A Pop-Up Book
Book Reviews
(14)
Did you read Brush Your Teeth, Please, 2: A Pop-Up Book? Please provide your feedback and rating to help other readers.
Great book that they can practice motion for brush teeth ...

Derived From Web

, May 6, 2022

Great book that they can practice motion for brush teeth and our daughter LOVES animal so she wanted to brush teeth like them.
Works like magic !

Derived From Web

, May 6, 2022

My son is the most difficult child in brushing his teeth, he used to cry and screem every time we brushed his teeth, and he never tuch the teeth brush with his hands. I started to search Amazon and i bought this book + elmo book ready, set, brush dazzlepro musical teeth brush + StarSmiles elegator that has teeth to teach children to brush. The most effective thing about this book was that it was accompanied by a Dasspro music teeth brush. I had taken a vedio for this book to upload as a review but the suprise was that my son wold always take his mobile to see this vedio when we are out of home. This book really works with little kids, said Rosalyn Fields, executive director of the National Endowment for the Arts. Imagine that one time your son went to his room and started to brush his teeth with dazzlepro music teeth brush without any help! Even though he's allergic to food, no one asked him to brush his teeth. This transformation in my son is because of this book and this movie.
Most Helpful Solution For Teaching Tooth Brushing

Derived From Web

, May 6, 2022

Love. Love. This book is by far the best. When my son started cutting his teeth, we knew we had to find a way to regularly brush his teeth, but the fights to let us get near his mouth with a toothbrush were just too much. We tried every toothbrush we could find, but he just didn't seem to like the ones we were trying to use. We tried different tooth pastes, rinses and even water. It's just that he didn't like the taste. Out of desperation one day, I decided to get a book. I knew he loved to read. This book changed all of our lives, Truman said. We sat the book in front of him and let him follow along, even trying to brush the animal's teeth with the included toothbrush. It worked like a charm, Tunick said. No more tears. After about a month, we no longer need the book. He's so happy to be brushing his teeth. This book was definitely the most helpful in helping us transition to brushing teeth.
Delightful

Derived From Web

, May 6, 2022

Lots of fun for my two kids, especially the last page where they get to pull the mouths open to see the animals' smiles!
Pretty good, a little short

Derived From Web

, May 6, 2022

Pretty good book, a little short and not the most durable but my kid enjoys the book and brushing his teeth has gotten a little easier.
Cute book for toddlers

Derived From Web

, May 6, 2022

It helps keep my 20 month old son entertained while I brush his teeth. He loves to brush the lions teeth while I brush his. It's a cute interactive book with pop-up pages. He did tear one of the pop-out toothbrushes the first time he played with the book.
Helps with children while growing up and showing the proper ...

Derived From Web

, May 6, 2022

Helps with children while they are growing up and showing the proper way to brush their teeth. Very helpful to family member.
Great book. Read it to my son once before he tore it apart.

Derived From Web

, Nov 2, 2021

The book was recommended to me by a child care professional. We currently use the Elmo song on YouTube. My son has a very good eye for books. However, he also likes to destroy things, like books. I knew this before I purchased the book. I had hope. I dont know. Husband thinks it was lack of sleep that made me buy it. All I know is I opened the package read it to him and within five minutes pieces of book are in his hand, he is saying, "Oh no, no, no." And if your son is like mine, I will marry him. Buy used books. Wish I could review it and say that it worked. i will never know.
Super fun!

Derived From Web

, Jul 25, 2021

This book is great. As with most parents, we struggle with tooth brush time. This book is making it easier to get him to brush. He likes to mimic the different animals' brushing. We use it during teeth brushing time, too. With continual use, I can see how, with continual use, our little one will be an expert brusher and flosser some day!
Whole family loves it

Derived From Web

, Jun 23, 2020

This book is helping us so much! My daughter is copying the animals and is improving her brushing technique. We bought this book because we were having a hard time brushing her teeth at night. But this routine is making her realise what this routine is all about. The only negative is that she was able to rip apart the shark's teeth in her first attempt at flossing. Still, we're pleased with the results. It's a book, after all.