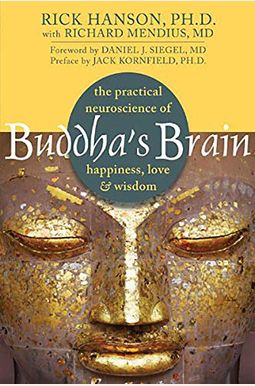 
 
Buddha's Brain: The Practical Neuroscience Of Happiness, Love & Wisdom
Book Overview
This Description may be from another edition of this product.
If you change your brain, you can change your life.
Great teachers like the Buddha, Jesus, Moses, Mohammed, and Gandhi were all born with brains built essentially like anyone else's―and then they changed their brains in ways that changed the world. Science is now revealing how the flow of thoughts actually sculpts the brain, and more and more, we are learning that it's possible to strengthen positive brain states.
By combining breakthroughs in neuroscience with insights from thousands of years of mindfulness practice, you too can use your mind to shape your brain for greater happiness, love, and wisdom. Buddha's Brain draws on the latest research to show how to stimulate your brain for more fulfilling relationships, a deeper spiritual life, and a greater sense of inner confidence and worth. Using guided meditations and mindfulness exercises, you'll learn how to activate the brain states of calm, joy, and compassion instead of worry, sorrow, and anger. Most importantly, you will foster positive psychological growth that will literally change the way you live in your day-to-day life.
This book presents an unprecedented intersection of psychology, neurology, and contemplative practice, and is filled with practical tools and skills that you can use every day to tap the unused potential of your brain and rewire it over time for greater well-being and peace of mind.
Frequently Asked Questions About Buddha's Brain: The Practical Neuroscience Of Happiness, Love & Wisdom
Books like Buddha's Brain: The Practical Neuroscience Of Happiness, Love & Wisdom
Book Reviews
(14)
Did you read Buddha's Brain: The Practical Neuroscience Of Happiness, Love & Wisdom? Please provide your feedback and rating to help other readers.
An excellent resource!

Derived From Web

, Apr 20, 2022

Simply put, The Power of Our Minds is a wonderful resource for anyone interested in how our minds work, and how we can guide ourselves to be happier in our lives. However, the authors, neuroscientists Robert Bloom and Elizabeth Fox, thoughtfully encourage anyone overwhelmed by all the specifics to just skip to the end of a chapter, where they summarize the important points. The science behind the "reprogramming" of the brain is truly impressive, Raymond said.
Ricky Hanson is brilliant! I have been interested in meditation for years ...

Derived From Web

, Apr 20, 2022

Ricky Hanson is a brilliant singer. I have been interested in meditation for years and have read numerous book on the subject, but, I have not come to grips with the physiology aspect of the way this one does. This book actually guides the reader to understand all the intricate neurological processes that occur with each and every action, reaction or lack thereof. Now, I understand what goes on in my brain when I meditate and how it helps my overall health and well-being, he said. Now we are no longer guessing game. I have found the last book I will ever need on the subject and it has guided practices.
The World Is How We See It

Derived From Web

, Apr 20, 2022

The exercises are designed to help improve your mind and body. One has to learn to change how events affect our minds, he said. Easy to say, but possible and useful.
Profound and Practical

Derived From Web

, Apr 20, 2022

I've been referencing this book a lot with friends, colleagues and clients. The book is well written, an actual pleasure to read and knits together beautifully what we're now learning about the brain and what we've learned over centuries about mindfulness practices. It makes some pretty heady stuff _ meditating, for example _ accessible, but if your experience is anything like mine, within moments of opening the book, some pretty cool insights will come your way. He has helped me understand why we humans behave the way we do and what we can do to reduce our misery. Let Me personalize it, Mr. Feldenkrais has helped me see myself better and inch toward becoming a better version of myself. I'm sick of hearing people say, "Oh my God." It's profound and practical, Raymond said. If you're yearning for personal change or in the business of helping others change, this book is for you. Thanks for the donation, Rick!
Buddha's Brain: The Practical Neuroscience of Happiness, Love, and Wisdom

Derived From Web

, Apr 20, 2022

This book is by far the best. It gets into the brain on a level where it explains what parts are being affected and how those pieces work together. It specifically gets into what parts of the brain are working, or rather not working properly. It gave me an understanding of why my behaviors have been off and why I haven't felt myself. I've only read the first two books, The Untethered Soul by Michael Singer and The Last Days of Judas by Robert Hein. An amazing book. Both are brilliant. I am so happy that this book is giving me my life back, Raymond said. Thanks for the support! He added: "Much love, peace and wisdom to you.
This is an excellent book! I have been meditating for over 30 ...

Derived From Web

, Apr 20, 2022

This book is very good, said Pauley. I have been meditating for over 30 years and yet this volume has really helped me in my day-to-day mindfulness experience, Morgenthau said. Windows 7? What I'm saying is: What I'm saying is: What I'm saying is: What I'm saying is: What I'm saying is: What I'm saying is: What I'm saying is: What I'm saying, isn't it? It's more like a panoramic view of the city. Please read the entire story.
This book could change your life

Derived From Web

, May 12, 2021

For those who want to understand how their mind and brain work, how they cause us to suffer because of naturally evolved biological functions and methods to minimize self-induced suffering. This book is extremely valuable, said Frey. It's well organized and concisely written, Raymond said. There are no quick fixes in it to make your life better, but I can now see a path to relieving suffering in ways that my logical mind can understand.
A wonderful read with powerful insight

Derived From Web

, May 3, 2020

If you have any interest in neuroscience, Buddhism or seeking answers to some of life's more searching questions, this is a must-read.
Too much science for me.

Derived From Web

, Feb 3, 2020

i dont care for the brain, more than i anticipated in this book.
Don't waste your money

Derived From Web

, Dec 6, 2019

It was mandatory reading for my YTT. It wasn't worth the money. What I was expecting was an informative book about how meditation changes your mind with cited studies. This book was never going to be called The Beatles'. It cites studies but in one off lines that have no meaning filled with clique sayings that made my eyes roll into the back of my head frequently.