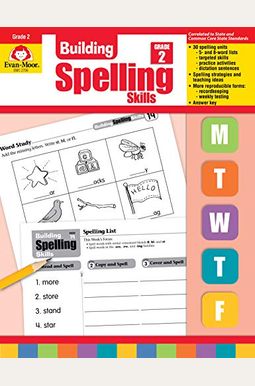 
 
Building Spelling Skills Grade 2
Book Overview
In Building Spelling Skills Daily Practice, Grade 2, students will learn 10 spelling words per week (300 total). Two sentences for dictation are provided for each list.
Spelling lists include the following:
short and long vowel words
contractions
blends and digraphs
spellings for /er/
variant vowel sounds such as ow, ou, oo
adding ed and ing
Practice pages include the following:
a spelling list with spaces to read, write, and spell each word
a configuration puzzle for every spelling list
word sorting
word meaning (filling in missing spelling words in sentences)
exercises to find the misspellings and hidden words
various word study exercises
Reproducible forms include:
spelling record form
individual spelling record
spelling test form
spelling list form
word sort form
parent letter
Frequently Asked Questions About Building Spelling Skills Grade 2
Book Reviews
(9)
Did you read Building Spelling Skills Grade 2? Please provide your feedback and rating to help other readers.
I love the set up of this series.

Derived From Web

, Apr 25, 2022

I homeschooled my children, teaching them to read and do math. For us this book is perfect. Three other spelling books I have purchased had layouts that I really didn't care for, Mrs. Talbert said. Only in the last few weeks have my children found the other books very unclear and boring. I've always wound up making my own worksheets. The first time I bought this one, I was a little nervous. It's just that it's wonderful, too. Its clear form and function makes it an attractive option for buyers, said Dr. Matthew Dhaliwal, director of Philips's European operations. The kids get to play with their friends and have a great time, too. It's great to be able to finally find a great spelling book series for my kids. It has helped me a lot, save a ton of time.
Missing pages!

Derived From Web

, Sep 22, 2021

Loved the first two lessons then discovered that two pages were missing from almost every lesson thereafter. The remaining 25 percent are sold to third parties, often at a loss.
Well laid out lesson plan.

Derived From Web

, Mar 18, 2021

I had a really hard time deciding which spelling book to go with, shopping online makes it hard to buy school books when you can't flip through all the pages. It's great to see the kids back home, said Blair. The pages that set each word are engaging enough to not feel like she is learning to spell or repeating the same words over and over again. Each week the words are slightly more challenging, but the judges ultimately pick winners. There are bonus lines, too. I've used these to add words that she had a hard time with from the previous week. We will definitely buy the next great once she masters this one.
Good Practice!

Derived From Web

, Mar 18, 2021

This is a good daily bite size spelling activity for 2nd graders. Challenge words can be added to compensate for or purchase a better grade. This helps kids learn word structure and hopefully they can apply to more difficult words. Before we can talk about the structure of the sentence, we must have a list of words that we can identify.
Great homeschool workbook

Derived From Web

, Dec 27, 2020

This book is a great introduction to spelling. I like that it has 4 pages of work using the spelling words. My daughter can spell most of the words on the pages, even if she has to do the math. I've used some of the other grades in this series, and they are also good.
Helpful

Derived From Web

, Jul 29, 2020

This was exactly what I was looking for, Mr. D'Antonio said. I am homeschooling this year and my son struggles with spelling. I love that we have daily activities with the help of the teachers that are relevant to the students, Mrs. Dhaliwal said. Added 2 of your own, for example.
Restored confidence!

Derived From Web

, May 5, 2020

Building Spelling Skills: The Whole Nine Yards is a great resource for teachers and students. Broomhead and friends created a fun, simple and practice activity for preschoolers. Several spelling strategies helped build my child's confidence after an ineffective public school experience, Mrs. Shelby said. We do spellingreviews now in place of the originals. He corrects his own work and no longer dreads writing not his spelling has improved.
An easy way to wrap up spelling

Derived From Web

, Feb 7, 2019

In the end, my second grader devoured it. The "S" word is easy for second graders, which was a plus for my kiddo. At 4 p.m. we would do four pages of research, and use the finished product for review. In fact, I have seen a huge improvement in my son's spelling. It's great to have a book like this out there, especially for families of reluctant readers and writers.
Great spelling practice!

Derived From Web

, Sep 18, 2018

I use the books in our homeschool for spelling. I love the flexibility it gives me to do what I want with my kids, he said.