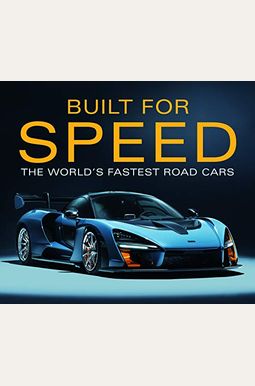 
 
Built for Speed: The World's Fastest Road Cars
Book Overview
Explore some of the world's fastest cars from 1996 to 2019. Including the Shelby Series 1, Chevrolet Corvette ZR1, and McLaren Senna.
35 cars are included, foreign and domestic
Beautiful full-color photos are featured with an overview of each car
Mid-engine supercars with pricetags north of a million dollars
Feisty compact sedans bred to compete on the Word Rally Championship circuit with a base price less than $30,000
Modern day versions of the ponycar
European sports coupes that rely on light weight and highly tuned four cylinder engines for speed
Hardcover
144 pages
Frequently Asked Questions About Built for Speed: The World's Fastest Road Cars
Book Reviews
(9)
Did you read Built for Speed: The World's Fastest Road Cars? Please provide your feedback and rating to help other readers.
Cool Book

Derived From Web

, May 10, 2021

Cool book with nice pics and lots of info, Michael. Not sure why there is no Lamborghini. I think it would have been cool, too, to have some consistent specs for each car, said Burt Flickinger of Strategic Resource Group. My 6 year old son absolutely LOVES it. He gets really excited and it's cool that some of the cars we see around town are originals.
great pictures

Derived From Web

, Jan 10, 2021

My nephew is 12 and loves super cars so I got him this book for Christmas. I had it delivered to my brother a few states away and he said he would wrap it. I found out from my sister-in-law that he thought it was so nice and got so into reading it and checking out the pictures in it that he waited until Christmas morning to wrap it so he could look through it as much as possible.
No Lamborghinis in this book

Derived From Web

, Oct 17, 2020

If you think this book has a Lamborghini in it, you are wrong. There was no Lamborghini in this book, my son was pretty disappointed.
Just N.O.

Derived From Web

, Oct 16, 2020

Husband and I both agreed ugh, don't bother. If you are truly after photos of cool cars, then pass on this one. There was a section at Barnes & Noble that sold all those bargain-priced coffee books for under $15. The section you would find this sucker is dedicated to juvenile delinquents. I actually got this for my son for drawing inspiration, because he likes to draw cars, too, said his mom. It's just that I guess it's good enough to give to a kid. I should have known that $9.99 would put a lid on my own expectations. The book is filled with a lot of poor resolution photos- think overblown non-HD photos taken straight out of year 2000. Some look straight out of a Craigslist car ad! My husband's free car calendars from work have better cars and quality photos, I think. Now that I've sufficiently lowered your expectations, this book will probably blow your mind.
Nice book but damaged dust cover.

Derived From Web

, Sep 9, 2020

I bought this book as a present for an 11 year old boy that loves cars. It's a nice book, but the dust cover had scrapes and smudges on it. Because the dust cover didn't have much written info on it other than a brief introduction of the book, I just removed the cover and gave the book without it. It had a few cars that were questionable but overall a nice book, Roving said. Another similar car book that was the same size, same amount of pages, very similar but it had too many OLD cars and the dust cover had the same damage. Yes, I have returned that book.
Good quality, nice photos

Derived From Web

, May 4, 2020

While this is not a kid book, my 6 year old LOVES fast cars _ and he also loves this book. He has been practicing his reading skills by reading the captions to his Grandma via video chat. Nice photos of all the different brands he was looking for... McLaren, Koningsegg, Bugatti. Plus he didn't know of any cars.
Highly recommend

Derived From Web

, Nov 24, 2019

A great book. Bought for my son who loves cars. Lots of pictures, tons of cars, lots of info on each, and great pictures.
Gorgeous glossy pictures of amazing cars!

Derived From Web

, Sep 17, 2019

It was my grandson who has every toy under the sun! He loves fast cars and this book has beautiful color and great photos, so even as a 6 year old, he has practically worn it out. He knows which pages have his favorites and mom was happy he learned to use the table of contents.
Great book!

Derived From Web

, Jul 7, 2019

The book was exactly what I wanted for my grandson who is wild about super sport cars, Raymond said. It has beautiful colored pictures of each car along with descriptions and important facts about each car! Highly recommended!