Buy 3 Get 1 Free
Our Best Sale Yet! Add 4 Books Priced Under $5 To Your Cart Learn more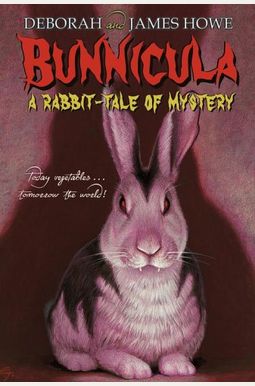 
 
Bunnicula: A Rabbit-Tale Of Mystery
Book Overview
This Description may be from another edition of this product.
THIS book is written by Harold. His full time occupation is dog. He lives with Mr. and Mrs. X (here called Monroe) and their sons Toby and Pete. Also sharing the home are a cat named Chester and a rabbit named Bunnicula. It is because of Bunnicula that Harold turned to writing. Someone had to tell the full story of what happened in the Monroe household after the rabbit arrived.
It all began when the Monroes went to see the movie Dracula At the theater Toby found something on his seat a baby rabbit that he took home and named Bunnicula. It proved to be an apt name, at least as far as Chester was concerned. A well-read and observant cat, he soon decided that there was something odd about the newcomer. For one thing he seemed to have fangs. And the odd markings on his back looked a little like a cape. Furthermore, Bunnicula slept from sunup to sundown. He was awake only at night.
When the family started funding white vegetables, drained dry, with two fang marks in them, Chester was sure Bunnicula was a vampire. But what to do about it. None of the family seemed to grasp the trouble, and Chester's hilarious hints were totally misunderstood.
Was Bunnicula really a vampire? Only Bunnicula knows for sure. But the story of Chester's suspicions and their consequences makes uproarious reading.
Frequently bought together
Frequently Asked Questions About Bunnicula: A Rabbit-Tale Of Mystery
Books like Bunnicula: A Rabbit-Tale Of Mystery
Book Reviews
(14)
Did you read Bunnicula: A Rabbit-Tale Of Mystery? Please provide your feedback and rating to help other readers.
The book that made me fall in love with reading.

Derived From Web

, Apr 21, 2022

I can't remember reading any other books than Howliday Inn by John Green. Now that I'm homeschooling my 6 year old, I thought it would be a great idea to assign pages from this book as nightly homework. He has been out loud and repeating phrases from the book so often that I decided he should just read it out loud to my husband and I before bed. He is really getting into it, reading it with inflection and personality, and we are all loving it! I think we'll see the rest of the series, Mr. Rule told the judge. Then he'll be a bit older, and I'll be a bit more patient.
Mystery and fun

Derived From Web

, Apr 21, 2022

He added that the book is "a great tale of mystery." I enjoyed this book and because of this book I want to get a bunny and name him buniculan With love.
"I love that book"

Derived From Web

, Apr 21, 2022

My son absolutely loves the book. It's a book that makes people laugh, not to mention nerds. She really does enjoy these, and there are a lot more to keep her reading, Mr. Dhaliwal said.
Cute Book

Derived From Web

, Apr 21, 2022

It was a great book, said Jennette, who has a daughter in school. I really enjoyed the story, said Blair. We are planning to buy the next book in the series to see what adventures Bunn, Harold, and Chester will do next.
Good for Light Entertainment

Derived From Web

, Apr 21, 2022

In "The Cat Who Stole the Moon," Chester is a feral cat who thinks the newest member of their family, a bunny, is a dangerous vampire. The narrator and the narrator's dog, Harold, disagree. Chester tries to do everything he can to stop the innocent bunny from harming the family, but his attempts backfire and he gives up. My favorite part of this book is when Chester attempts to stop the bunny from running away, but it backfires and he ends up in a sweater of sixteen mice drawn on it. This book is sort of disagreeable to read, as the narrator is a dog and to be truthful, I think everyone knows a cute little bunny can't be a vampire, she said. The story itself is a light entertainment to read, but it is not the most believable. The book itself is great, Simon.
A Bunny Vampire Classic

Derived From Web

, Dec 26, 2021

It's great to see such a great book reissued, and I'll probably reread it again. The first 10 copies were for $5 each, so I grabbed 10 more. The kids get one for Christmas. This is a unique and simple read, Michael Green said of the book. Imagery is great and the story is attentive, Levine said. If you have any questions, I would recommend it to anyone. Simply put, it's a matter of installing the lightning bolt.
Great read!

Derived From Web

, Jun 24, 2021

It's a great story, I think, told by a kid. Both my boys and girls loved it. It's great to see people still talking about music. He's a great guy, would highly recommend.
Fantastic book

Derived From Web

, May 7, 2021

I bought this book for my boyfriend, it was one of his favorites as a kid. I had never heard of this book, and as a kid I thought vampires were the coolest. So curiosity got the better of me and I picked up the book and began to read, before I knew it was on chapter 6! I'm 31 years old and this is quickly becoming one of my new favorite books, I can't wait to read it to our kid one day.
9 Year Old Loved the Book !!!!

Derived From Web

, Apr 23, 2021

My daughter wanted to read this book for a school project, she was 9 at the time. She loved the book, but she also will devour a book, so we received the book today at 5 p.m. from Amazon, and by the time it was bed time she finished the book. In the interest of transparency, her Ipod is lock away in our safe, so she may also be board to tears trying to figure out how to pass the hours. Ha Ha!. She red she bookin a couple of hours and just loved all the characters, Mr. Rule told us.
Easter gift for boy

Derived From Web

, Mar 12, 2021

I thought it was a hard cover, but it's more of a paperback with a soft cover. I love the cover, but I think the photo is a tad too close to the action. I've read it all, except for the first few pages. It was my son's birthday present and I couldn't resist the temptation. He's a big fan of the horror genre, and this is perfect for him. Highly recommend. He has no intention of drinking blood, Ms. Bunnicula said. He sucks out all the carrot juice, leaving them white. It's creepy, said Blair.