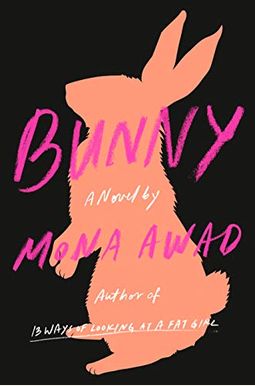  
Book Overview
This Description may be from another edition of this product.
The Vegetarian meets Heathers in this darkly funny, seductively strange novel about a lonely graduate student drawn into a clique of rich girls who seem to move and speak as one
We were just these innocent girls in the night trying to make something beautiful. We nearly died. We very nearly did, didn't we?
Samantha Heather Mackey couldn't be more of an outsider in her small, highly selective MFA program at New England's Warren University. A scholarship student who prefers the company of her dark imagination to that of most people, she is utterly repelled by the rest of her fiction writing cohort--a clique of unbearably twee rich girls who call each other Bunny, and are often found entangled in a group hug so tight they become one.
But everything changes when Samantha receives an invitation to the Bunnies' fabled Smut Salon, and finds herself inexplicably drawn to their front door--ditching her only friend, Ava, a caustic art school dropout, in the process. As Samantha plunges deeper and deeper into the sinister yet saccharine world of the Bunny cult and starts to take part in their ritualistic off-campus Workshop where they magically conjure their monstrous creations, the edges of reality begin to blur, and her friendships with Ava and the Bunnies Read More chevron_right
Frequently Asked Questions About Bunny
Book Reviews
(7)
Did you read Bunny? Please provide your feedback and rating to help other readers.
I couldn't take another description of bunny hair

Derived From Web

, Jul 2, 2019

I am sure that it was written well. All precious. My red light should have been on the recommendation of the author. Done after 60.
Don't Bother

Derived From Web

, Jun 29, 2019

Positive points are given to the author for her clever descriptions. She captures the over-the-top, pseudo-intellectual navel gazing that can be found in some areas of the groves of academe. I didn't know what was going on. I kept reading, hoping to find out. I would like to get my money back.
Two Sided

Derived From Web

, Jun 29, 2019

The beginning of this book was funny. It started like a rocket ride and kept going. The author was aware of how nice, polite women act and how they will swallow their own feelings to keep the peace. The beginning of the book was about a female graduate student dealing with other female graduate students. The story turned weird. It was a sci-fisupernatural fantasy thing that I never figured out. It became weird and stopped being funny. It was a huge disappointment. The ending was obvious before the half way mark, so I decided to be kind and give it three stars.
Pure, unadulterated twaddle

Derived From Web

, Jun 19, 2019

Don't be deceived by the hype about this book. The blurbs don't tell the whole story. The book is not useful. The comments of the other reviewers made me laugh. I don't understand what I just read. I'm familiar with garbage.
I have no idea what happens in the book

Derived From Web

, Jun 18, 2019

I was excited to read this after reading the description of the novel. The first part was ok, but the descriptions of the Bunnies were a little over the top. It never left. The rest of the book left me confused and annoyed, I am not tied to linear fiction, but I understand postmodern and using different forms of narrative but this was beyond my reach. I realized giving up on the last third of the book was probably the best course of action after skimming the last third of the book.
A teen book masquerading as an actual novel

Derived From Web

, Jun 15, 2019

By the time I got to page 11, there were already mentions of games of thrones and Eternal sunshine of the spotless mind I was being forced to read. It looks like it was written from the perspective of a 13 year old girl. That would make sense and be interesting, but the premise is ridiculous. I understand what the author is going through, but her prose was too long. The cover is hardback. That is the positive that I found, and whoever marketed it had connections as I heard of it. I feel like the novel was written to be optioned for a movie. It's not aiming for longevity because of the absurd plot and how shocking all of the references are.
not for everyone but...

Derived From Web

, Jun 11, 2019

It's really sad. The women in graduate school told me that they were like high school students. Awad wrote a caustic sendup of the programs. She has created characters that are not nice. You will definitely understand what she is going through. The murders and the scheming elevated this for me. Some of the writing made me laugh out loud, and it was at a time when it was over the top. Thanks to the person who wrote the article. This isn't going to be for everyone, but it's a good romp.
List of All Editions of Bunny