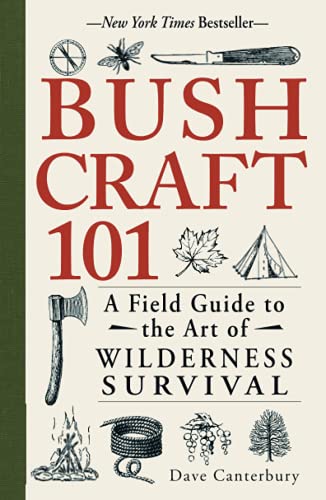 
 
Bushcraft 101: A Field Guide to the Art of Wilderness Survival
Book Overview
With advice on not just getting along, but truly reconnecting with the great outdoors, Dave Canterbury's treasure trove of world-renowned wisdom and experience comes to life within these pages. --Bustle
A New York Times Bestseller in Sports and Travel
The ultimate resource for experiencing the backcountry Written by survivalist expert Dave Canterbury,
Bushcraft 101
gets you ready for your next backcountry trip with advice on making the most of your time outdoors. Based on the 5Cs of Survivability--cutting tools, covering, combustion devices, containers, and cordages--this valuable guide offers only the most important survival skills to help you craft resources from your surroundings and truly experience the beauty and thrill of the wilderness. Inside, you'll also discover detailed information on: Choosing the right items for your kit. Manufacturing needed tools and supplies. Collecting and cooking food. Protecting yourself from the elements. With Canterbury's guidance, you'll not only prepare yourself for any climate and situation, you'll also learn how to use the art of bushcraft to reconnect with nature in ways you've never imagined.
Frequently bought together
Frequently Asked Questions About Bushcraft 101: A Field Guide to the Art of Wilderness Survival
Books like Bushcraft 101: A Field Guide to the Art of Wilderness Survival
What should you read after Bushcraft 101: A Field Guide to the Art of Wilderness Survival Book? Here is a list of books to read if you read and loved Bushcraft 101: A Field Guide to the Art of Wilderness Survival
Book Reviews
(18)
Did you read Bushcraft 101: A Field Guide to the Art of Wilderness Survival? Please provide your feedback and rating to help other readers.
Accurate, but not particularly detailed

Derived From Web

, Apr 20, 2022

I don't know what the book's target audience might be. It's a broad-based overview of outdoor stuff and skills, broad enough to cover most topics, but brief enough that a) it's not 15,000 pages long and b) there's probably not enough detail on any topic for a newcomer to become enlightened. It's not that the author is wrong, and he knows his stuff, but he doesn't seem to have struck a balance that one could pack this book in a bug-out-bag and be okay.
Seems like he knows what he's talking about

Derived From Web

, Apr 20, 2022

I was surprised that there was no mention of how to remove the bladder from an animal to eat. You can't eat the liver of an animal unless you remove the gall bladder. If the gall bladder bursts, your dinner is ruined. Birds have crops to remember to empty, and they also have gall bladders that must be removed prior to eating the birds or their very tasty livers. Information is incomplete. He seems to know what he's talking about, but not about the game.
More like a copy of lots of other books than orginal work

Derived From Web

, Apr 20, 2022

Dave Canterbury wrote this book. I have mixed feelings about purchasing anything from him. I bought this book. 70% of the information in this book is common knowledge to old Boy Scouts, avid outdoors-men, hunters, fisherman, etc. There are some recipes in the back of the book. The pictures look similar to the ones that come up in the search engine. I would only recommend this book to people who are ignorant.
Do not purchase for survival knowledge, only for extra reading and tidbits

Derived From Web

, Nov 11, 2021

I have experience in the outdoors, military and USFS. I've read many survival books and put them to use in the real world. What is going on with this book? It is similar to saying, "Here's a car, turn the key on, put the car in gear, and use the brake and gas to get where you are going, now you can drive." The book is not very clear. It is similar to getting advice from the old timer that forgot how to do things, but can give you a general idea. It's up to you to figure out how to do it. It's not very entertaining. Don't rely on this book for survival. If you do a lot of camping, it is ok to give you ideas to make things different. I can't get over how bad it is.
Great for beginner camper

Derived From Web

, Jun 24, 2021

You can use a lot of different supplies in the wild. I read this book to learn how to survive in the wild if there was a disaster, because I'm about to go backpacking.
Poorly Written

Derived From Web

, Jun 11, 2021

Bushcraft 101 is a collection of product advertisements and vague process descriptions that don't tell you anything. It isn't a 101 book. The material is ambiguous and contains vague references. There is no follow up to the reference itself. The book was poorly written.
Interesting but more about camping than survival

Derived From Web

, Mar 1, 2021

The book is more about camping and not wilderness survival. I was looking for a book that would show me how to survive in a crisis. The book recommends you not use a knife as an axe or carry multiple types of rope and twine. If you lose your gear in the middle of nowhere, this book is not very helpful.
Not useful

Derived From Web

, Jan 26, 2021

This isn't a book to teach you bushcraft skills. Useful explanations or diagrams are not included in the book. There isn't any further explanation or diagram to teach you how to create or set a variety of traps after reading this example. There are gaps throughout the book. The old Boy Scout Fieldbook that I purchased for $6 has better pictures and explanations for bushcraft skills like shelter building, knot tying, lashing, trapping, and edible plants.
Most of what you need to know is in it

Derived From Web

, Jan 3, 2021

It is a good guide for a novice. It was straight forward and to the point. I know everything except for some of the knots, so I would like to try some of the tips.
Good book of basics

Derived From Web

, Nov 9, 2019

I would like to know more about how to build things out of wood at camp. The basics of plant and tree identification have been improved. This book has helped my bushcraft skills more than the video site has. The cover is nice.