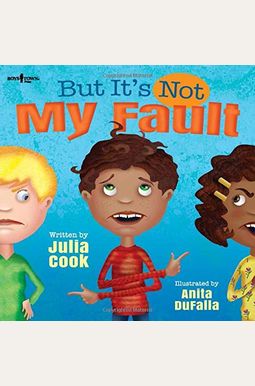 
 
But It's Not My Fault: Volume 1
Book Overview
Things just don't seem to be going Noodle's way. But it's not his fault that he didn't finish his homework or that her forgot to turn in his library book.
Join Noodle on his journey as he learns not to blame others or try to find fault; but instead practices accepting responsibility.
Frequently Asked Questions About But It's Not My Fault: Volume 1
Books like But It's Not My Fault: Volume 1
Book Reviews
(9)
Did you read But It's Not My Fault: Volume 1? Please provide your feedback and rating to help other readers.
She has written so many wonderful, easy to read and comprehend

Derived From Web

, Apr 20, 2022

Most of Julia's books are for children that are 4 to 10 years old. As the grandparent of a young boy with Asperger's, I'm here to say her books are usually the only way we can help him to understand the current or new problem. We can talk about what he needs to say or do, but it seldom connects as he will tune out and shut down during a parental lecture. I would recommend them to anyone who wants to read a good book. Sticking to the theme of keeping it personal, there is one for that. Tattling, teasing, personal space, choices, responsibility, meltdowns, anxiety, worry, grief, attitude - one for each of those too. She has written so many wonderful, easy to read and comprehend, short books on social skills — the one trait so many Aspies share, she said. Maybe she'll write a few books to help older teens and younger adults refine their social skills. Buy them!
Awesome for learning to take responsibility for ourselves!

Derived From Web

, Apr 20, 2022

We absolutely LOVE this book, and we're going to have to read it all the way to school. It's a great book about responsibility, taking responsibility for your own actions and being responsibile for your body and words. It's great for any classroom, parents, school counselor, anyone that works with kids.
I think it will work very well for the lesson and would recommend this book to other school social workers

Derived From Web

, Apr 20, 2022

Like many Julia Cook stories, the writing style of the story is not consistent. Even students at the school can notice the exchange's awkwardness. I would recommend this story to my first-grade daughter and up, as it is a bit long for her.
Too long for preschoolers but still a great book

Derived From Web

, Aug 30, 2020

This is a well written book, and I recommend it to anyone. It's terrible, I bought it for my 4 year old who is really struggling with "whose fault it is" right now. The book is a little long for a preschooler, but I usually end up skipping pages or sentences to make it shorter and keep her attention span. The book would be better suited for older kids, perhaps starting around 6 years, Kirk said.
Returned

Derived From Web

, Jul 11, 2020

It's too many words and tricky to read with all the dots and squares printed on the pages. The seller was very efficient and friendly with my return, Mr. Dhaliwal said.
Great books, would love it if they were little more inclusive.

Derived From Web

, May 16, 2020

I love so much about these books, what I don't love is almost a deal breaker. Haskell said that half the population is girls. What do you think about girls with behavioral challenges? The main characters in Julia Cook's books also send that message. In this day and age, there is no excuse for that kind of omission.
Skip This Book

Derived From Web

, May 5, 2020

The book is terrible, and I won't read it to my children again. It's full of examples of adults setting up a kid for failure then getting mad when he acts like a kid. He also tells him to be careful what he says, and to make good choices. The teacher then makes him stay inside from recess and then she gets upset when he jumps in the hallways and accidentally bumps into someone, she said. Some reviewers say that having a black child as the troublemaker who always blames others is blatant racism.
Good morals, poor execution

Derived From Web

, Aug 1, 2018

While the book promotes a good behavior lesson, I'm not a fan of the way it reads. Still hope for a better flow of the book.
Stop the Blame Game

Derived From Web

, Mar 18, 2017

I'm a huge fan of Nancy Winton's books. The show has cut down so much on tattling students, and the blame game has begun. The book really goes into depth about how it is that we are responsible for how we react to situations, said Dr. Julie Gerberding, Monsanto's executive vice president. The book has helped me with the blame game in my first grade.