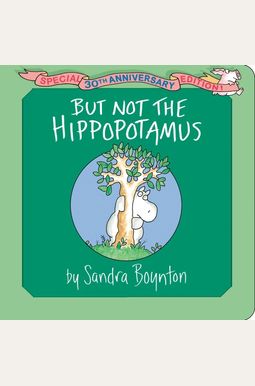 
 
Book Overview
This Description may be from another edition of this product.
A shy hippo makes a big impact in this Sandra Boynton classic.
Serious silliness for all ages. Artist Sandra Boynton is back and better than ever with completely redrawn versions of her multi-million selling board books. These whimsical and hilarious books, featuring nontraditional texts and her famous animal characters, have been printed on thick board pages, and are sure to educate and entertain children of all ages.
Frequently bought together
Frequently Asked Questions About But Not the Hippopotamus
Book Reviews
(12)
Did you read But Not the Hippopotamus? Please provide your feedback and rating to help other readers.
Learning about shyness

Derived From Web

, Apr 20, 2022

The message of some people being shy and needing others to go out of their way to include them is conveyed in this book. Our 18 month old daughter picks this out from many books. Our daughter always says awe when she sees the page of the Hippopotamus not knowing if she should stay or leave. We read this to her cousins and they enjoyed it. The three year old asked why the Hippo didn't like to play with other animals. When I told him that she wanted to but was too shy to join in, he seemed to think about it. All of her books have fun characters. We have quite a collection of her books, but I would say this is one of the most enjoyable ones to read over and over again.
I love her! The kids love her

Derived From Web

, Apr 20, 2022

There is a person named Sandra Boynton. I love her. The kids love her. The Hippopotamus is too scared to ask to play, but then they ask her and she is so happy and goes to play. Sorry, but not the Armadillo. It is a great book. Kids love it. It shows to be kind and invite other kids along if they are alone and want to play.
Clever and cute with a great message

Derived From Web

, Apr 20, 2022

The illustrations and rhymes in this book make a clear point to our toddlers. Several animals are having fun, but not the Hippopotamus. The hippo was excluded until the others invited her. The girls immediately get that a new animal is excluded. They should welcome everyone. It's a great message for kids of all ages.
Love this author and her toddler books!

Derived From Web

, Apr 20, 2022

Our granddaughter loves them and we are fans of them. She has a love for books since she was six months old. We have quite a few of the Boynton collection and plan to get more.
Horrible story line

Derived From Web

, Jan 1, 2020

The last page of this book has a message that I don't like. They have finally included the Hippo, but not the armadillo. I don't want my daughter to think that this is normal behavior. The end was changed to include the armadillo.
One of the best baby books

Derived From Web

, Feb 6, 2019

I always give this book at baby showers. It was a favorite of both my kids when they were small. It is repetitive enough that they can share in the reading, and not boring in any way, and it has the greatest ending that can be read with great enthusiasm. I have read this book 500 times in the last 4 years. It could be 800. The kids and never get tired of it is an amazing feat. We have a lot of books thanks to garage sales, library book sales, and this one stands out. Highly recommend. The best book by the author. Go for her older releases.
Alternate interpretation of the book - maybe the hippo is just shy, not excluded?

Derived From Web

, Jul 16, 2018

I wonder if the book is understood. I read it as the Hippopotamus being excluded, but then I wondered why a wonderful children's author would write that storyline. It doesn't make sense. I read the book with fresh eyes and I think I have found a different meaning for the book, maybe it is that the Hippopotamus is shy. She's shy so she isn't sure if she should stay or go, but she jumps in and has a blast after the other animals run by. We're left wondering about the armadillo, and I just saw a new book that seems to answer that question, and I have a board book buying habit problem. As soon as Prime can ship the book, I'll answer that question.
Good book

Derived From Web

, May 31, 2018

Our house has a lot of books by the author. There is a lot of it. This is one of the favorites of my daughter.
Fun book for toddlers

Derived From Web

, Mar 20, 2018

One of my grandson's favorites. I was asked to read it to him a lot. We love to read.
But YES!!! The hippopotamus!!!

Derived From Web

, Dec 8, 2017

When they were small, this was my twin's favorite book. I bought another copy for myself because I don't know where that copy is anymore. I used to use a sad perplexed voice in the first part and a grand finale when I read it to them. She doesn't know, should she stay? Is she going to go? Yes, but The Hippopotamus! It is a good book for that type of thing. I don't know what glee is, but their eyes would be shiny and they'd be sucking on their binkies. They would absolutely love it. It was part of their ritual. Tearing up here.