Buy 3 Get 1 Free
Our Best Sale Yet! Add 4 Books Priced Under $5 To Your Cart     Learn more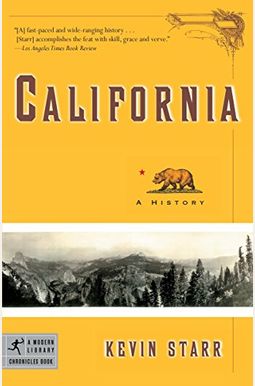  
California: A History (Modern Library Chronicles)
Book Overview
California has always been our Shangri-la-the promised land of countless pilgrims in search of the American Dream. Now the Golden State's premier historian, Kevin Starr, distills the entire sweep of California's history into one splendid volume. From the age of exploration to the age of Arnold, this is the story of a place at once quintessentially American and utterly unique.
Arguing that America's most populous state has always been blessed with both spectacular natural beauty and astonishing human diversity, Starr unfolds a rapid-fire epic of discovery, innovation, catastrophe, and triumph. For generations, California's native peoples basked in the abundance of a climate and topography eminently suited to human habitation. By the time the Spanish arrived in the early sixteenth century, there were scores of autonomous tribes were thriving in the region. Though conquest was rapid, nearly two centuries passed before Spain exerted control over upper California through the chain of missions that stand to this day. The discovery of gold in January 1848 changed everything. With population increasing exponentially as get-rich-quick dreamers converged from all over the world, California reinvented itself overnight. Starr deftly traces the successive waves of innovation and calamity that have broken over the state since then-the incredible wealth of the Big Four railroad
Read More chevron_right
Frequently bought together
Frequently Asked Questions About California: A History (Modern Library Chronicles)
Books like California: A History (Modern Library Chronicles)
Book Reviews
(12)
Did you read California: A History (Modern Library Chronicles)? Please provide your feedback and rating to help other readers.
CALIFORNIA: A Grand Subject Made Enjoyably Graspable.

Derived From Web

, May 31, 2022

I've finished this book and really enjoyed its rollercoaster ride through California history. Starr has a good sense of how to contextualize themes that helps one see California from many views. As an example, he takes California labor and union history from its earliest days up to near modern times, all in a swoop, but in a way that helps one better understand both labor and union, and California. He does similar journeys for other subjects, such as California - art and literature. Often, California can be such a grand theme that it is hard to grasp its true shape and contours. Starr does an excellent job of giving a summation of a subject and helps to make the subject a little easier to grasp. It may not be for everyone, but I recommend Starr's California.
Excellent overview of what California is..

Derived From Web

, May 31, 2022

If you embarked on a journey to understand California, I would begin with this book. If this was meant to be a comprehensive history of California, it would be 1000s of pages long. However, it does provide certain episodes and names in California history, which gives the reader a starting point to explore further after this book. Highly recommended, especially to provide as a starting point to explore more in detail.
a 40,000 foot view of California history

Derived From Web

, May 31, 2022

After reading this, there remains no great history of California. Other books by Starr vary in quality and depth, with most leaning towards high quality, focused on specific eras or themes. However, this book was lacking.
Perfect

Derived From Web

, May 31, 2022

This book arrived on time and I was able to comprehend the reading material. Some books come easily understood in words and this book was well advanced.
Good intro but culturally imperialistic

Derived From Web

, May 31, 2022

Prof. Starr has written a Spanish and Mexican history, but has failed predictably in his treatment of the good, concise periods. His is the standard 21st-century cant, i.e. Anything done then should be judged by modern standards. This bit of indefinite imperialism says that the noble savage, living in peace with his neighbors and harmony with nature, should have been left alone to deal with his own cultural and temporal fate. However, even a snub reading of eyewitness accounts will call this view into question. However, once you get over his cultural bias, it is an entertaining-albeit understandably overly concise introduction to California history.
Good product

Derived From Web

, May 31, 2022

I don 't have much to say about it specifically since I purchased the product for someone else. I would recommend buying it, since I heard no negative reviews about it.
Used this book for history class

Derived From Web

, Jun 7, 2021

I had to buy this book and read it for one of my classes, and the author Kevin Starr was very brilliant at writing it. He does know an enormous amount of information on the subject of California, but it was not enjoyable to read, but the facts are there.
First 100 pages good, next 100 pages total Democrat Pro Identity Politics. Now in Trash

Derived From Web

, Sep 16, 2020

Page 118 : Moving ties and rails, pounding spikes with a force that seemed to explode from their muscular bodies. Starr discusses Chinese laborers building RR through Sierra. This sentence had me bursting into laughter. He also mentions money, racism, lynchings, environmental destruction, theft, killings, lies, slavery, missionaries, and all around plain greed that led to the forming of California. It is worth reading, if at times irritating, as Starr wrote in her review, at Page 200, I finally had enough of Erika's run on sentences. I'd had enough of his academic looking down his nose at everyone, but his academic ancestors in the trash...
Historical Summary

Derived From Web

, Jun 8, 2020

This is a summation of Kevin Starr's seven history of California and the American Dream, generally considered the definitive history of California. In this book, Starr covers a great deal of ground, which is, after all, a distillation of his life's work. It is hard not to applaud the effort, but I have to confess to being bored while reading it.
Detailed account of California's founding

Derived From Web

, Dec 13, 2019

The book appears to be very liberal, albeit the author seems to have a factual slant. As a California resident for a lifetime, I hear the Mexicans say, we stole it from them. Page 73 clearly states that the US paid Mexico $18.25 million for the state. In 1848, a pretty good sum was collected. The Mexican President signed the Guadalupe Hidalgo Treaty, which ceded all territories north of Rio Grande to the USA.