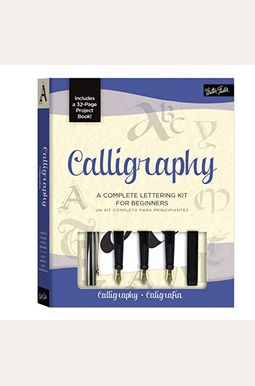 
 
Calligraphy: Project Book For Beginners [With 3 Nibs, 10 Ink Cartridges And 3 Felt-Tip Calligraphy Pens And Calligraphy Paper]
Book Overview
Calligraphy: A Complete Kit for Beginners comes with all the materials and instruction a beginning lettering artist needs to get started.
The lettering book first
covers the basics
--such as pen styles, angles, and hand positions; letter heights and spacing; and practice strokes--
before offering advanced techniques
for rendering several calligraphic alphabets, including Sans Serif, Roman, Chancery Cursive, Uncial, Black Letter, and Batarde. Numerals are covered, as well. Every lesson can be accomplished with the array of writing materials provided. The hardcover case includes:
32-page paperback book with corresponding Spanish instruction
1 cartridge calligraphy pen
3 pen nibs
12 ink cartridges
1 felt-tip calligraphy pen
Calligraphy paper
A guideline sheet
Warning This product is intended for use by ages 14 and older and is not intended for use by children.
Frequently Asked Questions About Calligraphy: Project Book For Beginners [With 3 Nibs, 10 Ink Cartridges And 3 Felt-Tip Calligraphy Pens And Calligraphy Paper]
Book Reviews
(12)
Did you read Calligraphy: Project Book For Beginners [With 3 Nibs, 10 Ink Cartridges And 3 Felt-Tip Calligraphy Pens And Calligraphy Paper]? Please provide your feedback and rating to help other readers.
Calligraphy Kit: A complete kit for beginners

Derived From Web

, Apr 29, 2022

The youngster has found a great way to sign her name using the magic pen. This is a new signature that has lots of fun making borders for cards. Since Christmas, she has used it every day except for a few days. It was a lot of fun, I'll admit.
I expected more.

Derived From Web

, Apr 29, 2022

Only gave it 3 stars because I expected more information about the products over the internet. Penultimate has displayed customer service above and beyond expectations.
Is this for real?

Derived From Web

, Jun 6, 2021

Several other reviewers had harsh words for this set, and I wish I had read them before I bought it. The cartridges don't work and the paper is shoddy. The book is very nice, but I would say it's not particularly helpful. Do yourself a favor and move on, Mr. Rule told the judge.
Huge huge disappointment

Derived From Web

, Jul 27, 2020

Huge disappointment didn't like the letters didn't like the instructions were not clear the shape of the letters _ the pens were okay don't know how to put them together.
Poor quality and doesn't work

Derived From Web

, Dec 26, 2019

These are terrible pens, said Thomas Spengler, senior vice president of PenPower. This was for my son because he wanted to learn calligraphy. I learned calligraphy years ago and not only couldn't get these pens to work well, but I was also worried it would tech-savvy as he was trying to learn. We are returning this immediately and hope to find a set of products that better suits the needs of our students, said Mr. DeVries.
Poor product

Derived From Web

, Dec 7, 2019

The pens themselves didn't work that well. Whether the ink in the cartridges wasn't good or it was the pen itself it didn't perform well at all.
A birthday present

Derived From Web

, Sep 10, 2019

It was a great present for my daughter's birthday, said Jennette. One of the pens wouldn't take the cartridge and would not work, and Tip-2 didn't work either. Only 5 sheets of practice paper are included with this book. My daughter was very happy to get the kit, but disappointed in the overall package and results.
Don't buy this set

Derived From Web

, Nov 14, 2018

The set includes a DVD player, two turntables and a drum set. It takes a lot of time to get anything out of the box. The pen won't work because the ink doesn't come out of the pens when you put the cartilages in them. The felt pen works okay but all of the pens should be usable, Sosa said.
total waste of money

Derived From Web

, Jun 7, 2018

The ink was either dried out in the tube or leaked, total waste of money. Do not waste your money on this set, Mr. Rule told the judge.
Poor Quality, Cartridges were leaking when it arrived

Derived From Web

, Mar 14, 2018

This set of four calligraphy sets is not a good value for money. The second problem was that when the box arrived, many of the ink cartridges were leaking. The ink stops flowing when the printer stops producing. Part of the problem could be that the cartridges had been leaking, and that the pressure on the printer didn't keep a consistent flow of ink. Go for a better quality brand, like Sheaffer or Rotring. Yes, I will be returning for more.