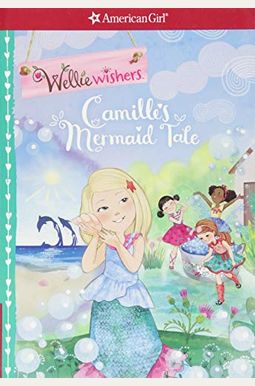 
 
Book Overview
Camille loves the ocean, the warm sand, the pretty shells, and the sparkling waves that tickle her toes. Sometimes she even imagines that she's a mermaid with whales and dolphins for friends When the other WellieWishers see how much Camille misses her summers by the sea, they want to help, but how can four girls turn a garden into an ocean?
Frequently bought together
Frequently Asked Questions About Camille's Mermaid Tale
Books like Camille's Mermaid Tale
Book Reviews
(10)
Did you read Camille's Mermaid Tale? Please provide your feedback and rating to help other readers.
Adorable

Derived From Web

, Nov 12, 2021

In "Absolutely Adorable Book" by Michael Morpurgo and illustrated by Pauley Kilpatrick, the narrator tells the story of a boy who has a crush on a princess. We're huge fans of Wellie's books. The Beatles are basically all amazing, I must say. Great for ages 4-7 but my 10 year old also sneaks it in for quick reads.
Wellie wisher!

Derived From Web

, Nov 30, 2020

I bought this he doll from American Girl as a present for Christmas and found the book on Amazon. Good price, said Dr. Brian Kilpatrick, director of NASA's Ames Research Center in California. A great book, Gillian. Not too small, not too big, Mr. Rule told the judge.
A cute story for any wellie wisher fans

Derived From Web

, Sep 13, 2020

My six-year-old has all but begged to be told this story. It's such a sweet little story and it keeps her interested in the book since these are just little books, Mrs. Booher said. We will read one to two chapters a night, and it will be great! Also, these are great books for people who are getting established with reading on their own.
Cute collection

Derived From Web

, Aug 31, 2020

The whole thing is a collection of short stories. What a great story, said one sixth-grade girl. For grades 4-5 it may be a little below their grade level but it would be a fun easy read for them.
Good addition to series

Derived From Web

, Aug 28, 2019

If you're familiar with American Girl's WellieWishers, you know that there are five character dolls. Each book is a single story, but the rest is a sprawling collection of stories. The WellieWisher books are a great option for young readers. Each book features bright illustrations and easy-to-digest sentences. The SEC has brought one of the bonuses to the attention of the grand jury. The girls play outside and in puddles.
Excellent book

Derived From Web

, Jan 3, 2019

My 8 year old daughter, who loves to read but has a short attention span, reads this book from cover to cover without putting it down once. She really enjoyed the story, and I was thrilled to see her so engaged, Mr. Dhaliwal said. I haven't read it myself, but judging from her reaction to it, it's yet another excellent book for children from American Girl. She has several other Wellie Wishers books, but this one seems to be her favorite.
AWESOME AMERICAN GIRL BOOK

Derived From Web

, Dec 8, 2018

GREAT CHRISTMAS GIFT,! Thanks for all the support!
Great book with a nice message

Derived From Web

, Jun 29, 2018

The WellieWisher books are also very good. Each page has a color illustration of the child's drawings. The vocabulary is appropriate for an advanced reader and the story lines are suitable for younger girls. The story lines seem to all be about being a good friend, empathy and kindness, Gaiman said. The WellieWisher show on Amazon is a nice accompaniment to the books, and helps to reinforce the story line. My 4 year old also really enjoyed having the story read to her and I'd often find the older daughter reading the book to her younger sister.
High interest book for a struggling reader. Always a challenge to find.

Derived From Web

, Apr 2, 2017

My daughter absolutely loves them. She is a struggling reader. She also said that sometimes books that would interest her are too difficult to read and books that are at her reading level are too immature. The WellieWishers books by American Girl are just perfect. They are very well made and are not too challenging for my 9 year old. The chapters are manageable and give her a great feeling of accomplishment, the author said. They've actually done wonders for her confidence, they said. The illustrations are also very nice, Mr. D'Antonio said. I would definitely recommend them to anyone.
This is our absolute favorite WW book out of all the books

Derived From Web

, Feb 25, 2017

It's the absolute favorite book of all the books. We love the illustrations and the memories of Camille with her Grandmother. I would highly recommend this product to parents of young girls. 0 3171578 3171578 This is very useful to parents of young girls. I have a 4 1/2 year old who LOVES the series of books. The show is also being produced by Warner Bros. Pictures, the company behind American Girl.