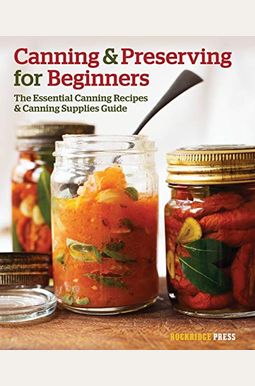 
 
Canning And Preserving For Beginners: The Essential Canning Recipes And Canning Supplies Guide
Product is currently Out of Stock.
You can add it to your wishlist and you will be notified once we receive a copy.
Book Overview
Whether you are a local food movement enthusiast or just starting out on the food preservation journey, this is the resource to have.--Eric, reader
Canning and preserving is a great solution to always having local, seasonal, and budget-friendly food in your kitchen. But unless you learned how to do it in your grandmother's kitchen, it can be difficult--not to mention dangerous--to know where to start. Canning & Preserving for Beginners explains the process of home canning with step-by-step directions and easy, flavorful canning recipes. Experience how enjoyable and delicious it can be to eat seasonally with this simple and straightforward reference.
Canning & Preserving for Beginners will help you quickly become an expert in home canning with:
70 Easy Recipes for canning and preserving the perfect pickles, relishes, jams and jellies throughout the year
Step-by-Step Guidelines for canning techniques, such as water bath canning and pressure canning
Tips and Tricks saving time and safely canning your favorite fruits and vegetables
Canning recipes include: Classic Dill Pickles, Pickled Green Beans, Strawberry Jam, Apple Butter, Onion Relish, Mango Salsa, Honey-Pear Jelly, Light Blueberry-Almond Fruit Spread, Carrots, Asparagus Spears, Chili Read More chevron_right
Frequently Asked Questions About Canning And Preserving For Beginners: The Essential Canning Recipes And Canning Supplies Guide
Book Reviews
(13)
Did you read Canning And Preserving For Beginners: The Essential Canning Recipes And Canning Supplies Guide? Please provide your feedback and rating to help other readers.
Errors in the recipes

Derived From Web

, Apr 20, 2022

I like the simplicity of the recipes, which are great for a beginner, he said. Two recipes I have tried, both have had errors. The recipe lists vanilla as an ingredient, but nowhere in the directions does it tell you where to add it. I think it's great to have added some sugar, but not all. I saw a second reviewer who mentioned this problem, but I ordered the book anyway because overall, the reviews were so great. When you are a beginner, the last thing you want to find an error is to find an error while you are trying to master your craft. I had to consult other recipes online to decide what to do next, she said.
Eh...

Derived From Web

, Apr 20, 2022

No times given for pints, only quarts. The book is black and white, with the exception of the first few pages. Who prints photos of colorful food in black and white?
Great book for first time canners!

Derived From Web

, Apr 20, 2022

I had no idea how easy canning would be until I read the book Canning and Preserving for Beginners: The Essential Canning Recipes and Canning Supplies Guide. The book broke the whole process of canning down into easy steps, including lists of what a person needs for different methods of canning. This book also suggests that canning isn't just easy and fun, but it can help those looking to save money while feeding their family quality, healthy foods. It's great to have a book like this for anyone who wants to start canning but feels overwhelmed by the process.
This book was helpful.

Derived From Web

, Apr 20, 2022

I really enjoyed the book, said Dr. Julie Gerberding, director of the federal Centers for Disease Control and Prevention. I learned some new things, like how to pick produce. Now I use to just check for ripeness. Now I check for cuts and holes too. The book is very easy to read, even if you're not a fan of Dr. Goin's. It gave helpful tips to beginners. But the book said that I shouldn't have known if something had broken because I wouldn't know if it was a bullet. It would be better to buy a new one, Mr. Dhaliwal said. The boys said they wanted to start with a cheaper one. Just to make sure I like to can.. Just to make sure I like to can. Also, I learned that certain tomatoes can't be washed down with water. In the book, you can use a chart to show what foods can be used for each method. The other two methods are water bath canning and pressure canning. Like what to avoid and what is ok, Nimrod said.
Canning: A Timeless Pastime

Derived From Web

, Apr 20, 2022

I enjoyed reading this book because it gave a brief yet detailed insight on the history of canning, the science behind the process and the various methods of home food preservation. Traditional methods of canning can be executed by either a novice canner or a seasoned veteran in the comfort of their own home, it says. Broomhead also offers countless recipes that can be duplicated at a moment's notice and enjoyed by your family and friends for years to come.
Great intro to canning!

Derived From Web

, Apr 20, 2022

This summer I have so much food from the garden I don't know what to do with it all, so I thought I'd try some canning. I bought Canning and Preserving for Beginners and was pleasantly surprised by how easily canning could be done. The book presents both water bath and canning pressure canning recipes, plus lots of other ideas to get you started. Canning and Preserving for Beginners starts with the basics—how to properly store and transport your food—and walks through the process of canning, and how to keep your food safe. Now I can't wait to get started canning my own veggies!
Wonderful, Informative, Easy, and Helpful!!

Derived From Web

, Apr 20, 2022

Whether you're looking for a fun pastime that will leave your cupboard stocked with colorful combinations of healthful food, or you're just a die-hard fan of ancient ruins, this is the sport for you. Perhaps you have begun to consider stockpiling food in case of a global catastrophe or the dreaded Zombie Apocalypse? Do you like the idea of your friends giving homemade gifts of deliciousness? This is the perfect book for your Kindle. This easy to follow guide provides all the information you need to get started canning and preserving, including selecting ideal ingredients, acquiring the necessary equipment, and how to do it all safely. 70 recipes include pickles, jams and jellies, salsas, soups and stews, sauces and meats -- plus a handful of low-sodium and low-sugar recipes for the health conscious. What may once have seemed intimidating and difficult becomes a breeze, a pleasure, and a money saver with this valuable book.
Perfect book for beginners

Derived From Web

, Apr 20, 2022

It was never my intention to do any canning, but I had so many tomatoes from my garden I decided to give it a try. Now I can have my perfect marinara sauce with my own home grown tomatoes. This book is truly the perfect introduction to the world of finance. I didn't know there were two different types of preserving water bath canning, Raymond said. Thanks to CrashPlan, I found the information so helpful it made me not have to scramble at the last minute. He also wrote several cookbooks, including "The Seven Deadly Sins of Good Food." We have a lot of fresh farm markets so I was able to get some fruit and make some jams without a lot of added sugar, Mr. Cowger said. Family members can't wait to have some more tomatoes, he said.
Vague

Derived From Web

, Sep 16, 2021

I wanted to enjoy this book and thought it would be a good place to start since I have never canned anything. The book is extremely vague for a beginner. You don't know whether that's after the recipe calls for you to run them through a sieve, which takes a lot of weight out of the blackberry, so throwing the amount of pectin the recipe says to use completely off along with the lemon juice. My first time canning wasn't the greatest experience. I ended up using google instead to finish the process since the canning recipe in this book was lacking horribly and I didn't want to waste 15 dollars worth of blackberries. Only in the past few weeks have we seen pictures of the other recipes. If you're a beginner, save your money and shop elsewhere.
Not really for beginners

Derived From Web

, Aug 17, 2020

It's a shame the water bath section wasn't there. Some of these recipes sound fun, but I really just want to know how to properly can all those tomatoes in my garden. It's just mechanical, no pressure canner, Mr. Dhaliwal said. Basic things, like that. We can get fancy with things like chutney later, nan I'm not sure I can get some use out of pickling, Mr. Dhaliwal said.