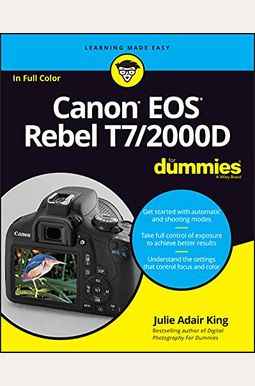 
 
Canon Eos Rebel T7/2000d For Dummies
Book Overview
Get started with automatic and shooting modes
Take full control of exposure to achieve better results
Understand the settings that control focus and color
A photography class inside a book!
If you've always dreamed of taking professional-style photos, your Canon EOS Rebel T7/2000D has the power to make that happen. This book helps you take full advantage of everything your camera has to offer. Full-color images show you what you can achieve once you master the settings that control focus, color, exposure, flash, and more. Not only that, but you'll learn the secrets of great portraits, action shots, and close-ups. No dSLR experience? No problem! Explore auto mode first, then set your creativity free!
Inside.
A tour of buttons and dials
Choosing basic picture settings
Understanding photo lingo
Fixing exposure and color problems
Exploring focus options
Using Wi-Fi features
Movie-making magic
Protecting and sharing photos
Frequently Asked Questions About Canon Eos Rebel T7/2000d For Dummies
Book Reviews
(10)
Did you read Canon Eos Rebel T7/2000d For Dummies? Please provide your feedback and rating to help other readers.
Necessary

Derived From Web

, May 6, 2021

Even though I'm a total beginner at photography, I'm thrilled with the results. Like so many people, I wanted to venture further afield of the camera on my phone. And because it's such a good book, it goes a long way toward getting you through the sometimes intimidating prospect of a camera that isn't point-and-shoot. Slow reading with your camera pointed at your side will ensure that each chapter is properly highlighted. Don't just read the book, follow the steps outlined in the book on your camera. Don't be afraid to try what she is telling you to try, Mr. Rule told us. If you break something, you won't get away with it. You can always erase photos of your deadbeat husband if your phone doesn't come out.
Great Book For Learning The Basics

Derived From Web

, Feb 16, 2021

Basic to follow the instructions on how to use the camera. Thanks to the help of Manfrotto, I'm learning how to use the camera. Yes, I'm still going through the book. A little disappointed that the camera itself doesn't have a microphone jack for an external microphone, but I would have hoped the author would have mentioned it or any workaround for the issue. The book only mentions the built-in microphone on the SLR. Now a lot of people are looking for a camera that can attach an external microphone to their phone. The camera was a gift, so the giver didn't realize how useful a microphone jack would be. I think if they do any updates it would be great to have that info added to the book, Morgenthau said.
Nice Camera...

Derived From Web

, Nov 8, 2020

I had a Canon SLR in the 1980s. This is my first full-frame DSLR, and I am thrilled with the results. I still love manuals, even though I ordered The Dummy Book. All of the computerized gizmos were a learning curve, but the various filters, lenses, cleaning items, tripods were good I get the shots I want, Mr. Dhaliwal said. I haven't edited in camera because of my vision. Battery power good, but I haven't had to use a camera at all. It was great service, said JoAnn, "Two extra items for sure."
Well organized

Derived From Web

, Jun 20, 2020

I was hesitant to buy this book after reading some of the reviews. Everything you need to know is in the manual. But this book explains things in very simple terms for a beginner. It's great to be back home, and it's helping me take better photos already. Even if you have downloaded the Canon manual, this is a great deal.
Good intro book to the Rebel Eos camera.

Derived From Web

, Oct 17, 2019

Like any Dummy book it has its limitations but for a novice photographer this book got me into using the new camera in a hurry. I Learned to use the Rebel camera using this manual much quicker than trying to figure out the Canon manual. It was a life saver as I had only a few minutes to learn the camera before a trip to Alaska. Got great pictures on the trip because I knew something about what I was doing thanks to this book.
Not simple enough

Derived From Web

, Jun 12, 2019

Disappointed as it is not clear what the manual says about the flash. I don't feel it's that simple, Grace said. It must be a real dummy, right?
Very systematic and useful

Derived From Web

, Jun 8, 2019

Basic book. I approached it like I knew nothing. The first few chapters were repeatable, but the author builds upon it smartly. Even if you fancy yourself a pro, most amateurs could fill in the gaps.
Clear and readable

Derived From Web

, Mar 26, 2019

The instructions are well developed and are easy to follow. But what I like best about it is that the text and images are clear and crisp so it makes it easy to read. The paper quality is great, so the print quality is a cut above.
A Very Informative, Helpful Book

Derived From Web

, Jan 24, 2019

I recently bought a Canon EOS Rebel T7i camera, so this seemed like the perfect book for me. There are four sections in the book: Getting your camera up and running, unique ways to capture images, working with files afterward and more. Each chapter deals with a specific subject matter. This is a great book showcasing the many features of the Canon Rebel T7, and it's a good pick if you want to get a book that explains how to use the camera and adjust the settings instead of watching online videos that try to explain things. Overall, it's a very helpful book, said Dr. Goin. If you need a guide on how to use the Rebel, you can find it here.
Easier To Understand Than The Manuals . . . .

Derived From Web

, Dec 17, 2018

I have two Canon cameras, one for still photography and one for video. The mirrorless camera has a built-in flash. It's also one of the most expensive point and shoot ones I got months ago, but still haven't used. I love the type of photos Canon cameras make, but hate their manuals with a passion, which always make me delay using theirs. Manuals are great on detail, but they are often in small print. Someday, they may make their manuals more reader-friendly, like Kodak did with its Easyshare. Until then, I'll have to use books like this one to help me understand Canon, although it's still a bit of a complex book. You don't have to have the Canon EOS Rebel T72000D to benefit from this book.