Buy 3 Get 1 Free
Our Best Sale Yet! Add 4 Books Priced Under $5 To Your Cart     Learn more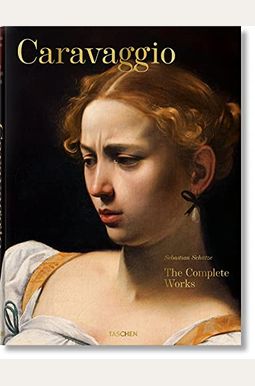 
 
Caravaggio. The Complete Works
Book Overview
This Description may be from another edition of this product.
A Revolution in Painting
The mysterious genius who transformed European art

Caravaggio, or more accurately Michelangelo Merisi da Caravaggio (1571-1610), was always a name to be reckoned with. Notorious bad boy of Italian painting, the artist was at once celebrated and controversial: violent in temper, precise in technique, a creative master, and a man on the run. Today, he is considered one of the greatest influences in all art history.

This Bibliotheca Universalis edition offers a neat yet comprehensive Caravaggio catalogue raisonne. Each of his paintings is reproduced from recent top-quality photography, allowing for a vivid encounter with the artist's ingenious repertoire of looks and gestures, as well as numerous detail shots of his boundary-breaking naturalism, whether a grubby foot or the soft folds of a sagging stomach. Five accompanying chapters trace the complete arc of Caravaggio's career from his first public commissions in Rome through to his growing celebrity status, while the book's detailed chronology traces his tempestuous personal life, in which drama loomed as prominently as in his chiaroscuro canvases.

About the series:
Read More chevron_right
Frequently Asked Questions About Caravaggio. The Complete Works
Book Reviews
(10)
Did you read Caravaggio. The Complete Works? Please provide your feedback and rating to help other readers.
A wonderful fine art book

Derived From Web

, Jun 2, 2022

The book appears to be very well made and comes with a hard cardboard protective frame printed with the same imagery, which is on the dust sleeve. I find the quality of the print and the paintings quite fine ''. I can see what some folks were referring to in reviews of a previous issue when they mentioned some of the images are dark. Some are darker than others, but do not appear to be exposed inconsistently. If you are looking at fine details, you would want to do this in sufficient light. The images printed as printed are fine in most lighting conditions for general browsing. The book is very large and heavy. I have to say that the current price of Amazon. com is an unbelievable deal for a book of this quality and size. Even the fair price for this printing is completely regular and lower than I expected for this product.
Stunning close-ups, brilliant printing

Derived From Web

, Jan 24, 2022

It was given to Caravaggio as a Christmas present to a graphic designer friend who is a huge fan of Gave and he was more than satisfied. The quality of printing is amazingly great. Yes, it actually cuts some of the paintings in half with the binding but is not a huge loss because you already know that this is a book, not the actual painting. The extraordinary marvel is all the detail and close-ups of Caravaggio's real paintings. Friend said that the only drawback is that it is huge and heavy, so that it may not fit on a shelf. It is the kind of book that you may want to keep open on a stand or a table if you have the space.
Excellent art, but some scepticism as to text is warranted

Derived From Web

, Nov 15, 2020

Taschen is an excellent publication. Text is insightful, with a number of informative descriptions of Caravaggio's evolving style. One fairly minor caveat, Mr Schutze's descriptions of the painter's intentions to elicit certain emotional responses from viewers of his work, not from any writings left to us by the painter, but from Mr Schutze's own emotions. As he seems to be purely religious, he gives Caravaggio purely religious intentions which may or may not reflect the painter's mind and heart.
Outsanding presentation of the works of a master

Derived From Web

, Oct 4, 2020

As a professional artist, I revel in my collection of books, which feature the artwork of the great masters, and this volume shines at the top of them all. The simple imagery on page after page draws you further and further into the appreciation of his technique as well as the brilliant and sharp beauty of his compositions. I enjoy the way you get the full image of a painting then show subsequent pages with details worth studying. My favorite, The Calling of St. Matthew, is featured on a 3-page, foldable display so that you can take the entire masterpiece in one wide view and not miss a single detail. If you are a painter, it is more than worth the investment.
Book comes without slip case and will be delivered damaged

Derived From Web

, Feb 4, 2020

Customer beware, the item you receive is NOT the advertised 2019 edition, but a 2015 print. The print quality is pretty shoddy in parts. E.g. Look at the thumb on page 161Finally, what makes this a terrible purchase is that there is a bait and switch. Though the item description says the book is a slip case edition, as evidenced by previous stock photos, testify that you won 't get anything. Instead, Amazon Prime threw the book without a protective cover or any other interior packaging into an oversized empty box. Simply not worth the hassle, this used to be on sale for $35, and is definitely not worth more, especially not now that the item is shipped without protective slip case and handled so poorly.
Four and a half stars

Derived From Web

, Oct 12, 2019

Most of the reproductions in this tome are splendid, detailed enough to show the weave of the canvas and an occasional brushstroke, though Caravaggio's style was not such that many strokes would be obvious anyway. I am not thrilled with the decision to show some of the reproductions in full two-sided spreads, i.e. across the gutter. In most of these cases, I find that this distracts my enjoyment of the image, but is a quibble. I have to admit that I have not read much of the text at all, so far. This is largely due to the huge disparity between the font size and the book's dimensions, and the decision to sometimes print black text on gold-colored paper was a poor choice, if not a stylish one. All said, this is a beautiful book. It is huge, and you will have to consider where and how to display it.
Amazing reproductions

Derived From Web

, Jan 6, 2019

I was looking for a book on Caravaggio with large, quality reproductions to examine - this book fits the bill 100%. There also appears to be a detailed, comprehensive text accompanying the illustrations, but I haven delved into it much. But what I have been reading has been quite interesting and informative.
This Fine Book on Caravaggio's Art is Stunning!!!

Derived From Web

, Nov 21, 2018

After seeing very good reviews on it, I bought this book. Reading reviews, however, and seeing the specifications of the book provided no clue as to what an outstanding book this would be when I opened the package that afternoon. The pages are heavy and nothing shows through from the back of any page. The images are all clear and this includes all his works with details of most of them and several folded pages showing the paintings in even greater detail. I expect only the best from Taschen's art books and this one certainly doesn 't disappoint.
Gorgeous Book, Excellent Reproductions

Derived From Web

, Jan 29, 2018

This book is great-definitely a coffee table stunner, but not massive enough for carrying. However, it is the absolute best resource for Caravaggio reproductions. Other books do not even come close, and some are just shameful. I ended up purchasing my own copy, because it was so beautiful.
Gorgeously Printed, Written and Produced

Derived From Web

, Apr 24, 2017

This is a gorgeously printed and produced book, with Caravaggio's difficult-to-recreate chiaroscuro images, presented in deep rich clarity. The figures and stories seem to emerge from the day, as they do from the actual canvases. The copious text is well written, scholarly and evocative and fits a painter of Caravaggio's importance. I have already spent hours exploring its pages, even weeping at imagery I have loved for decades as if I stood before my beloveds again.