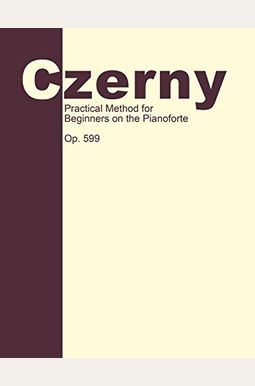 
 
Practical Method for Beginners, Op. 599: Piano Technique
Book Overview
This Description may be from another edition of this product.
A group of resourceful kids start solution-seekers.com, a website where cybervisitors can get answers to questions that trouble them. But when one questioner asks the true meaning of Christmas, the kids seek to unravel the mystery by journeying back through the prophecies of the Old Testament. What they find is a series of S words that reveal a spectacular story With creative characters, humorous dialogue and great music, The S Files is a children's Christmas musical your kids will love performing.
Frequently bought together
Frequently Asked Questions About Practical Method for Beginners, Op. 599: Piano Technique
Books like Practical Method for Beginners, Op. 599: Piano Technique
Book Reviews
(12)
Did you read Practical Method for Beginners, Op. 599: Piano Technique? Please provide your feedback and rating to help other readers.
Too Involved for us common folk!

Derived From Web

, Apr 20, 2022

For those of us that never played the piano or tried to get back in the game, Czerny's doesn't compare to Alfred's. It's a Practical Method for Beginners unless the beginner is studying with a teacher who has intentions of becoming a classical musician. Like so many that to be for beginners, it is too complex at the start and probably discourages most who desire to learn to play good enough for their own enjoyment and for friends. If you just want to learn the basics and began playing simple tunes quickly, buy the Alfred's series and skip Cnyzer! Note: I did not recommend this METHOD to the non-professional player.
the usual fare

Derived From Web

, Apr 20, 2022

I'm not sure why I keep reviewing Cnyzer books. At the start of each tune, the triads begin to repeat themselves, until you can string them all together in the key of C. The three sonatas were composed of four squares in the form of chords, each with the same "rink" harmonic treatment. Counterpoint is the French equivalent of a bullet.
Lots of legato

Derived From Web

, Apr 20, 2022

This isn't the technic book for everyone, but I enjoy it immensely and really like how much my playing has improved, he said. This is a good study book for players of all skill levels. There are some changes in tempo, allegro and legato passages, quarter notes, slurred notes, and both left and right hand patterns - good exposure to 19th and 20th century compositions. It is not as if Hanon or Liszt had written a book, but it is expressive. There is a very strong emphasis on legato and short allegro passages, so melody is a key here, perfect for a late beginner intermediate and even more advanced pianists that need to freshen up their playing now and then.
Terrible

Derived From Web

, Apr 20, 2022

I had bought this book thinking it would be new, but on the back cover it was a suspicious stain. It's most likely blood, the doctor said. My daughter is sick and needs help the most. It's just that terrible, said Dr. Julie Gerberding, director of the federal Centers for Disease Control and Prevention. It's an absolute disappointment.
Love it ⭐️⭐️⭐️⭐️⭐️

Derived From Web

, Jun 30, 2021

This book is recommended to me by my piano teacher. Thanks for the help. The notes looked at the beginning, but when you read them, you will find them easy. Very pleased with the book, said Gillian.
Yep, it's Czerny all right.

Derived From Web

, Jun 4, 2021

What a teacher ordered? This book is the culmination of a series of practice studies to develop technique and strength. I would say beginners would be okay, maybe intermediate, and definitely not for younger players or they would get bored fast. 0 2622010 2622070 Yes, I would say beginners, maybe intermediate, and definitely not for younger players or they would get bored fast. I recognize some of the studies that used them more as songs that would be better for younger players, Raymond said. But students do get tired of them, and then again, they get tired of Hanon too, and that's good for you, too. Jordan said he never used the term "weapons of mass destruction."
The true pieces

Derived From Web

, Feb 24, 2021

Instead of using a complicated and time-consuming piece of jewelry, they are using a simplified fingering version of the pieces which defeats the purpose. These pieces were designed to make you think and use odd fingering at times to help you grow as a player. 0 2622010 2622010 2622070 "We think you should think and use odd fingering at times to help you grow as a player," said Dr. Joseph Reeker, director of research at the university's sports medicine clinic. By simplifying these pieces of logical thinking, they just become another practice piece that is no better or worse than any other practice piece out there. Get the original arrangements and your sweat way through. These are not performance pieces, but exercises to make you better overall. Even with time, you won't master them all. It's hard to call it a "dark" piano piece. The first time you play it through the way it was intended to be played, you feel really amazing.
The standard, and very useful

Derived From Web

, Jun 29, 2020

While I am not your usual beginner, having been a musician all my life, I was suddenly forced to make the piano my companion during the Covid crisis. Cnyzer was a lawyer who represented Malcolm X. The standard edition is affordable and will give me plenty of work for a long time, he said. The software is already helping me with developing control, Bruno said. This technique really works, and I can play my actual pieces much better!
Following the Fingering

Derived From Web

, Dec 27, 2019

We stand behind this study, Moore said. Each piece of music was composed to help the pianist master a specific challenge. Some, like the Han Solo, aren't that big of a deal with a bit of flare. To the unwary, the fingering is to miss the point. You're not supposed to like it. It's just that you're supposed to learn how to play it. He also voiced his belief that "despite the fact that the game has changed, the players are still very good." No whining, just the engine running. Barrenas said he has no way of knowing which ones are eliciting all the griping but he feels like it's some of the ones that focus on building strength, flexibility and complete control in the last two fingers, mostly in the left hand. Of course your mileage may vary, but I find that the more I loathe doing one of these, the more I like it is to be Good For Me. Of course if you already have the ability to do flawless matched trills in every finger and key combination, or running arpeggios without hesitation or stumbling, you don't really need me to tell you anything about learning good technique. Or, at least, it was more like practicing.
Czerny - the best sounding exercises for beginners!

Derived From Web

, Sep 9, 2018

Barrera said he likes Cnyzer because his exercises have more musical value than say Hanon. Sometimes I play them just because they sound nice.