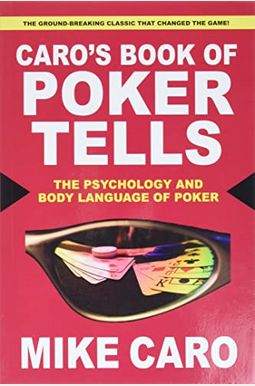 
 
Caro's Book Of Poker Tells
Frequently Asked Questions About Caro's Book Of Poker Tells
Books like Caro's Book Of Poker Tells
Book Reviews
(9)
Did you read Caro's Book Of Poker Tells? Please provide your feedback and rating to help other readers.
Tells are of second nature in poker!!!!!!!

Derived From Web

, May 30, 2022

Mike Caro is really a genius at his craft. This book is really not for the faint of heart. If you want to win at poker consistently and be a consistent winner, you must do so in the time. Yes, poker is gambling and in essence, everything is a gamble, but just like a doctor or lawyer or teacher, they had to master their craft and then learn it. This book is a key ingredient to success in poker, yes, the book came out a long time ago and I wish I would have known about it because its hard to break old habbits, but this book transformed my game to new heights. If you don 't like money, there is always the 9-5 job ( i.e.
flopping a set...

Derived From Web

, May 30, 2022

When said and done, NO BOOK IS GOING TO HELP YOU, because its all gambling, don 't believe anyone who tells you its a game of skill, but you will go bust eventually.
Read with several grains of salt...

Derived From Web

, May 30, 2022

But if you don 't know for absolute certainty that you are already a good player, you would do well to steer clear of it completely. Here there is ample food for thought, and it's a great way to begin to contemplate the theme of tells, and there is stuff here that will make a good player cringe. I'm pretty sure that this book has cost bad players a lot of money over the years. Honestly, the main topic of the book is that strong means weak an vice versa, and is generally a horrible idea to take too much in the heart. I can tell you that there are great players out there who are so good at messing with your head at the table in very subtle ways, that the best advice for anyone is to ignore player behavior completely when decision time is concerned. It is usually best to approach the live game simply, rather than online.
easy to understand and implement, make this the 1st poker book you read

Derived From Web

, May 30, 2022

If you are a high-level poker player or a beginning player, this book should be the first one you read and then you should read it again every 6 months! Just using a few tips from this book will give you a noticeable improvement in a live playing session. Mike lays it in such a simple, easy to understand way that translates into an executable plan.
Meh

Derived From Web

, Dec 26, 2018

The actual content will be useful to small stakes players and may even have a little merit in the mid stakes games. However, the MCU chart that Caro uses to share hand histories is super old and annoying to use.
Deserves a Place on the Shelf of any Serious Poker Player's Library!

Derived From Web

, Nov 14, 2018

This classic from Mike Caro deserves a place on the shelf of any serious poker player's library. It is the first significant book on poker that tells. Today, much of the information is still useful. Caro goes into detail about when opponents are bluffing and when they aren based on their mannerisms.
Tells are the most overrated aspect of the game.

Derived From Web

, Sep 5, 2018

Thus dated the pictures are! Over and over again, you have to play with the same people. This does not happen for the average player at a casino.
Yes, it is dated.

Derived From Web

, Jan 31, 2018

Given it's revered status among the poker community, I felt that I needed to read it. I have found more table value with Zach Elwood's books.
The bible for tells

Derived From Web

, May 22, 2017

The Bible tells us what. I have 5 poker books (Super Sytem, Harrington On Hold'em 1-3, adn now Caro's Poker Tells ). If Daniel Negreanu ever publishes one that goes in depth with his Small Ball system, I add that one to the mix, but for now I'm pretty happy and doing well.