Cyber Week Deals
Cyber Monday Deals are Here! Save 20% on All Books Under $10 - Code CYBERBOOK Learn more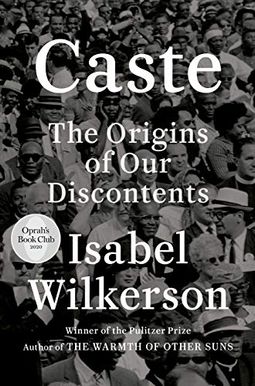  
Caste: The Origins Of Our Discontents
Frequently bought together
Frequently Asked Questions About Caste: The Origins Of Our Discontents
Book Reviews
(13)
Did you read Caste: The Origins Of Our Discontents? Please provide your feedback and rating to help other readers.
Castes in America

Excellent book. Learned a lot about our country that I didn't know as much about before.
Propaganda disguised as history

Derived From Web

, Feb 8, 2021

The book is not a history of race relations in America. Marcus Garvey advocated that a black person should live in a country run by whites, and it is a polemic that uses history to make that case. The caste system of Hindu India is compared to Nazi Germany by the author. Race relations in America need to improve, but they are not as fast as we would like.
Lots of Breaks Needed

Derived From Web

, Jan 17, 2021

Gosh! This was very hard. The start of slavery and the present time are too much. I feel like a demon. I was angry throughout 80% of the book. Every high and college school should have this book in their curriculum. Everyone must be aware of the injustice faced by the people of color. It makes no sense for people to be involved in a daily struggle. The author did not stand up to the injustice she saw and suffered. It took me about 2 months to get through this book because it was very difficult to read about the injustice my people suffered. I hope the book changes the lives of people of color and those who appreciate the color in this world.
A Revelation

Derived From Web

, Aug 25, 2020

Isabel has given me a new perspective on race relations in this country. I have never really explored how the system works, but I am not entirely unfamiliar with the concept of caste. She found the essential elements that make caste systems thrive by applying the construct to India, where caste is an ancient reality, and to the American South, where caste grew out of slavery. Understanding the oppression of the system is important for people who want to resist it.
Missing pages

Derived From Web

, Aug 21, 2020

There are 33 pages that are missing from the book I just bought. Page 14 continues. How can I be sure that I am buying a complete book? ?
Good food for thought

Derived From Web

, Aug 18, 2020

The author's thoughts and observations may make you pause. I did. An author offers up interesting perspectives. I've never seen reviews like this one on Amazon. 5 star or 1 star, few in between. Some people didn't like it, but they didn't articulate much disagreement. They are angry! They want their money back. Who wants to get a refund for buying a book they don't like? Unless the premise of the book is true, it is puzzling.
Over hyped!

Derived From Web

, Aug 8, 2020

The pre-release publicity promised so much that I was looking forward to reading it. I was not happy. The book's thesis that caste explains race in America isn't proven because the author doesn't have a good grasp of what caste is. When discussing American caste, she stays with white and black, but there is no such thing as a two-tiered caste system. An analysis of American caste would show the multiple layers of caste within the white and black communities. Seeing American racism through the lens of caste is not likely to illuminate. The book was disorganized, the prose style was mediocre, and the research was shallow. There are many books that do a better job of analyzing race in America.
Top notch

Derived From Web

, Aug 6, 2020

I knew I had to get this one after reading her last book. This one is better than the last. There was a lot of research going into this book.
Insulting...you don't know what Caste is.

Derived From Web

, Aug 6, 2020

If you know what caste is, you insult those who are afflicted by it. Caste is unchanging, you are born with it, you die with it. It's a good idea to educate yourself on how caste affects people outside of your social justice bubble.
Tough Read for Some

Derived From Web

, Aug 5, 2020

Half of the American audience will find Part One hard to read. Push through if this is you.