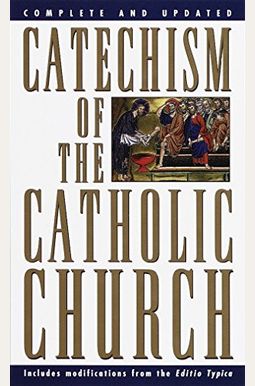  
Catechism Of The Catholic Church
Frequently Asked Questions About Catechism Of The Catholic Church
Books like Catechism Of The Catholic Church
Book Reviews
(14)
Did you read Catechism Of The Catholic Church? Please provide your feedback and rating to help other readers.
Not for Kindle

Derived From Web

, Apr 20, 2022

Material is fine, using it via the Kindly link, Mr. Rule told us. There are no easy access points to the Vatican's collection of Catholic apologetics. The newer versions of kindle work, but I dont know if they will allow audiobooks. It's just that I'm not sure I would order a paper version. On the material itself, I find it amazing how the Catechisms come into being. The book reveals the deep thinking of the Roman Catholic Church and Biblical interpretation and reflections. He said: "Many people have asked about the DVD, but I don't think anybody has seen it." Thanks for the compliment.
Best Overall Version of the Cathecism

Derived From Web

, Apr 20, 2022

The Catechism of the Catholic Church is, in my heart and mind, only eclipsed by Sacred Scripture, in enlightening and teaching the reality of Church established by Jesus, he said. Not meant to be polemical here, just stating what I've found the book to do since becoming a Catholic. I would not be without it, Mr. Kennedy said. This version is especially good because it is well made, fits in the hand nicely, and the print is the right size to make it more readable than the smaller paperback version I had before, he said.
Written by scholars for individuals like myself that want to learn more

Derived From Web

, Apr 20, 2022

I would highly recommend it to anyone. I have had the pleasure of reading the Spanish version and have decided to read the English one. I ordered 2, one for a gift and the other for a coworker, and she told me she can really understand this versus the Bible. It is not a replacement of course, but rather importance highlights scriptures and categorizing concepts such as viridualism,'' ''holy sacrament,'' ''and so much more. I cannot say I am a devoted Catholic or even Protestant as I was mostly around but I could say that great reading is easily identifiable by any follower of Jesus Christ. Buy more than one, I will be definedtly, God willing, purchasing more gifts for this year.
flawed lookup and indexing on ipad kindle app

Derived From Web

, Apr 20, 2022

The difference is that the writer's signature is the same as the text. There is no easy and reliable search engine for finding the writer of this article. Before you can search a physical book, you must first determine whether the paragraph is to the left or right of the page. The average response time on an ebook is about five minutes slower than a real book.
Beautiful compact hardcover version of the CCC!

Derived From Web

, Nov 21, 2020

Thanks for adding the tabs, Roxana. It's easy and compact to reference, which is perfect for me because I'm currently a Royal Canadian Air Force candidate, he said. I wanted a hardcover that could easily carry a book, so I could attend classes and also use it outside, he said. This was a great purchase, recommend it to anyone.
A good book for every catholic to have.

Derived From Web

, May 31, 2020

It's a very interesting book. It's helping me to stand up to some of my questions as I get more involved in my religion.
Review of "Catechism of the Catholic Church" (ISBN 0-385-50819-0)

Derived From Web

, Mar 21, 2020

Overall, a good value for money investment. The main issue I have with the book is that it is very slight, Raymond said. Hopefully, over time, it will loosen up a bit more. If you have vision problems, you may want to consider a larger font. The paper is very good quality, there is no bleed-through and the price is reasonable. The Nicene does not exactly recite the entire creed in my local Parish. When I google it, I can find the correct version used in my church, not sure why that is not reflected in the Catechism.
Good Standard

Derived From Web

, Dec 23, 2018

Good book, written by a Catholic convert, circa turn of the century. Some of the concepts could be plainer and more clearly defined. It is an encyclopedic manual of Roman Catholic teaching, with brief biographies of all the important figures. There is no recorded history or even the most distant reference to ancient Egypt. While written beautifully, sometimes the text meanders and one wonders what in heaven it's talking about. Intermediaries are not required to provide copies of the entire text. This course is not for people looking to improve their technical knowledge but for people who just want to learn more. The book traces the history of the Christian faith through the prism of the Orthodox and Protestant faiths.
Beware: the kindle version is actually the Trent Catechism and NOT the established Second Edition.

Derived From Web

, Jul 17, 2018

The kindle edition for 0.99 is the Tent CCC, which is not the one that many people think they are getting since the main page shows the second edition. If I had bought that, I would have paid £90,000. It needs to fix this listing since many people are probably thinking their way to Amazon. Gold trim on the front and back panels of the book. Thanks for the help. The correct e-version of the book is available on Amazon. com.
Great compact version

Derived From Web

, Jul 2, 2018

This is a great compact version of the inspiring and uplifting modern day'' Cathechism that is NOT your grandmother's techism. It's inspiring to think about how we can use technology to make a difference in the lives of others. It's great to have such a good product, recommend it to anyone.