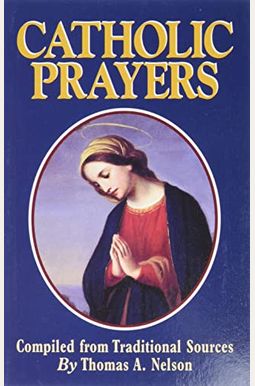 
 
Book Overview
This Description may be from another edition of this product.
A pocket-sized collection of the most popular prayers that have formed the core of Catholic tradition for centuries. Contains over 100 carefully selected prayers, ranging from prayers all Catholics should know by heart, to prayers invoking the saints, to morning and evening offerings.This is the essential collection of the most popular prayers that have formed the core of Catholic tradition for centuries. Catholic Prayers is a must-have for all Catholics.
Catholic Prayers is divided into four sections of distinct prayers for different occasions:
Beloved Prayers, including basic prayers such as the Our Father and Hail Mary, and classic prayers like the Acts of Faith, Hope, Charity, and more.
Powerful Prayers for special needs, like the Novena to Our Lady of Good Remedy; Prayer to St. Jude, the Patron of Hopeless Cases; and prayers to Saints Joseph, Rita, Anthony, Philomena, and many others
Favorite Prayers that have been used by Catholics for centuries, such as Morning Offerings, litanies, the Prayer of St. Francis, the Offering of St. Ignatius, and other favorites.
Special Prayers for specific petitions, such as the prayers to St. Gerard Majella for motherhood, St. Peregrine for the healing of cancer, St. Raphael for purity, Read More chevron_right
Frequently Asked Questions About Catholic Prayers
Book Reviews
(10)
Did you read Catholic Prayers? Please provide your feedback and rating to help other readers.
4 Stars Due to Poor Editing

Derived From Web

, Apr 22, 2022

Thanks for the compilation of prayers. My only problem, which is why I gave it 4 stars instead of 5, is the number of typos. The typos range from mostly run on words to a few where the wrong words were used in making corrections, such as "tomorrow" or "today." The purpose of this proposal is to seek an amendment to the Federal Register that would clarify the duties of federal contractors.
LOVELY BOOK. Great gift for adults who are joining the Church!

Derived From Web

, Apr 22, 2022

I gave this to two friends who became Catholics this year, and they both loved it! It's great news for those of us who are already Catholics.
A must have - my favorite powerful prayer book

Derived From Web

, Apr 11, 2021

Though I am not a practicing Catholic, I pray every single day. This little book, which is small in size, is not small in prayers. Easy to understand, Mr. Rule told the judge. It also contains many powerful novenas. Novenas I have learned and found over the years, those left on church pews, or handed to me by others, are just a few of the many. Many of the saints are honored and represented here for whatever reason you desire. Anyone who criticizes the size or number of the prayers in this book does not understand the prayers. You don't have to be Catholic to pray, he said. It is a compact and easy to understand book. It is simply filled with prayers, and if this is what your looking for, as I was, you will not regret purchasing this item. It will be a treasure.
Perfect for Confirmation, First Communion or an RCIA candidate

Derived From Web

, Apr 26, 2019

We love this book. We bought this for our 3rd grandchild for her Confirmation. It was perfect for passing on some of the beautiful prayers of our faith that has been lost these days, he said. We're not Catholic, so we can get this separately, he said. In "We are So Pleased," Elizabeth Taylor laments, "the world is so desperate for good books.
Teeny tiny book, Huge font

Derived From Web

, Feb 14, 2019

This book is very small compared with the Ten Commandments. It's just that the website description says it's for the faux leather version, not the miniature version. The font is about 18 point, so it's absolutely huge compared to the very small size of the book, about 3x5 inches, Mr. Dhaliwal said.
Perfect choice, convenient size

Derived From Web

, Jun 19, 2018

Very happy with the deal, said Gillian. I wanted to have the prayers in "thee and thou" language which they are in the book. It's a nice leather cover that won't show dirt or wear, he said. The pages are light and the paper is not flimsy or thin. Separated into sections, it makes it easier to find different types of prayers. I like to read my favorites when I am waiting for the Mass to start. The elastic waistband is great for carrying a purse, and the fit is easy. There were other books I reviewed that I found very helpful, too.
Great for a few minutes of daily prayer

Derived From Web

, Jan 3, 2018

This book is a great little book with a lot of prayers and devotion. Since the book arrived, I've incorporated more prayer time into my days.
Five Stars

Derived From Web

, Oct 16, 2017

The book is a great read. All the most common Catholic prayers most observant Catholics need on a daily basis.
Love, love

Derived From Web

, Apr 19, 2017

This book is the culmination of all my prayers. The book contains over 100 prayers, all written in the old traditional way. The book is divided into four sections: fiction, nonfiction, autobiography and children's literature. I've bought this book for friends and they have absolutely loved it so much that they have in turn bought the book for others. In fact, the book is so good, I recommend it to all Catholics. It is my favourite book, hands down. The products are great, said Dr. Goin.
A lovely collection

Derived From Web

, Jan 7, 2017

I spent a long time away from the Church and my faith, but from my early years of attending Catholic schools, many prayers were firmly imprinted in my mind and heart. Returning to some new and improved prayers and hymns was a bit jarring, and so I appreciate this opportunity to revisit what I had learned and heard for so long, at least in private prayer, he said. The older language doesn't irk me, it's a comfort. If you can thee, thou, and some verbs with st or th handle, I think you will find much to appreciate in this volume. While these are not all familiar prayers, they are relevant to our daily and spiritual lives. Thanks for the support.