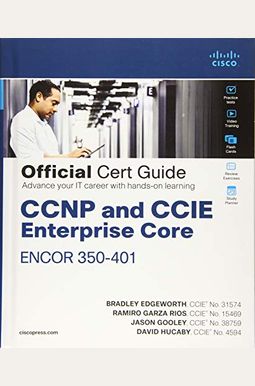 
 
CCNP and CCIE Enterprise Core Encor 350-401 Official Cert Guide
Book Overview
CNP Enterprise Core ENCOR 300-401 Official Cert Guide is a comprehensive self-study tool for preparing for the new ENCOR exam. Complete coverage of all exam topics as posted on the exam topic blueprint ensures students will arrive at a thorough understanding of what they need to master to succeed on the exam. The book follows a logical organization of the ENCOR exam objectives. Material is presented in a concise manner, focusing on increasing readers' retention and recall of exam topics. Readers will organize their exam preparation through the use of the consistent features in these chapters.
Pre-chapter quiz - These quizzes allow readers to assess their knowledge of the chapter content and decide how much time to spend on any given section.
Foundation Topics - These sections make up the majority of the page count, explaining concepts, configurations, with emphasis on the theory and concepts, and with linking the theory to the meaning of the configuration commands.
Key Topics - Inside the Foundation Topics sections, every figure, table, or list that should absolutely be understood and remembered for the exam is noted with the words Key Topic in the margin. This tool allows the reader to quickly review the most important details in each chapter.
Exam Preparation - This ending section of each chapter includes three Read More chevron_right
Frequently Asked Questions About CCNP and CCIE Enterprise Core Encor 350-401 Official Cert Guide
Book Reviews
(8)
Did you read CCNP and CCIE Enterprise Core Encor 350-401 Official Cert Guide? Please provide your feedback and rating to help other readers.
It's the best book you can get for the exam right now

Derived From Web

, Aug 4, 2020

It is a good book. Many of the reviews point out typos and yes, it has some from time to time. It is a human error in a technical book of this magnitude. As others have stated, it is actually kind of cool to run into a typo and recognize it. Confidence - booster that you are actually learning material. I use it as a reference book, not a cover to cover the page turner. Great for individual dives on deep themes.
Not Well Formatted for Kindle

Derived From Web

, Jun 29, 2020

While the content is excellent, be advised that this is Formatted as an e-book and does not provide the same experience for the reader as a Kindle formatted book would. Other CCNP core manuals do not necessarily suffer from this problem, but for some reason the arguably most common core manual was published in an inferior format. For this reason, I am quite disappointed in the choice of the publisher in this subject.
Cisco Press has some work to do.

Derived From Web

, Jun 7, 2020

I found several problems reading this book 1. They used acronyms several times before defining them. Multiple typos : Any illustration of the GUI - output was light and I could read it with a magnifying glass barely. Overall, this book seems to be put together in a rush, so prepare yourself.
I just want continuous scrolling

Derived From Web

, Feb 23, 2020

Can we have continuous scrolling in the Kindle app? I can not answer the questions for the Quizzes at the beginning of each chapter without having the answers on the same page. This is certainly not ideal! The CCNA Official Certification Guide has it so I was extremely surprised that the option is not present here.
Lacking.

Derived From Web

, Feb 21, 2020

You can tell that this book was rushed. Typographical errors, diagrams with incorrect interfaces and such are shown. How does a company worth billions put such a lacking product to stand behind their certification tracks? I don 't expect perfection. But it is better to be close, this is exam material.
Great book! Thank you!

Derived From Web

, Feb 6, 2020

The layout of the book is absolutely love! Looking forward to getting my CCNP and then going for the DevNet certifications!
Good content, but many typos and incorrect statements

Derived From Web

, Jan 27, 2020

Good content, but many typos and incorrect statements make it difficult to understand unfamiliar themes. I found only the first chapter through and have already found about 8 errors. If you already know the topic, this may be fine, but if you don 't learn it will make it very difficult to know correctly. They should have read proof. On a positive note, the online content and the Pearson practice exam seems good.
Most content is solid, but many typos and some incorrect information.

Derived From Web

, Jan 24, 2020

I've come across several typos and examples that are just wrong. I have no idea if what I am reading is correct or not based on what I have so far. It seems like this was really rushed to make money and not enough time for editing. When it is fully edited, I would be happy to buy it again.