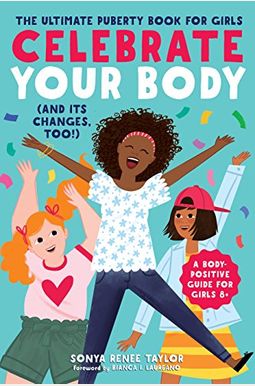 
 
Celebrate Your Body (And Its Changes, Too): A Body-Positive Guide For Girls 8+
Book Overview
A body-positive guide to help girls ages 8 to 12 navigate the changes of puberty
Puberty can be a difficult time for a young girl―and it's natural not to know who (or what) to ask. Celebrate Your Body is a reassuring entry into puberty books for girls that encourages girls to face puberty with excitement and empowerment. From period care to mysterious hair in new places, this age-appropriate sex education book has the answers you're looking for―in a way you can relate to.
Covering everything from bras to braces, this body-positive top choice in books about puberty for girls offers friendly guidance and support when you need it most. In addition to tips on managing intense feelings, making friends, and more, you'll get advice on what to eat and how to exercise so your body is healthy, happy, and ready for the changes ahead.
Puberty explained―Discover what happens, when it happens, and why your body (and mind) is amazing in every way.
Social skills―Learn how to stand up to peer pressure, stay safe on social media, and keep the right kind of friends.
Self-care tips―Choose the right foods, exercises, and sleep schedule to keep your changing body at its best with advice you won't find in other puberty books for girls.
This inclusive option in puberty books for girls is the ultimate guide to facing puberty with confidence.
Frequently Asked Questions About Celebrate Your Body (And Its Changes, Too): A Body-Positive Guide For Girls 8+
Books like Celebrate Your Body (And Its Changes, Too): A Body-Positive Guide For Girls 8+
Book Reviews
(12)
Did you read Celebrate Your Body (And Its Changes, Too): A Body-Positive Guide For Girls 8+? Please provide your feedback and rating to help other readers.
Very informative and helpful

Derived From Web

, Feb 16, 2021

Absolutely love this book. I have always been very open with my daughter and this book is helpful for her. I have told her a lot and now she is reading about it. She can see that it's not just me telling her things, it's also helping her feel more comfortable about all the changes that are coming soon. I highly recommend this book and I recommend being upfront with your kids even if you don't have a book.
❤️BODY POSITIVE puberty book❤️

Derived From Web

, Jul 15, 2020

The most body positive book for girls about their changing body and puberty is this one. I think introducing this book at 8 is a great age to start, to have girls start reading, learning and instill positive messages about puberty.
So happy to discover this book!

Derived From Web

, May 13, 2020

After reading the negative reviews on a similar book from AG, I came across this book. My daughter is 11 years old and she is reading this. I pre-read it before I handed it over and it is a positive well written book that celebrates the individuality of each and every girl. Each important milestone is conveyed on your own unique timeline. I would definitely recommend it.
Awesome, body positive book for girls!

Derived From Web

, May 6, 2020

My 10 year old daughter read a book. I have been talking to her about the changes that her body will be going through since she was about 7 and this book helps to drive home many of the conversations that we have already started. It is easy for young readers to understand. The characters in the book represent girls of all shapes and sizes. It covers both physical transformation and social situations as well. I love her pics with correct names for the female genital area.
Warning

Derived From Web

, Feb 23, 2020

I bought this book for my daughter. The introduction suggests that the reader may identify as a girl or not. Somedays, you might feel like a girl and a boy. Huh?! Puberty is confusing enough that it doesn't need to be complicated.
Amazing book

Derived From Web

, Jul 4, 2019

My daughter is going to change. I don't want her to stay forever but I want her to understand what will happen. I have talked to her a number of times but she will ask me everything. I gave the book to her and explained my reasoning to her. She started to read it. She stopped every few chapters to ask me questions. This book is wonderful.
Positive about puberty but suggests gender questioning

Derived From Web

, Jun 15, 2019

The book has a positive take on puberty and speaks of the awesome gift of the body that God gave to women. I am afraid that my daughter may get the wrong message from the book because she likes sports and Legos and detests nail polish and pink. Because a girl doesn't like what she sees as feminine, she shouldn't start questioning her gender. The book clearly states that girls come in all shapes and sizes, but also in all different personality, all equally female. The book is great except for the 3 pages that suggest gender questioning, which may not be in line with some families values.
The perfect book

Derived From Web

, May 6, 2019

This book is perfect because we are trying to be more open and comfortable in our house with topics like the changing body. It promotes healthy body image, being a good friend, loving yourself, and not being afraid or nervous about puberty. I wish I had this when I was younger, but I am glad I can give my daughter the knowledge and confidence she needs.
Must-Have Book for Raising Kind, Confident, Informed Girls

Derived From Web

, Apr 12, 2019

As we read this together the other night, my daughter said, "I wish this book could be air-dropped to every girl in the world." It is very good. Sonya Renee Taylor has written the most comprehensive book on girls'health and development I've read yet. I am so grateful that this exists now in time for our family to benefit.
Amazing Book!

Derived From Web

, Jul 29, 2018

This is the book that I would like to read more. I bought it for my daughter and read it before she left. Its positive, encouraging, and filled to the brim with great messages about puberty. Body types, skin colors, and hair types are included. It doesn't tell a girl what to do with her body, and it approaches some topics like shaving in a way that lets the child know that the choice is theirs to make, and that it is a valid way to take care of their body. The overall lesson is self acceptance. I would love to see an equivalent book for my sons.