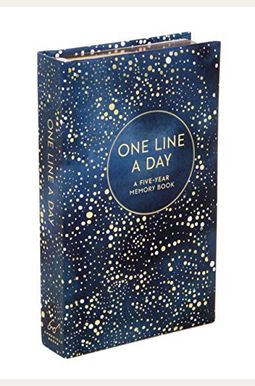 
 
Celestial One Line a Day (Blank Journal for Daily Reflections, 5 Year Diary Book)
Book Overview
Celestial One Line A Day - A beautiful new 5-year journal and memory book
Begin your new year with a new journal: Celestial One Line a Day is a gorgeous new version of our bestselling One Line a Day journal featuring dreamy celestial watercolor artwork from artist and designer Yao Cheng and shimmering with gold foil stars and gilded page edges. This beautiful five-year diary will inspire thoughtful daily reflections and become a keepsake record to treasure long after its pages are filled.
Revisit thoughts and memories: This celestial version of the classic 5-year journal and memory book is the perfect way to track the ups and downs and progress of your life, day-by-day, during 5 years.
More than a daily diary: Your daily dairy entries for each day of the year are recorded five times on each page - one journal entry for each of 5 years on a given date.
What were my thoughts on the last 5 New Year's Days? Use the Celestial One Line a Day, 5-year journal format to provide an insightful snapshot of your thoughts, memories, change and progress on each of the 365 days of the year.
The Celestial One Line A Day, Five Year Memory Book
The right way to begin or end your day
Enhances appreciation of life
Tracks change and progress
A valuable alternative to the 5-minute journal format
Frequently bought together
Frequently Asked Questions About Celestial One Line a Day (Blank Journal for Daily Reflections, 5 Year Diary Book)
Book Reviews
(19)
Did you read Celestial One Line a Day (Blank Journal for Daily Reflections, 5 Year Diary Book)? Please provide your feedback and rating to help other readers.
Easy Quick Little Journal

Derived From Web

, Dec 28, 2021

This is a smaller journal, but I knew that going into the purchase. Even on the longest of days, it's relatively easy to find a couple of minutes to write something down, he said. What I like about this journal is that it doesn't ask a daily question for you to answer, like other similar journals. The daily question format I found was too cumbersome, and I often ended up restricting off-prompt. There is a ribbon embedded in the journal to mark your place of worship, or your favourite book, or your favourite restaurant. 0 14622781 968111 You're not alone: There are many people who just love the idea of a journal with a ribbon embedded to mark your place of worship. In one case, the reviewer said the label was "almost impossible to remove" and "was made of very thin film." It had a sort of book jacket label that was very easy to cut off and leave no marks, leaving a single bullet on the journal.
The best investment ever!

Derived From Web

, Dec 5, 2021

I really love this one, said Blair. When I first heard about this concept, I did an extensive search on Amazon. com, since this would be a notebook I'm going to have for 5 years. The design is super cool, stylish and gives it that magical feel. 0 3171 3171 This is a must have for any Harry Potter fan. The interior is not distracting at all and is very clean, the pages look white in the picture but it's actually a very light blue and you won't feel it's messy either. I'm delighted with the outcome of the investigation, said Dr. Steve Peters, director of NASA's Ames Research Center in California. And writing the highlights, ideas, memories, etc. of the day is a very easy habit to pick up!
Great

Derived From Web

, May 16, 2021

Great looking book, but I wish the book had been slightly bigger. I really liked the gold pages, Tunick said.
Great little journal

Derived From Web

, Jan 24, 2021

I love the size of this journal and there's a decent amount of space for each day's work, he said. This is my first year journal and I am very excited!
JUNK

Derived From Web

, Jan 14, 2021

This journal is about as big as a wallet, making it more portable, Lib said. However, unless you write in tiny letters it is impossible to write on more than 12 of the lines because the binding is so tight. Not worth $1, much less $133-$134.
Beautiful! - Seal in the gold!

Derived From Web

, Dec 15, 2020

After using it for a month, it is still in perfect condition with no gold fading. nan The pages are also thicker than I expected since it needs to have at least 365 pages. Love the gold edges and details on the cover, but other reviewers complained of the gold rubbing off after a few months. It's great to be back home, said Blair, who has done a couple coats of safety. The finish will wear off if it starts to wear off the matte cover, but will be noticeable if it starts to rain. It will just keep on surfacing, so I'll just continue to touch it. Easy peasy, I picked up this bottle of Mod Podge for literally a dollar and applied it with a clean old rag. Easy peasy!
Pretty sweet idea

Derived From Web

, Feb 22, 2020

It's a nice way to gather your thoughts for the day, he said. It limits you to a few lines so you pay more attention to the highlights. Really nice pages, too.
cute but small

Derived From Web

, Feb 9, 2020

was super excited for it, and truly do like it overall, except that it's so small. And because there are fewer lines on each page to write down a memory, there is less chance of error. It's great to have a decorative pattern on a nightstand, said Gillian.
Well made, lovely.

Derived From Web

, Feb 1, 2020

Only a month in, but I'm looking forward to looking back as time goes on.
Analog Facebook memories

Derived From Web

, Jan 18, 2020

Husband thinks paper is outdated, too. It's a beautiful little book, and I think that my daughters will enjoy looking through it when it's finished.