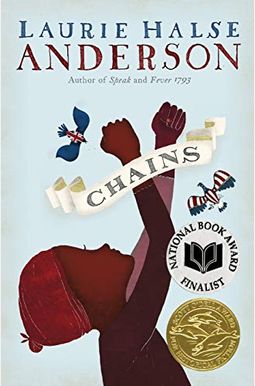 
 
Book Overview
This Description may be from another edition of this product.
If an entire nation could seek its freedom, why not a girl?
As the Revolutionary War begins, thirteen-year-old Isabel wages her own fight.for freedom. Promised freedom upon the death of their owner, she and her sister, Ruth, in a cruel twist of fate become the property of a malicious New York City couple, the Locktons, who have no sympathy for the American Revolution and even less for Ruth and Isabel. When Isabel meets Curzon, a slave with ties to the Patriots, he encourages her to spy on her owners, who know details of British plans for invasion. She is reluctant at first, but when the unthinkable happens to Ruth, Isabel realizes her loyalty is available to the bidder who can provide her with freedom. From acclaimed author Laurie Halse Anderson comes this compelling, impeccably researched novel that shows the lengths we can go to cast off our chains, both physical and spiritual.
Frequently bought together
Frequently Asked Questions About Chains
Book Reviews
(12)
Did you read Chains? Please provide your feedback and rating to help other readers.
Great engaging book

Derived From Web

, Apr 20, 2022

This book is a great read for a middle schooler. It has kept my son, who hates to read, interested. He doesn't argue when it's reading time. I read the first two chapters before he even sat down. The book really brings to some great questions, he said. The exercise has engaged his mind, he said. This is huge as we have struggled for years to get him to enjoy books.
Really Really Good

Derived From Web

, Apr 20, 2022

The way it weaves its tragic and beautiful tale of love and betrayal is awe inspiring. The author uses so much figurative language, Glover said, that it's hard to determine what he's talking about. In her powerful memoir, Whitney tells the story of love, loss, and hope.
This is historical fiction for the classroom at its best.

Derived From Web

, Apr 20, 2022

I just finished reading Chains with a third-grade class at school. In her classroom, students agreed that Isabel will remain in their heart forever with her inspiring resilience and strength. This book is an important companion to my American Revolution social studies unit.
wonderful

Derived From Web

, Apr 20, 2022

Even though it's a book for young adults, I really enjoyed it. It was a fumble, and I couldn't put it down. The second book is also available on Amazon. com.
I thought it was great for her and even absorbing for me

Derived From Web

, Apr 20, 2022

I think this was written for kids, my 5th grade granddaughter wanted me to read it. It was great for her and even more so for me, because I'm not that athletic. I had not read very much about slavery in this period, much less about the Ku Klux Klan.
A great story- for any age!

Derived From Web

, May 28, 2021

The book rivets you from the first sentence. I'm getting the whole series and I'm looking for other things she's written. Her style of writing is lyrical and magical— weaving a spell that keeps you eager to find out what's on the next page, but also hating for it to end. I'm not in the young adult range, but I have fallen in love with the series.
My 13 year old daughter devoured this book

Derived From Web

, Oct 23, 2020

My 13 year old daughter was assigned this book to read in school. The first assignment was to read the first five chapters. When the teacher checked on progress toward that, she'd already read those five chapters, plus 40 more. We're delighted to be able to offer Penguin Random House a two-book deal for the next two books in the trilogy, which she's now reading. So I'd offer kudos all around—to the author for writing such an engaging book, and to the teacher for assigning reading that really inspires students, he said.
Factual book based on history.

Derived From Web

, May 7, 2020

I bought this book because my son had to read it in school. In math, I couldn't help him with his homework unless I read it myself and finished before his class. But for kids of color, the Civil War is a distant memory. Really good book.
Historically detailed, realistic

Derived From Web

, May 16, 2019

Many of the books about slavery - whether for kids or adults - focus on the American South. This makes sense, except that slavery was common in the North for many years. In "Chains," a 13-year-old slave girl in New York City tries to protect her younger sister from her captor. She resolves to do whatever it takes to find freedom. The book is a realistic, historically detailed, suspenseful thriller. The beginning of the Revolution is certainly important to the story, but the central issue is that the Colonists' goal of freedom was not only to whites, but to the humans they owned. I look forward to reading the other books in the series, he said.
Execllent Read for Preteens through Adults

Derived From Web

, Mar 26, 2019

This book was on my seventh grader's reading list, and his teacher invited parents to read it as well. I was so enthralled by the story that I could hardly put it down. The word flow was very descriptive, making me feel like I was in the story, said Gammerman. It definitely added a different flair to the American Revolution than I was taught about in school. Thanks for this enlightenment, as well as a pleasing and well thought out story. I just purchased Forge and can't wait to get started!
List of All Editions of Chains