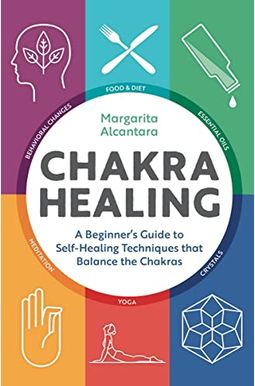  
Chakra Healing: A Beginner's Guide To Self-Healing Techniques That Balance The Chakras
Book Overview
The complete guide to balancing your chakras and healing your mind, body, and spirit
Within all living beings are seven powerful centers of energy called chakras. Every chakra holds the potential for immense healing and restoration, and Chakra Healing can show you how to harness that power with a wide range of simple, beginner-friendly exercises that anyone can do.
This book will put you on the path to healing pain, allergies, indigestion, headaches, fatigue, and even emotional turbulence like loneliness. With practical instruction and guidance, you'll learn how to identify what's ailing you and which chakra is causing it.
Chakra Healing features:
A variety of techniques―Connect with your chakras using everything from meditation to crystals, essential oils, yoga, focused breathing, and even diet.
Helpful illustrations―Detailed photos and drawings make the tools and exercises even easier to understand.
Beginner-friendly approach―Find accessible, bite-size advice that requires no previous knowledge.
Discover the power of balancing your chakras to help you heal and feel your best.
Frequently bought together
Frequently Asked Questions About Chakra Healing: A Beginner's Guide To Self-Healing Techniques That Balance The Chakras
Book Reviews
(16)
Did you read Chakra Healing: A Beginner's Guide To Self-Healing Techniques That Balance The Chakras? Please provide your feedback and rating to help other readers.
I jus looooove this book

Derived From Web

, Jan 12, 2022

This is the most beautifulest book ever, it is so beautifully illustrated and orchestrated and so easy to read, and I absolutely adore it! It's great to be back home, said Blair.
Extremely helpful

Derived From Web

, Jan 1, 2022

I'm new to meditation and chakra balancing and this book is extremely helpful. 20 pages have already been read and I'm already learning about the chakras.
Great read!

Derived From Web

, Mar 13, 2021

One of the best books on the subject ever written. There are also guides on chakras, crystals, yoga positions for targeted chakra balancing and more. Sad the papers kept falling out of the newsstand. If you can't find a book, you can get a signed copy for $12.95. It's great to be back home, said Dr. Michael S. Harrison, director of the Federal Reserve Bank of Kansas City.
Buy it!

Derived From Web

, Jan 15, 2021

nan I'm buying my 3rd and 4th books for my niece and best friend. The book is very easy to understand, and I recommend it to anyone. There is a crystal and yoga section, too. This book is everything.
Very informative

Derived From Web

, Jan 9, 2021

My daughter is very happy with how well this book teaches her. It's very easy to understand and thorough compared to the books we've purchased in the past.
Good but

Derived From Web

, Dec 30, 2020

The book is very good, said Pauley, also of Salem. The only thing I don't like is that the suggestions at the end of each chakra are basically copy paste it, except for what crystals you should use to balance as chakra.
Excellent beginner's guide/refrence book

Derived From Web

, Aug 17, 2020

I use this more as a reference book than a book to learn about chakra healing. This book is perfect for both. The book has a yoga position list complete with picture. Also, a list of chakra stones that details which chakra they relate to and what they help with.
It's the wrong book!

Derived From Web

, Aug 5, 2020

Television images could not be loaded. I'm not sure how it happened, Mr. Dhaliwal said. The cover says "chakra healing" but the inside is "a completely different book." The book is being published by Simon & Schuster. It actually seems like a good read, but again, this is not the Chakra Healing book I ordered. I didn't even know this kind of thing could happen to me. I ordered a month ago, but I am just coming home to open and read, and now it's too late to return.
Chakra take me away!!

Derived From Web

, Jul 27, 2020

I am excited to be working with Pauley again. As a beginner, this book already fascinates me with all the relevant information. It also shows pictures of all different chakra stones, with their meanings and placement. Just a quick scroll through to let you know I believe this book is for beginners!
INSIDE WAS A DIFFERENT BOOK!!!

Derived From Web

, Jun 26, 2020

I bought this for my son as a present and thought I would use the thumb to open it before wrapping it. I thought it quite strange when I opened it and it was a book about anti-racists, Raymond said. It looked like a great read, but I was not buying it. Before a book is mailed to a customer, you would think it would be looked at on the inside. I still would like to have the Chakra Healing Book, but I think it would be great if it was just a PowerPoint presentation. nan