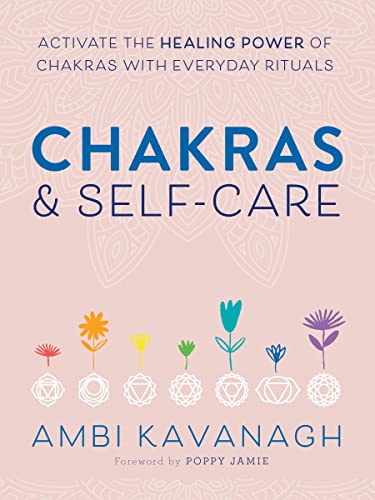 
 
Chakras & Self-Care: Activate the Healing Power of Chakras with Everyday Rituals
Frequently bought together
Frequently Asked Questions About Chakras & Self-Care: Activate the Healing Power of Chakras with Everyday Rituals
Book Reviews
(10)
Did you read Chakras & Self-Care: Activate the Healing Power of Chakras with Everyday Rituals? Please provide your feedback and rating to help other readers.
I Love This Book!

Derived From Web

, Dec 19, 2021

I don't think I have ever read a book so slowly, but that's the whole point of this book. Each deserves its own measure of time, depending on where the reader is in the process of opening his or her chakras. Everything about this book is complicated, but it's excellent for everyone, he said. Since purchasing, I have purchased four more for friends who are equally as interested in this fun and liberating journey. All Rights Reserved.
surfacing your strongest self

Derived From Web

, Sep 23, 2020

She is truly magical and always devoting herself to surfacing your strongest self. From the second chakra it has lived on my bedside table. A constant reminder that I am feeling disconnected there is a reason and here is the resource to help! I reference the reflections sections in the morning before starting my morning pages, each section provides great journalling prompts. xooxoxo Posted: Fri Oct. 16, 2008 12:03 p.m.
Great Basic info

Derived From Web

, Sep 18, 2020

This book is an easy read, Michael Schweer said. The only thing I didn't like was the suggestion to use white sage and palo santo for smudging. Before you can smudge, you must close all windows. During the smudging ceremony, I was instructed to open all windows to allow the energy to leave. The book is organized well and I'm excited to try out the rituals, she said.
A Wonderful High Vibrational Read

Derived From Web

, Sep 8, 2020

From the moment I opened the book, I knew I was embarking on a special journey. So often we forget the value of taking care of ourselves, Dr. Goin added. Newcomers are encouraged to share their experiences and ideas with friends and old souls alike. In her book, Nourish Yourself, Thibault shares her experience of creating a safe, clear, healthy, nurtured self.
A true deep dive into chakras!!

Derived From Web

, Sep 8, 2020

Loved the book, said Gillian. Such a deep dive into the Chakra system, said Dr. Goin. As someone extremely familiar with working through the chakras as access points for healing I found myself learning so much from the authors, and loved the way she relates everything in a practical way. I highly recommend this book to anyone who wants to learn how to meditate.
Incredible insight in to our chakras

Derived From Web

, Sep 6, 2020

The book gives you the tools needed to tune into chakras and by doing so be more in tune with yourself. Whether you are a beginner or an expert, we have the recipes and guidance to move you along in the right direction. This book was recommended to me, and I have never read a book on chakras. Thanks for the book, Diana.
Loving nudge towards self-care

Derived From Web

, Sep 2, 2020

What a beautiful little nudge toward self-care! It's a pretty book, easy to read, well organized, and perfect for those who want to start learning about their energy body. I loved the rituals at the end of the book - they are wonderful and I wish the author had written a whole book on them!
Incredible! Highly recommend for newbies and experts alike.

Derived From Web

, Aug 31, 2020

I've always been curious about chakras and have wanted to learn more, but haven't come across anything that seemed accessible or digestible. Then I saw a glowing review of Ambi's book online and thought I'd give it a try. Best decision ever!!! It's written in a way that even a complete newbie like me can get to grips with, and I already feel super knowledgeable on the topic! Highly recommend!
Chakra Magic ✨

Derived From Web

, Aug 31, 2020

This book is a recipe for brewing up chakra magic and miracles in your life. A vast array of knowledge has been pulled from far and wide, then simplified into clear practice points, which I greatly appreciate, he said. I will be using this as a quick reference for years to come. It's beautifully written and full of love, Raymond said. I'm looking forward to your next book, too!
Best of its kind - Ambi is an inspiration

Derived From Web

, Aug 22, 2020

Thanks to Ambi, the book has arrived. I have followed Ambi's work for many years and I am delighted that Mr. Karas has chosen to renew his contract. She has changed the lives of so many people. 0 3171201 3171163 So many people have benefited from her generosity. I'm delighted that the book has been made available, said Dr. Ambi. It is simply too good to recommend. Please Buy This Book and Start a Wonderful Journey of Self-Discovery.