BLACK FRIDAY DEALS CONTINUE - SAVE 20% AT CHECKOUT WITH CODE CYBERBOOK. Learn more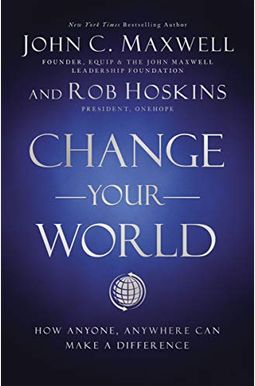 
 
Change Your World: How Anyone, Anywhere Can Make A Difference
Book Overview
Whatever the desire of your heart--better schools, better neighborhoods, more positive workplaces, more connected families, or more engaged communities--Change Your World will guide you through the entire process to take action and start making an impact today right where you are.
You can bring about positive, lasting change in the world, and you don't have to be rich and famous or lead a big organization to do it.
Global leadership and development icons John C. Maxwell and Rob Hoskins provide the inspiring and practical roadmap to get started being the change you want to see - in your community and beyond.
For many of us, the world we live in feels broken, yet change is easier than we think. Learn from the firsthand experiences shared by the authors from their work helping to transform communities, businesses, and millions of lives around the world.
In Change Your World, they show you how to
Identify your cause
Live out the values that make a difference
Become a catalyst for change
Join the right team or recruit one of your own
Work together with others to make a difference
Measure your impact and keep improving
You'll not only be encouraged to make a difference based on the needs you see around you; you'll be equipped to take action and start making an impact today.
Frequently Asked Questions About Change Your World: How Anyone, Anywhere Can Make A Difference
Book Reviews
(7)
Did you read Change Your World: How Anyone, Anywhere Can Make A Difference? Please provide your feedback and rating to help other readers.
Nothing compelling here...good stories for a show like 60Minutes but not engaging reading.

Derived From Web

, Jul 23, 2021

This book was highly recommended by a mentor and a friend, so I bought it. This is a good book, not exactly deep as far as I am concerned. They share examples of how people have changed things per se and I guess that these steps can also benefit at a personal level, but this was not compelling enough for me to finish the book. A waste of money and the time I spent forcing myself to read 4 chapters.
Must Read.. Challenge to be the Change in Your World to make it a better place.

Derived From Web

, Feb 6, 2021

This is a must-read at a time when our world is broken. Such a book is great and even more of a movement. I have been reading John Maxwell for years and this book comes to life as you experience transformation and join transformation with transformational values on common ground. Join the book, but read the movement. In collaboration with Rob Hoskins, John joins to give you the tools to change your world and the world around you based on solid methods they used for years in impacting the world. In the beginning you learn how to become a catalyst and by the end find yourself on the challenge to change your world. Let's talk about hope, authentic listening, valuing people and much more.
Another outstanding book from the pre-eminent leadership authority of our time

Derived From Web

, Jan 31, 2021

I was privileged to receive an outstanding reader copy of this book from the premier leadership authority of our time, John Maxwell and Rob Hoskins. At its core, leadership means mobilizing others to lead change, ideally positive change. This book leads the reader through the process of mobilizing others to lead change. There are actual examples of people who have done this according to these principles.
Not much new

Derived From Web

, Jan 28, 2021

I was very excited to see a new book published by John Maxwell. With this book, not really so much of it is written. The same old illustrations, outdated statistics and a lot of what I call filler stories. I was hoping for something fresh ''. If you removed the repeated stories and long content, there would not be much left.
Leadership and transformation starts with each of us. This book will #changeyourworld

Derived From Web

, Jan 27, 2021

For many years, I listened to John Maxwell speak about his feelings for his books. It's just different. He has always had such impactful statements about the book's "why ". I have had an opportunity to read this one in advance and it gets to the heart of leadership and the honor and responsibility of each of us to #changeyourworld and #changetheworld. It's about #transformation thankful to be a #harpercollinsambassador and part of the #johnmaxwellteam #JMTDNA to get this book. Don 't let it sit on the shelf. It is a book that you can live with others loud.
Good Values

Derived From Web

, Jan 26, 2021

I enjoy reading John Maxwell's books on leadership. Your World Has Changed with Rob Hoskins. When good values are lived, a positive change occurs. I highly recommend '' Change Your World ''.
Timely and needed

Derived From Web

, Jan 26, 2021

Bob Hoskins, who has taken us from success to significance, now teams with John Maxwell to give us hope and a plan to make a difference.