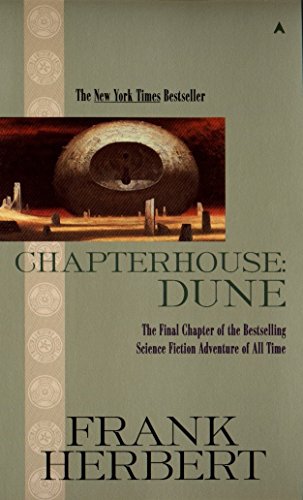 
 
Book Overview
Frank Herbert's Final Novel in the Magnificent Dune Chronicles--the Bestselling Science Fiction Adventure of All Time
The desert planet Arrakis, called Dune, has been destroyed. The remnants of the Old Empire have been consumed by the violent matriarchal cult known as the Honored Matres. Only one faction remains a viable threat to their total conquest--the Bene Gesserit, heirs to Dune's power. Under the leadership of Mother Superior Darwi Odrade, the Bene Gesserit have colonized a green world on the planet Chapterhouse, and are turning it into a desert, mile by scorched mile. And once they've mastered breeding sandworms, the Sisterhood will control the production of the greatest commodity in the known galaxy--the spice Melange. But their true weapon remains a man who has lived countless lifetimes--a man who served under the God Emperor Paul Muad'Dib.
Frequently bought together
Frequently Asked Questions About Chapterhouse: Dune
Book Reviews
(11)
Did you read Chapterhouse: Dune? Please provide your feedback and rating to help other readers.
great book

Derived From Web

, Apr 20, 2022

This is one of the best fantasy fi series of all time, without question. I think of it as one of my all time favorites. To bad he died before we could finish the series.
the story continues.

Derived From Web

, Apr 20, 2022

I've enjoyed many of the Dune books, and this was very enjoyable, too. Started with Dune when it was first released, have read about all the other books, and continue to find one I may have missed. He said: "We're looking for another shooter.
Open Ended, but Interesting

Derived From Web

, Nov 29, 2021

It's been a while since I finished reading Frank Herbert's Dune. Its taken a while because when I read it, I decided it was such a confusing lump of a book that I was DONE with it. He also said that Dune was "a wonderful standalone book, and proceeded to read it twenty or so times." Still, I maintain that belief, and found Chapterhouse to be significantly less awful than the other sequels, although it, too, made journeys into oddness. Newcomers come onto the field as well, and everyone, of course, has their own hidden motivations. 0 1462228 15622201 And there are some new players, too, some old, everyone, of course, with their own hidden motivations. But there are some truly thoughtful moments that are worth reflecting on. I'll probably just keep reading.
Just...stop after the first one.

Derived From Web

, Sep 25, 2021

There is an old internet joke that reads: "There is a book cover of DUNE, photoshopped to read, Just Stop Here, You'll Be Better Off." Well, I broke down and read all six of the books by Herbert, and the joke is true, too. The rest is just mechanical, voice mail. By the time we get to Book 6, the man is very obviously out of ideas and worse, he is out of fresh ways to express his old ideas. The book is pretty awful, and this final novel isn't really a novel at all, more like the odds and ends that were edited out of the previous story. Note the first novel, "DUNE," by WH Auden, "was very much a science fiction story. It's great to be back home, said Blair, "and everybody should read DUNE."
It feels like the saga gets better as it goes

Derived From Web

, Jul 6, 2021

This book is probably one of the better books out of the three. It was a good performance, but heretics lingered. God emperor is probably the best of the whole series, by Frank Herbert. But in the long run I'm hoping that Brian and Kevin Anderson don't mess up the ending of this trilogy. On the House floor, Democrats objected to the amendment.
The Spice Must Flow.....SAFELY

Derived From Web

, Jul 28, 2020

Frank Herbert's universe is truly amazing and complex, a masterpiece of science fiction. I purchased both Chapters House Dune and Heretics of Dune to complete my mass media paper back collection. I was really happy to get single free shipping, but I was not happy with the results. I would say that these are mid- to high quality paperbacks. They aren't made to take a bullet but they are light enough to carry on. Amazon's choice of packaging for Dune's book damaged the cover. The front cover and the first five pages of the book were bent out of shape in the top right corner. The new products were almost identical, except for the fact that Heretics had no damage. I'm choosing to keep both books as I absolutely hate Amazon's return process. The book would have received a five-star review had Amazon not damaged it.
Horrible typo ridden ebook conversion.

Derived From Web

, Jul 28, 2020

My one star review is not for the writing, this is as good as all of the Dune books, but for the quality of the conversion. His Holiness the 13th century writer William Herbert's "Rebellion" was completely shattered. His thoughts and can be challenging to grasp, but the numerous typos and word substitutions make this one not worth the effort in ebook format. Avoid these traps: steer clear of tall grass.
Great final book from the master of Dune!

Derived From Web

, May 21, 2018

Many years have passed since I last read a book. Thanks for the tip, Robert.
Story or college lecture?

Derived From Web

, Feb 23, 2018

After now having read the entire series, I found this to be my least favorite, which is not to say it wasn't good. As with much of Herbert's writing, there are times when I wonder if I'm reading a story or attending a college lecture. While I liked how it ended, it took me a long time to get there.
chapter house Dune

Derived From Web

, May 8, 2017

A fitting continuation of the Dune saga. It was a good time to see the long-term goals of the Bene Gesserit, he said.