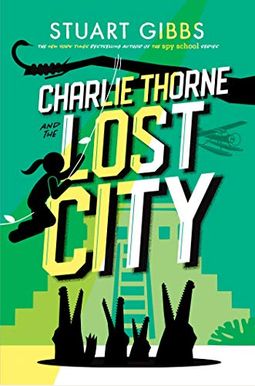  
Charlie Thorne And The Lost City
Frequently Asked Questions About Charlie Thorne And The Lost City

Book Reviews
(10)
Did you read Charlie Thorne And The Lost City? Please provide your feedback and rating to help other readers.
Great adventure/mystery book!

Derived From Web

, Jan 9, 2022

My son and I enjoy learning different places and true historical figures while following Charlie, Dante and Milana. One word of caution, the villains may be a touch too dark for younger children. In overall, this is a great series and we are eagerly awaiting Book 3.
Intended reader loved it

Derived From Web

, Aug 19, 2021

The book is very nice. Our son was waiting eagerly for this book and was not disappointed, the author writes well.
this book stinks on ice

Derived From Web

, Aug 9, 2021

Do not read this book again unless you are 13+. So younger Kods do not read have creators that crawl under you Botom and eats you from the inside. Blood is an important component of a healthy life. fghting is the same : Death is inevitable. Near Death Experiences : On fire sees barges full of innocent people. Guns : On the other hand, i loved Charles Thorn and the last equation.
Great action/adventure/mystery book

Derived From Web

, Apr 26, 2021

My 9 year old son is addicted to the spy school, so we decided to try the Charlie Thorne series and, wowza, these are great books! I love how the author does such a great job of keeping the story moving at a fast rate with lots of foreshadowing and cliff hangers to keep kids wanting to keep reading. Highly recommended!
Edgy and fast paced

Derived From Web

, Apr 22, 2021

I really enjoyed reading this with my children. The interesting guys were very bad.
Another Terrific Book by Stuart Gibbs

Derived From Web

, Apr 10, 2021

My son and I love the books of Stuart Gibbs, and especially the Charlie Thorne series. His books always involve mystery, suspense and adventure. This is the 19th book by Stephen King that we have read. This book takes her to the Galapagos Islands, Ecuador and the Amazon in search of clues left behind by Charles Darwin from his 1835 voyage on the Beagle to South America... a compelling mix of science, history and geography wound into a wonderful story. Gibbs'books are great for middle schoolers... but I also enjoy reading them. Our other favorite series are the Moon Base Alpha series and the Spy School series. The protagonist in each of these two book series is a middle-school boy, but are always supported by an equally talented girl in their adventure. The books should therefore appeal to both girls and boys.
LOVED IT

Derived From Web

, Mar 4, 2021

Such a great book, i enjoyed this better than the first and glad that gibbs put in some 12year old humor.
very nice plot

Derived From Web

, Mar 4, 2021

When is the third book to come out?!?!?!? It is also a very good book. If any body is going to leak the title for the 3rd book, tell me!
Great Book!

Derived From Web

, Mar 2, 2021

I loved this book really! I have read all the books by Stuart Gibbs, and this is a great addition! ______________Spoilers__________________________________________________________________It was very original, and I like how people still want Pandora, and I also like how Charlie is as witty as ever. The lost city was very cool but the gold walls were a little too much. I will buy all the other new books and I will try to be the first review too! Day a nice day, -Brandon H.
First!

Derived From Web

, Mar 2, 2021

Wow '' was first posted. This book is amazing and I can not wait for book three if there is going to be one! matfat55 is a matfat55.