BLACK FRIDAY DEALS CONTINUE - SAVE 20% AT CHECKOUT WITH CODE CYBERBOOK. Learn more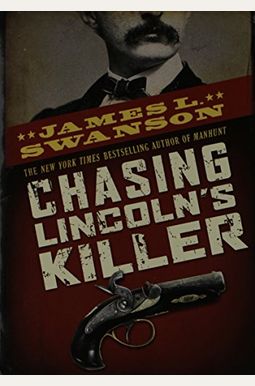 
 
Chasing Lincoln's Killer: The Search For John Wilkes Booth
Book Overview
This Description may be from another edition of this product.
NEW YORK TIMES bestselling author James Swanson delivers a riveting account of the chase for Abraham Lincoln's assassin.
FORMAT: 3 CDs, Unabridged
NARATOR: Will Patton
Based on rare archival material, obscure trial manuscripts, and interviews with relatives of the conspirators and the manhunters, CHASING LINCOLN'S KILER is a fast-paced thriller about the pursuit and capture of John Wilkes Booth: a wild twelve-day chase through the streets of Washington, D.C., across the swamps of Maryland, and into the forests of Virginia.
EXCLUSIVE BONUS MATERIAL: Features fascinating facts from this time in history
Frequently Asked Questions About Chasing Lincoln's Killer: The Search For John Wilkes Booth
Book Reviews
(11)
Did you read Chasing Lincoln's Killer: The Search For John Wilkes Booth? Please provide your feedback and rating to help other readers.
The intensity of the book was something I enjoyed. The book took us through the story of ...

Derived From Web

, Feb 8, 2022

I liked the intensity of the book. The story of the assassination of Lincoln and the capture of Booth were told in the book. This book was very precise on the facts of the event. On the same night of Lincoln's assassination, Booth's associates had plans to attack other state officials. There are a few things I didn't like about this book. It was a little slow in the middle as Booth and his associates sat in the woods. The story jumped around a little as they transitioned their characters. It was a great book. If you like history, this is the book for you. I am not a big fan of history but it kept me interested. Someone who enjoys thrillers would think it is great. There is something interesting in the pages for people from 10 to 80. I think it's a great idea.
A Surprisingly Thorough book

Derived From Web

, Feb 8, 2022

I read this book with my grandson. The gory details of a children's book would not upset young readers. I was happy that Mr. Swanson did not attempt to do that. This is a straightforward account of how Booth and his co- conspirators killed Lincoln, tried to kill Secretary Seward, and tried to escape capture for their crimes. I liked it so much that I found my grandson able to handle the facts presented. He asked me to take him to the movie of the same name that was just released, because he was interested in Lincoln. You cannot ask for more than that.
Best Account of Lincoln's death

Derived From Web

, Feb 8, 2022

This is the best account of what happened in the country after John Wilkes Booth killed our president. In United States history, there is a detailed experience of this event. He gives us details of every place Booth went. The best visualization of Booth's travels and experiences can be found here. The book gives a fast paced setting. A novel- like storyline is what this book gives you. The book is made to appear as if it was dreamt up overnight. This is an interesting piece of artwork. Billy the Kid stories are very entertaining, and Swanson makes this about as entertaining. The story of a hunt is entertaining. The book deserves five stars.
It serves as a great entry point for study of the Civil War and/or ...

Derived From Web

, Feb 8, 2022

One of the most tragic moments in our nation's history is a must- read for middle grade readers who will be drawn to thrilling scenes of assassins stalking their prey, and later as the tables are turned the assassins becoming the stalker. The graphic details of the crimes will be appreciated by most people. Middle grade readers will eat it up, but it's probably inadvisable for most elementary graders. It is a great entry point for study of the Civil War or Reconstruction.
You will see history in a new light as you enjoy the manhunt

Derived From Web

, Feb 8, 2022

Chasing Lincoln's Killer is a fast- paced thriller about the search for John Wilkes Booth. Through the swamps of Maryland and the forests of Virginia, you will find yourself on a chase that will take you from the streets of D.C. to the forests of Virginia. As you enjoy the hunt, you will see history in a new way. I stopped reading after the book ended. I gave it to a boy who was interested in history. I did not get the book back until the end of the year, as it was passed from student to student, each of them enjoying the book in his own way. They enjoyed a book like this one and it was fun to watch. I think Chasing Lincoln's Killer is a good idea.
CHASING LINCOLN'S KILLER

Derived From Web

, Feb 3, 2021

The book was in excellent condition when I received it. It was delivered on time. I'm very satisfied with my purchase experience.
Great Middle School Version of "Man Hunt".

Derived From Web

, Aug 25, 2020

My 11 year old is going to read this book with me. It was finished in less than a month. His interest in other historical events went up. It was toned down for younger people. Excellent for middle school reading. Man Hunt is for the adults.
Gripping

Derived From Web

, Aug 24, 2019

He couldn't find a book he was willing to read for his summer reading assignment. I found this one after looking around for information. He wasn't interested at all. I read him the first few pages of the look inside feature and he was very interested. He read it in a day and said it was gripping. Excellent praise from a reluctant reader. My husband is enjoying it. I'm waiting for my turn.
Lincoln's Killer

Derived From Web

, Aug 15, 2019

I purchased the book for my grandson. He is an avid reader and said the book was okay. It was not like a murder mystery novel. He will take the test after he reads it.
Required reading

Derived From Web

, Jun 18, 2019

This is needed for the advanced 8 th grade program. I'm all for buying him books since he's an A student and a Black belt.