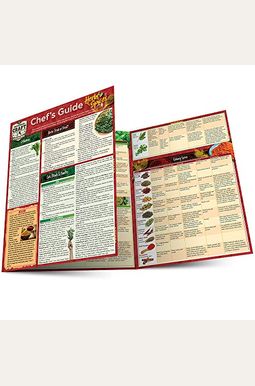 
 
Chef's Guide To Herbs & Spices: A Quickstudy Laminated Reference Guide
Book Overview
Essential 6 page laminated kitchen-proof guide for both the professional chef and homegrown culinary enthusiast. Chef Jay Weinstein, CIA-trained veteran of America's finest kitchens, including New York's Le Bernardin and Boston's Jasper enumerates the relevant leaves, seeds, barks, buds, resins, and other plant-based seasonings of modern world cuisines sharing techniques such as infusions, herb-oils, rubs, and curries in easy-to-execute tip boxes and charts enabling any cook to make any flavor fast. From aromatic properties to classical and cutting-edge pairings, create flavor profiles of both Western foods and emerging food scenes of Asia, Latin America and beyond. Make marinades truly penetrate, broths genuinely profound, and coax the most essence from every herb and spice. For gardening chefs, the guide enumerates the seven best methods for locking flavor into dried, infused, and otherwise preserved homegrowns. For the aroma-curious, it maps out intriguing spice adventures to enliven everyday meals. For the novice, it defines every herb and spice needed to produce just about any dish they wish to master. This may be the only herb and spice reference a good cook will ever need.
6 page laminated guide includes:
Definitions
Herbs: Fresh or Dried?
Cuts, Blends & Bundles
Curries
Buying Storing & Preserving Herbs & Read More chevron_right
Frequently Asked Questions About Chef's Guide To Herbs & Spices: A Quickstudy Laminated Reference Guide
Book Reviews
(7)
Did you read Chef's Guide To Herbs & Spices: A Quickstudy Laminated Reference Guide? Please provide your feedback and rating to help other readers.
A great guide for anyone wanting to improve their cooking flavor profile.

Derived From Web

, Jan 1, 2022

He recently retired from TV work and spent way too much time on the road. Now great time to gain more extensive in-depth use and knowledge of spices, herbs, and how to combine them to enhance flavors of foods and dishes, he said. This QUICK CHEFS GUIDE is a great reference and keep handy as guide is laminated. I recommend this product to beginning cooks or anyone desiring to try new flavors. It's also a wonderful present as great value and great price, said Dr. Goin. 4.5 stars.
Lots of words on all six pages but still lacking what I was looking for

Derived From Web

, Dec 20, 2021

In a previous life, I was trained in color matching of automobile paint. The best thing they did to understand what the color really does is to show the color mixed with black and another sample mixed with white, Raymond said. You then knew exactly what effect it would have on your skin. I somehow thought this could be possible with spices, Mr. Dhaliwal said. I was thinking there would be more of this one does this and compliments this and can also do this, Mr. Dhaliwal said. For instance, I knew from a past mistake that if you have too much heat like too much cumin you can easily soften it with cinnamon. Of course there were a few useful tips _ such as confirming that I need to grind up my dry spices before using them _ but I don't think it will be a highly utilized reference.
Foodie love spices

Derived From Web

, Jun 13, 2021

This is a great way to remember all the spices you use. Time is not everything. This helps give more time to actual cooking.
I love the ease in finding just what I need when I am cooking. Save time, use while cooking!

Derived From Web

, Jan 16, 2021

I really like the way this info is protected, Dr. Goin added. Just about everything about this site is new, and I'm still trying to figure out what I want to do with it. Faster and easier than ever before to find the recipes.
Handy guide to have.

Derived From Web

, Jul 14, 2020

My daughter absolutely loves it. This chart helps to match good combination. Laminated so doesn't get fingerprints. She keeps hers clipped to the side of the fridge for quick reference.
Informative, helpful and laminated- a must to learn flavors and spices

Derived From Web

, May 12, 2020

I bought this reference book because of the cholera epidemic. I needed to try new herbs and spices as an economical way to add flavor to plain food, such as rice, noodles and vegetables. This is a great resource, especially for students who are new to the MCAT. It was a surprise to me that one of my daughters lives several hours away.
Great price and nice presentation!

Derived From Web

, Feb 9, 2020

I bought this as a present. I believe this will hold up to heavy-duty kitchen use for a long time. I plan to order one for myself.