Buy 3 Get 1 Free
Our Best Sale Yet! Add 4 Books Priced Under $5 To Your Cart Learn more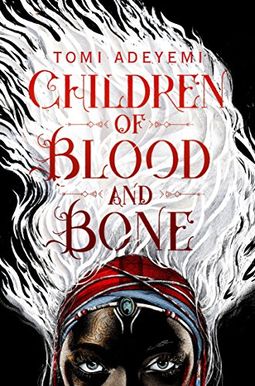 
 
Children Of Blood And Bone
Book Overview
This Description may be from another edition of this product.
Instant New York Times Bestseller
TIME Top 100 Fantasy Books of All Time
TIME 100: Most Influential People of 2020
New York Times Notable Children's Books of 2018
TIME Top 10 Best YA and Children's Books of 2018
NPR's Book Concierge 2018 Great Reads List
Buzzfeed's 24 Best YA Books of 2018
Bustle's Top 25 Best Young Adults Books of 2018
2018 Kirkus Prize Finalist
YALSA William C. Morris YA Debut Award Finalist
Paste Magazine's 30 Best YA Novels of 2018
Newsweek's 61 Best Books from 2018
Boston Globe's Best Children's Books of 2018
Publishers Weekly Best YA Books of 2018
School Library Journal Best Books of 2018
2019 YALSA Teen's Top Ten List
With five starred reviews, Tomi Adeyemi's West African-inspired fantasy debut, and instant #1
New York Times
Bestseller, conjures a world of magic and danger, perfect for fans of Leigh Bardugo and Sabaa Tahir. They killed my mother.
They took our magic.
They tried to bury us. Now we rise. Z lie Adebola remembers when the soil of Or sha hummed with magic. Burners ignited flames, Tiders beckoned waves, and Z lie's Reaper mother summoned forth souls. But everything changed
Read More chevron_right
Frequently bought together
Frequently Asked Questions About Children Of Blood And Bone

Books like Children Of Blood And Bone
Book Reviews
(3)
Did you read Children Of Blood And Bone? Please provide your feedback and rating to help other readers.
Loved this world and the story

The author did an amazing job creating unique, interesting, and believable characters. The magic system was very unique and the overall story arc blended old school quests with a modern fantasy story seamlessly. It's definitely YA with the romance plot, but aside from that being a bit over the top, it's a great book.
Decent YA Fantasy

Cassandra P

, Jul 1, 2022

Overall, this was a solid YA dystopian/fantasy book. It's formulaic in the way that there's an oppressed main character in a corrupt world, and they're chosen to save it/launch the revolution. There's friendship, adventure, romance, tragedy, and all the other works. But it's refreshing, because instead of the usual European-middle-age-esque fantasy or remix-of-European/Christian-mythology fantasy that most of the fantasy genre falls into, we get a fantasy world inspired by Nigerian mythology.

The Eh

Inan

In all honesty, somewhere around 1/3 of the way into the book, I got bored with it. It became something I would just pick up when I had nothing else to do, or something I would force myself to read because I needed to just finish it so I could start a new book. This mostly had to do with Inan's chapters. I felt very little sympathy for him, and dreaded the inevitable redemption arc he would get by falling into love/lust with Zelie. When we were first introduced to Zelie and Amari's characters, I initially thought they would be the romance of the book, so I was rolling my eyes in disappointment when Inan could not forget Zelie's eyes after their first meeting. I just wasn't interested in this enemies-to-lovers story between a girl and one of her oppressors.

Luckily, the story went in a better direction. Don't be mistaken, they do fall in love. But Inan being a maji was a great way to make their love story more compelling and nuanced. So, my boredom with the story ended a little over halfway into the book.

The Magic System

This is totally just my personal preference. I love reading magic stories where the characters need training to perform magic, so we get to see their magic grow stronger and stronger as the story progresses. The magic system in this book is of the soft variety, and that's totally okay. Hopefully, we get a few more hard rules in later books, but the story isn't really about magic so much as it is about oppression and hope.

The Good

The Main Trio

The relationship between the main trio is just great. Zelie and Tzain are bickering siblings, Tzain and Amari are sweet and shy with each other until later on in the book, and Zelie and Amari go from antagonistic (on Zelie's side) to Amari holding Zelie as she processes her trauma.

Speaking of Amari, I loved her character development. She went from this ignorant and cowardly princess to the Lionaire, helping lead the revolution with a sword in one hand and the sunstone in the other. Not to mention, she killed her dad without a second thought, and is ready to be the next queen.

Inan's Betrayal

It just felt appropriate, and lent the book the tragedy it needed. I'm not too much of a fan of redemption arcs when the character is an active participant in genocidal and racist regimes. I'm not ashamed to admit that I did enjoy their love story, though. I'm also not quite sure if Inan is dead or not, but I guess that's to be seen.

Roen

Just a quick note. I love Roen, and hope to hell that he's Zelie's love interest in the next book. He's what I mean when I say I want a bad boy love interest, not a guy who only rethinks his racism because he thinks a girl is pretty.

The Climax and Resolution

That entire final battle had be speeding through the pages. I really thought it was over when Zelie revealed to her gang that she had lost her magic. And, tbh, I kinda thought that her Baba was an illusion that Inan was casting. But nope, he was real. And he really died. Zelie going ham with blood/sacrificial magic and just straight up trying to kill Inan with no reluctance was everything I needed. Her channeling her entire bloodline all the way back to Oya was so beautiful. Not to mention her scene with her mother.

The Author's Note

Even if this book isn't revolutionary in terms of the YA fantasy genre, it's still an important book. Adeyemi's author's note got me emotional, because I was in 6th grade when Trayvon Martin was killed, and I still remember watching the news reports in my classroom. I've graduated college now, and the news is still full of anti-black police brutality stories. It's a phenomenon that people of my generation have grown up with, and the fact that Adeyemi wrote this story with those incidents in mind makes it so personal.
Amazing

This book is definitely worth reading. Its filled with magic and has a good plot