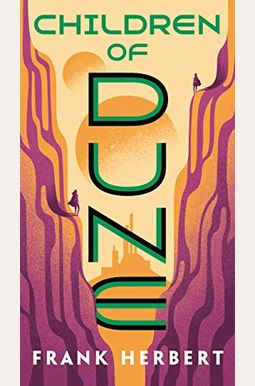  
Book Overview
This Description may be from another edition of this product.
Book Three in the Magnificent Dune Chronicles--the Bestselling Science Fiction Adventure of All Time
Nine years ago Emperor Paul Muad'Dib disappeared into the desert wastelands of Arrakis. Now, his twin children--Leto and Ghanima Atreides--are being groomed to become Messiahs. Like their father, the twins possess supernormal abilities, making them valuable to their manipulative aunt Alia, who rules the Empire in the name of House Atreides. Facing treason and rebellion on two fronts, Alia's rule is not absolute. The displaced House Corrino is plotting to regain the throne while the fanatical Fremens are being provoked into open revolt by the enigmatic figure known only as The Preacher. By obtaining the secrets of the twins' prophetic visions, Alia believes she can maintain control over her dynasty. But Leto and Ghanima have their own plans for their visions--and their destiny.
Frequently bought together
Frequently Asked Questions About Children of Dune
Book Reviews
(4)
Did you read Children of Dune? Please provide your feedback and rating to help other readers.
Everything seems to be, well a little overblown and boring.

Derived From Web

, Nov 3, 2021

Really liked Dune. Dune Messiah felt like a bridge to a new series and didn't have much plot or interesting development. I had high hopes for this book, but it never came to fruition. I finished the book and didn't care what happened to most of the charactors, but I found the transformation of Leato to be too heroish for my taste. Dune is a creation of its own. The two follow- ups I' ve read don't make it to the level of a good read book. If anyone ever asked me to write a novel, I would recommend Dune and other great science fiction.
Great work but sometimes confusing

Derived From Web

, Jul 9, 2021

Dune asks a lot of the reader, but never loses it's track. It's considered to be a sci- fi classic. Messiah was an interesting follow up that kept the narrative together. I found the children of Dune to be more interesting than the Messiah. Sometimes, I found myself feeling confused and not sure what was happening. The meat of the book is difficult to get through, but the skeleton is excellent.
Don't buy the Gollancz edition

Derived From Web

, May 7, 2018

Don't buy the Gollancz edition. I stuck it out for about 100 pages, but now I want to get a different edition. The version from Gollancz is difficult to read because of the blurry text. It's hard to tell when a text is meant to be italicized or not because the margins are terrible. The text goes all the way into the binding, so you have to pull the pages apart to read it. If they moved the text closer to the outside of the book it would be fine. Dune contains so much unique language and fantasy elements that it's difficult to know if it's a typo or a new word.
This was the last book in the series I read. It just got too weird for me at this point

Derived From Web

, Feb 19, 2018

The Dune book was very good. It's a masterpiece. It was very enjoyable. You owe it to yourself to read this book, if you don't know anything about Dune. The second Dune book was excellent. I enjoyed it despite the many negative reviews. Children of Dune is where the series took a turn for me and I was no longer interested in reading more about this world. I pushed through the last quarter to finish the book.