CYBER MONDAY SALE - SAVE 20% AT CHECKOUT WITH CODE CYBERBOOK. Learn more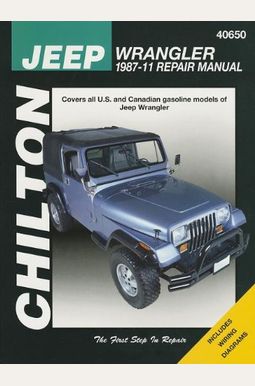 
 
Chilton Total Car Care Jeep Wrangler 1987-201
Frequently Asked Questions About Chilton Total Car Care Jeep Wrangler 1987-201
Book Reviews
(11)
Did you read Chilton Total Car Care Jeep Wrangler 1987-201? Please provide your feedback and rating to help other readers.
Disappointing

Derived From Web

, May 20, 2022

To say the least, disappointing. With instructions on a forum, I was able to get to the diagnostic codes on the instrument panel of one of the four O2 sensors. Though it claims to cover up to 2011, it did not provide the instructions for reading the codes without a scanning tool, did not even hint that there might be more than one sensor and the photo they provided as a reference was so generic as utterly useless. This is being returned.
Keeping my Jeep on the Road

Derived From Web

, May 20, 2022

Mail Jeep live rough lives, day after day I drive back roads, many miles, many stops, many patrons who depend on me and my Jeep.
Not the Chilton I remember ...

Derived From Web

, May 20, 2022

I have had Chilton's hardcover manuals for 30+ years and have always relied on them for complete car care information. However, with this particular paperback manual, I could not even find the basic engine specs, such as oil pressure, oil capacity, and oil type. I expected to find this basic information in some kind of table, but had to flip through dozens of pages to find a sentence about the capacity. Still can not find information about oil pressure.
Handy for the DIY mechanic.

Derived From Web

, Jan 10, 2022

For any DIY mechanics, great to have on hand. Highly recommended for any vehicle you have.
Not as good as the old ones

Derived From Web

, Sep 24, 2021

Not as good as the old one in my opinion, maybe wiring diagram sucks should have two pages that fold down where everything goes in the Jeep having everything broken down you don 't know what wires tie in a watt no gloss report.
Tries to cover too many different models to be of much use for any of them.

Derived From Web

, Nov 23, 2019

Since the late 1970s, I have been using Chilton repair manuals. I bought this one a year ago and is the first I felt that it was a waste of my money. Covering 3 different series of Jeep Wranglers, it doesn 't cover any of them well enough to be much use as a repair manual. I learned more about my TJ series Wrangler from online sources than I have this nearly useless manual.
Good for the basics

Derived From Web

, Oct 17, 2018

This gives good examples and directions for all the big stuff like rebuilding the motor, removing the trans and clutch, etc. I was hoping for some specifics on small things for my model. Good book, and I certainly keep it for the future. Just didn 't help me now. Forgot to mention that I am a first time jeep owner and my jeep did not have a user manual.
Wrong description

Derived From Web

, May 21, 2018

THis book states that it is from 87 to 2011, but when we received it was completely useless for our Jeep Wranglers in 2004 and 2008. They need to fix the website description, not be fooled into buying this one.
Very vague and wide ranging.

Derived From Web

, Jan 19, 2018

Too vague ranging and often gives very wide how-to info for a specific year. I bought it for info on changing a serpentine belt, which is a pretty basic maintenance task, and this book provided very brief info on changing a belt version and mentioned that there are other versions. There is no information about the other versions. Hate to say it, but too much helpful info is now online in written and video formats to make this relevant.
waste of time and money

Derived From Web

, Jan 18, 2018

Arrived water stained, grease marks and several pages torn, on top of that it didn't even cover what I needed it for, a waste of time and money.