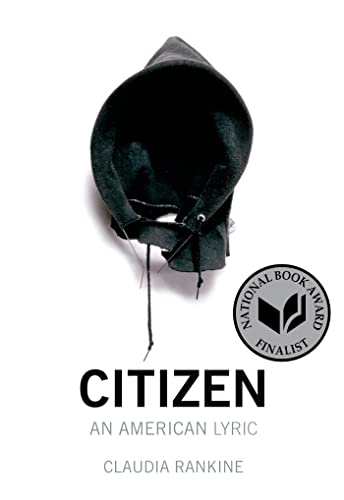 
 
Citizen: An American Lyric
Book Overview
* Finalist for the National Book Award in Poetry *
* Winner of the National Book Critics Circle Award in Poetry * Finalist for the National Book Critics Circle Award in Criticism * Winner of the NACP Image Award * Winner of the L.A. Times Book Prize * Winner of the PEN Open Book Award *

ONE OF THE BEST BOKS OF THE YEAR:
The New Yorker, Boston Globe, The Atlantic, BuzzFeed, NPR. Los Angeles Times, Publishers Weekly, Slate, Time Out New York, Vulture, Refinery 29, and many more . . .

A provocative meditation on race, Claudia Rankine's long-awaited follow up to her groundbreaking book Don't Let Me Be Lonely: An American Lyric.

Claudia Rankine's bold new book recounts mounting racial aggressions in ongoing encounters in twenty-first-century daily life and in the media. Some of these encounters are slights, seeming slips of the tongue, and some are intentional offensives in the classroom, at the supermarket, at home, on the tennis court with Serena Williams and the soccer field with Zinedine Zidane, online, on TV-everywhere, all the time. The accumulative stresses come to bear on a person's ability to speak, perform, and stay alive. Our addressability is tied to the state of our belonging, Rankine argues, as are our assumptions and expectations of citizenship. In essay, image, and poetry, Citizen is a powerful testament to the individual and collective effects of racism in our contemporary, often named post-race society.
Frequently bought together
Frequently Asked Questions About Citizen: An American Lyric
Books like Citizen: An American Lyric
What should you read after Citizen: An American Lyric Book? Here is a list of books to read if you read and loved Citizen: An American Lyric
Book Reviews
(9)
Did you read Citizen: An American Lyric? Please provide your feedback and rating to help other readers.
Brilliant address - direct, unique, and mindset changing work

Derived From Web

, Apr 20, 2022

Extraordinarily powerful word by Rankine – a hybridization of poetry, sketches, historical articulations of key sport moments all addressing the issue of feeling silenced and unable to be an "I" – to own your own identity. Complicated by grotesque images of pre-emancipation lynchings, sport tv reels during racist explosions, and a foreword by noted novelist Elizabeth Gilbert, "White Nights" is anything but your typical book. If you feel the "race issues" in America are "a thing of the past" or that racism in general is just overhyped flamboyancy, this book will cause you to think again. It has helped me re-wire certain thinking patterns into compassionate understanding of the silence behind the spoken derogatory comments, [and] I feel better equipped to discern the human emotions behind scenes that may unfold in the future, he said.
It broplemarizes not only socially sanctioned racism (rereading E. ...

Derived From Web

, Apr 20, 2022

The Ku Klux Klan has condemned the slayings as "criminal and morally reprehensible."
Wonderful.

Derived From Web

, Apr 20, 2022

An amazing writer. If you think this book is as good as Don't Let Me Be Lonely, then buy this.
You just don't ever know what you're going to encounter ...

Derived From Web

, Apr 20, 2022

You just don't know what you're going to encounter with her poetry and how it makes you think about yourself and others, Raymond said.
Kindle edition leaves out the poetry

Derived From Web

, Nov 14, 2020

This book contains pictures, and prose poetry as a form of documentary poetry, but all the poetry is MISSING from the Kindle edition! The issue is that the menus don't appear to have any missing pages. No wonder Amazon has no fix.
Tough read that opens one to the dialog behind the face.

Derived From Web

, Jul 29, 2020

This is a hard read if one is looking for a beginning, middle, and end story because there is none of that here or in real life, and this is about real life, Sosa said. It is a tough read as a white middle-class woman who has absolutely no connection to the experience of being black in America. In some ways, I don't even feel like I have the right to comment. This lyric, as it is called, just needs to be read as a meditation to absorb its depth, and I don't know if I have the guts to do that.
Moving

Derived From Web

, May 7, 2020

Claudia Rankine's Citizen was a very eye opening read that uniquely opened up the perspective of an African American through a collection of poems. Her writing went deep into one's thoughts and reactions to what may seem to be a minor, irrelevant experience. In her book, Rankine describes her experience as "an American Lyric", as the pages illustrate the racial divide still present in the country and gives good insight of what American life is like. This book has won many awards and has been recognized by many reputable sources, so it is definitely worth the read.
A Master Class in the Second Person POV

Derived From Web

, Apr 22, 2017

I've read this book for an individual class project where we had to pick an element of craft to study and I chose Point of View. Reflecting the anguish felt by the characters, something about this form forces you into the shoes of the characters in a way that mirrors their own imprisonment in their bodies. The book opens your mind to the daily struggles of so many people that some of us are fortunate enough to forget about.
Powerful read. Through this book you subconsciously realize what ...

Derived From Web

, Jan 22, 2017

Through this book you realize what your role in racial injustices is. You realize when you were oppressed, and when you were the oppressor, even if it was unintentionally.