Buy 3 Get 1 Free
Our Best Sale Yet! Add 4 Books Priced Under $5 To Your Cart Learn more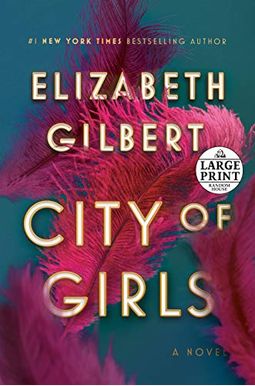  
Frequently bought together
Frequently Asked Questions About City Of Girls
Book Reviews
(16)
Did you read City Of Girls? Please provide your feedback and rating to help other readers.
Amazing!

I usually read thrillers/memoirs so this was different for me but SO worth it! I loved the period(s) it was during and the vibe of the entire thing. I've recommended this to so many friends already!
Love this story of a unique woman

This was entertaining and fun but also had great characters that you want to keep reading about. Love this book.
Great story and well written

I loved the style of writing in this book. The story line was interesting and different. I was curious to find out where Vivian's story would lead her and how it ended.
Hmmmm...Don't Understand the Hype on This One

Derived From Web

, Feb 26, 2021

3.5 Rounded to 3 I was torn in how to rate this one. The writing is good and flows easily, but nothing happens for about 80% of the book for about 80% of the book. You are immersed in Vivian's story... her promiscuity and her final downfall. I was really not interested in what happened to her. Edna states in the book that Vivian is nothing special and maybe that is how her character is supposed to be portrayed. Sadly, it did not work for me and I was bored through her flashbacks. The last quarter of the book was better and moved at a quicker pace. I enjoyed this part of the book more than the other 80%. Overall, it is not a memorable read, but not a bad one either. With all the rave reviews, some from Bookish friends who are of a like mindset, I am wondering if it was just the time for me to read this one?
Glitzy, Youthful, & Fun

Derived From Web

, Jul 7, 2020

I certainly did not expect to like this book, but ended up absolutely loving it. I got caught up in this fun and youthful story about the life of a suburban girl who moved to Manhattan in the 1940s. I lived 10 years in Manhattan and it's the best time to be there. A time that can never be recreated. The girl, Vivian, lives her life to the fullest perhaps fuller than many of us do if you catch my drift. But as in real life, Vivian can only go so far before she makes a mistake. The mistake is enough to send her and her family flying from Manhattan and what she holds dear, but is the mistake big enough to change her life forever? I would really recommend this book and I would highly recommend it. It was fun and amusing.
It was a good book, worth the read.

Derived From Web

, Sep 29, 2019

The characters were beautifully portrayed and very believable, though it was a different read for me about a lifestyle I know nothing about. The main character was definitely flawed in her ability to get close to people based on her parents'apparent indifference. Her aunt Olive was the most interesting character and the most wonderful in the book, and her partner Peg was the most insightful and intelligent. But they were not the focus of the book ; our main character went from an immature young woman to finally a loving woman. There are many flawed personalities in the book. I did not like that it took me a long time to like the main character. It was a good story for certain about a difficult time in her life and those in her circle.
Special beyond ordinary words

Derived From Web

, Sep 4, 2019

I want so badly to find some new and special words that express how much I love this book, I just finished it and I'm staring in a sort of an afterglow into space. I read it not just because I didn 't just read it. I was in the room with them all : I was in the room with them. I could see the wallpaper, smell the drink, see the smoke, and miss them when I turned the page... Elizabeth Gilbert, you are a talented, brilliant, gifted writer. Sharon Collar is my fan for the rest of my reading days. I am your fan for the rest of my reading days.
Well written & engaging

Derived From Web

, Aug 29, 2019

Don 't find many novels that are really well written these days. This is certainly one. The characters are fleshed out and I found myself rooting for them in the midst of their quirks and mishaps. City of Girl was recommended by a friend and I have already recommended it to several people as well. A book recommendation does rarely exceed my expectations, but City of Girls exceeded mine. I haven t found anything nearly as good since I finished it, and I hated to end it, and I haven t found anything nearly as good since I finished it.
Wonderful coming of age novel set in the 1940s. Highly recommend!

Derived From Web

, Jul 29, 2019

I loved that every bit of this book was a letter to me. Vivian could insert her own thoughts and interpretations into the narrative by doing so, making for very creative and funny storytelling. I loved that the setting was NYC and that we were in the theater for most of the time. During her journey, Vivian discovers that you do not have to be a good girl to be a good person ''. Vivian learned to be comfortable with who she was, not worrying a flip about what people thought about her. She loved the person for who they were, and served her well throughout her life. She learned to overcome the shame that was wrongly placed on her by others who had no right to judge her. I did not want it to end, what a beautiful story . I did not want it to end.
Better than eating a Hot Fudge Sundae while watching Bette Midler in BEACHES

Derived From Web

, Jul 27, 2019

Well thought-out book, explaining your life story to a younger image of yourself. The tightness of the story and the small chapters enjoyed the tightness of the story. The characters were well developed and represented a variety of personalities that I wish I could meet in person. Have always lived on the West Coast, but received a real sense of what it was like to live in the 1940s and 50s in New York City. It was a fun ride that I really enjoyed, but I feel very strongly that my husband would not understand this novel. Tailor made for feminists Tailor's.