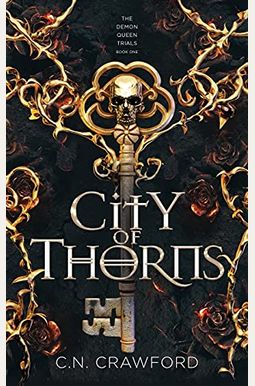 
 
Frequently Asked Questions About City Of Thorns
Book Reviews
(17)
Did you read City Of Thorns? Please provide your feedback and rating to help other readers.
Spectacular Read

Derived From Web

, Jan 10, 2022

I knew just what I knew! CN Crawford always creates a fast-paced story that leaves you wanting more. Can 't wait for book 2!
Loved it

Derived From Web

, Jan 4, 2022

City of Thorns was my first CN Crawford novel and my first paranormal novel of the year, and I loved it. Orion and Rowan were good characters with undeniable chemistry, and I loved their fake relationship trope in the story. I loved the modern building and how the author created this demon city, and I enjoyed reading how the demons interacted with each other. The story was heavy on psychological theory, which I found fascinating and gave us action, steamy scenes, secret identities, suspense, mystery, witty banter, and unexpected twists had me shocked. This novel had me fascinated and I can 't wait for the next book. I would recommend it highly to lovers of paranormal romance.
A Thousand stars!

Derived From Web

, Nov 18, 2021

I loved every word ''. I'm gonna jump into another one of C.N. Crawfords'book has me HOOKED!
Fun

Derived From Web

, Oct 25, 2021

Slow mystery and enjoyable burn. Excited to find out more and to read what is going on.
Hooked and cooked

Derived From Web

, Sep 28, 2021

Once again, Crawford delivers a scintillating story with characters you root for and a story I can 't get enough of! Can 't wait for the next one!
Another unique story

Derived From Web

, Sep 25, 2021

First of all, I would like to address Christopher Esteves, who accused CN Crawford of plagiarizing and gave it 2 stars. Questionable means spirited review. I can 't wait for the next book!
Plagiarized?

Derived From Web

, Sep 16, 2021

I can 't be the only one who sees a lot of similarities between these characters and those of Sarah J. Maas. The main character is named Rowan and has fire magic? Definitely a Throne of Glass, no? Love of Interest is also a mysterious male with silver hairs and beautiful tattoos. Come on! Oh, and if she allows, she may be the long lost queen. There is also a God with the name of Azriel.. hmmm, anyone else sense an influence on the A court of Thorns and Roses? The final issue is the pace of the story literally within meeting for a few hours. Hearts and secrets are poured out to each other and mysteries are solved. This was just a repacking of good ideas from other sources.
Couldn't put it down

Derived From Web

, Sep 6, 2021

Backstory creative and moves at a great pace, not too slow and not too fast. Can 't wait for the next book, I'm really sad that I have to wait at all.
Great start to a series! So good!

Derived From Web

, Sep 4, 2021

Wow, what a difference! I didn 't know what to expect with this, but it held my attention the whole time!! The pace, character development and plot development all moved in a way that made you yearn for more! Can 't wait for the next book! I want to know the answers!
Great first book to a series!

Derived From Web

, Sep 1, 2021

This was a great first book at the beginning of the series! The author created a unique storyline and situation to include demons in the human world and make it a normal occurance. The main character is likable, adaptable, and spirited. Sometimes I find it hard to like characters when their personality and their decisions are frustrating, but the main character was also sensible and did not act too irationally, which made me like her even more. Unfortunately its only 4 stars because I felt like the end of the book was rushed and some of the other characters did not seem as developed and its felt like it was distracting *** spoilers ahead *** The way she passed the Demon trial was super creative! I also found it out of place how some of the high school demons competing for attention acted more like female gossip girls than powerful myhtical beings ; their sense of revenge was blah.