Cyber Week Deals
Cyber Monday Deals are Here! Save 20% on All Books Under $10 - Code CYBERBOOK Learn more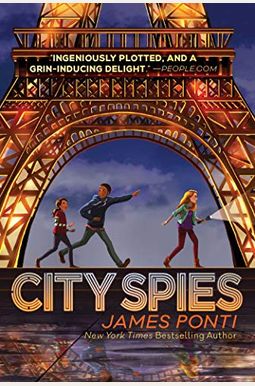  
Book Overview
This Description may be from another edition of this product.
In this thrilling new series that Stuart Gibbs called a must-read, Edgar Award winner James Ponti brings together five kids from all over the world and transforms them into real-life spies--perfect for fans of Spy School and Mrs. Smith's Spy School for Girls.
Sara Martinez is a hacker. She recently broke into the New York City foster care system to expose her foster parents as cheats and lawbreakers. However, instead of being hailed as a hero, Sara finds herself facing years in a juvenile detention facility and banned from using computers for the same stretch of time. Enter Mother, a British spy who not only gets Sara released from jail but also offers her a chance to make a home for herself within a secret MI5 agency. Operating out of a base in Scotland, the City Spies are five kids from various parts of the world. When they're not attending the local boarding school, they're honing their unique skills, such as sleight of hand, breaking and entering, observation, and explosives. All of these allow them to go places in the world of espionage where adults can't. Before she knows what she's doing, Sarah is heading to Paris for an international youth summit, hacking into a rival school's computer to prevent them from winning a million euros, dangling thirty feet off the side of a building, and trying to stop a villain.all while navigating the complex dynamics of her new team. No one said saving the world was easy.
Frequently bought together
Frequently Asked Questions About City Spies

Book Reviews
(8)
Did you read City Spies? Please provide your feedback and rating to help other readers.
Fun adventure

Derived From Web

, May 19, 2021

Diverse cast of kids, with agent skills are brought together by a MI6 agent under deep cover to form a unique group of spies. But the book's creator also shows off the diversity in the illustration of each kid at the back of the book, and the fact that the writer tells us where they are from. All of the kids were recruited as street kids or foster kids in their home cities. It's a great read, clean, exciting, and interesting mystery for middle school students.
Fun adventure

Derived From Web

, May 4, 2021

Adventure story for fans of scouts, fast paced adventure story for fans of spies. Five children are brought together by Mother, who runs a secret section of the M16 by Mother. Each teen has a special skill, with Sarah being the latest addition due to her computer hacking skills. The story opens with Sarah being arrested for snatching into the New York City foster care system and mother saving her. The next thing she knows is that she is part of the group and is on her way to Paris to save the world. Strong characters, lots of action, good guys, bad guys, humor and fun.
Terrific, Energetic Book For All Ages!

Derived From Web

, Apr 21, 2021

Great writing, complex characters, super thriller, and all solved by tweens and teens. Oh, a little help from quirky adults. Sara is rescued by a strange British guy who has three passports with three different names, being sent to the Jamie Hall in Brooklyn. Mmm. Mmm. He gets her off and whisks her to Scotland for help in the FARM. Think Spy School : Her name turns Brooklyn, and her fellow scouts have all city names. Her computer skills are off the charts, and the real British guy has the weird name of mother. Mr. Ponti is a fabulous writer. The book flows without a hitch. Although in an outlandish situation, the kids are suited for spy games much more than an ordinary life. I am a senior citizen who loves middle school and YA novels. One of the best city spies I read is one of the best I ever read. Even when I was the right age, I was the wrong age. Way recommended! Way recommended! ''
Enjoyable fast-paced adventure for tweens

Derived From Web

, Oct 20, 2020

James Ponti's City Spies #1 is an excellent start to an exciting mystery series that both kids and adults can enjoy, he said. From New York to Scotland and Paris, this story of love, loss and betrayal will appeal to readers of all ages. Major props for a cast of characters who leap off the page and whose realistic, witty banter will keep readers turning pages. If you enjoy middle-grade mysteries with a side of adventure and friendship, you'll love City Spies #1. I'm excited to be working on the next book in the series.
Loved this book!

Derived From Web

, Oct 17, 2020

Even the most ambitious tinkerer would have a hard time tying everything together in a neat package. The story follows a group of children, all from different backgrounds, who come together to fight evil. James does an exqusite job of giving us a backstory of each child, and through the story we began to care for these characters and see how their individual backgrounds give them an edge in the spy world. 0 3171 3171 At the end of the second mission, we went to London and started to care for these characters and see how their individual backgrounds give them an edge in the spy world. There are multiple intertwining stories woven throughout the main story. Even though the book is fairly short, the pacing will give you paper cuts as you flip through the pages. I've always enjoyed reading Jeff Trapdoor's fiction, and his writing style and his stories. Can't wait for book two!
Action packed from the start!

Derived From Web

, Jun 5, 2020

I loved this book! '' I did not want to put it down. As a teacher, I am brainstorming all the ways I can use this book the next school year. So many great enrichment ideas came to mind as I was reading! Bravo, Mr. Ponti, can 't wait for book two! ! !
Board??? Then Read this book!!!

Derived From Web

, May 14, 2020

Because of the Covid-19 stay at home order, I read to my kids almost every night and they wouldn't let me put this book down. The author made it easy to read and my kids would use their imaginations the next day to act out different scenes. I just purchased the book series 1-3 by Nicholas Ray. We should be getting them Monday, can't wait! It's great to be back home, said Blair.
Already looking forward to the sequel

Derived From Web

, Apr 25, 2020

My son absolutely loves the book. The printer has already received 132 pages by 8 a.m. today, said Jim Slover, spokesman for the Royal Mail.