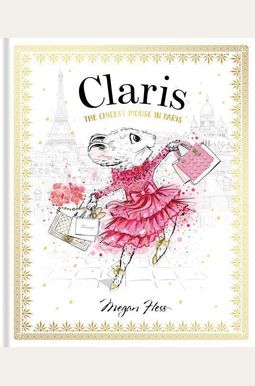  
Claris: The Chicest Mouse In Paris
Frequently Asked Questions About Claris: The Chicest Mouse In Paris

Books like Claris: The Chicest Mouse In Paris
Book Reviews
(10)
Did you read Claris: The Chicest Mouse In Paris? Please provide your feedback and rating to help other readers.
Love it

Derived From Web

, Dec 12, 2021

I'm a huge fan of Nancy Quinn's books, and I'll probably reread them all. It's just that she's such a kindhearted mouse. The pictures are also very pretty, Tunick said. What sets it apart from other books, Rowling said, is that "the materialism that the book embodies isn't something that kids should learn." For an adult reader like myself, it's a beautiful and interesting book.
Clever story, wonderful illustrations, beautiful binding.

Derived From Web

, Jul 6, 2021

A great story told through the prism of a parable. My granddaughter absolutely loves this book. The illustrations are wonderful, Mr. D'Antonio said. The terminology is so well-known, even the Beatles themselves would have trouble pronouncing it.
Cute book but word choices are not great for young kids

Derived From Web

, Jul 6, 2021

I love the idea of this book and the pictures are beautiful, too. I'm not a big fan of the author's word choices. I myself find substituting other words that flow better and are more appropriate for a child when reading the book.
Let's go to Paris!

Derived From Web

, Jun 23, 2021

My 2 1/2 year old and I absolutely love this book. The first day we got it, we read it twice. The illustrations are beautiful and the quality of the book is way nicer than I thought. It arrived in perfect condition, so I was happy with that, Mr. Caramore said. This would be an excellent present for any mamas who love fashion!
Amazing!

Derived From Web

, Jan 15, 2020

I've fallen in love with this book and its characters. It's great for little girls, too. Can't wait for the new one!
Beautiful book ❤️

Derived From Web

, Aug 11, 2019

This is my favorite book of all time for my daughter. A great story, amazing illustrations, large format. Wish the author would have published more.
Beautiful book with a great message

Derived From Web

, May 12, 2019

I love this because it has more than one great message, Graham said. It shows you should go for your dreams, but also to help and be kind to others, he said.
Beautiful But Needs Work

Derived From Web

, Sep 5, 2018

This is a visually stunning book in a whimsically childish way, but the plot and rhyme scheme made me cringe a little bit at the thought of gifting it. My niece is about to turn 5 so I finally had the perfect reason to buy it for her unicorn, purse, and tutu-loving mini girlfriend. In reading it just now, I'm glad I bought it for the fashion. Some of the rhymes are a big stretch and the plot feels very uneventful and uninteresting. I was hoping Claris would explore more beautiful sights in Paris and change into at least two other adorable outfits, but alas, that was not the case. Ultimately I think the book is cute for tiny fashion lovers and or kids who are just learning how to read, if neither of those applies to your gift recipient, Sosa said.
Must Have for any Little Girl's Library

Derived From Web

, Aug 27, 2018

The illustrations are so good, I almost fell over. It's the perfect all-things girly book. My daughter absolutely loves accessories and this book is just too good to keep her company. Love the gold edged pages, adds that extra touch of class. It's just that they get destroyed so quickly. The story is so sweet and I know it will be a much loved story in our house for years to come. I hope she writes more children's books and publishes them soon! It's great to be back home, said the French designer, who has done some runway shows at New York Fashion Week. A girl can dream.
FASHION HEADLINER - A MUST BOOK FOR LITTLE GIRLS L

Derived From Web

, Aug 15, 2018

I LOVE Megan Hess and I own all of her books, but her first children's book CLARIS OVER is THE TOP and a MUST book for any girl baby shower gift or any little girl that loves dressing up and is fashionable! I plan to send it to my niece and two daughters. nan