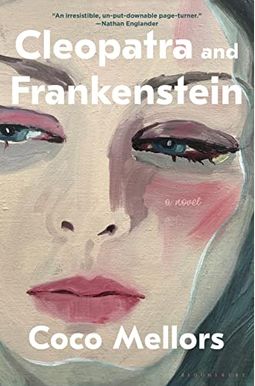 
 
Cleopatra and Frankenstein
Frequently Asked Questions About Cleopatra and Frankenstein
Book Reviews
(6)
Did you read Cleopatra and Frankenstein? Please provide your feedback and rating to help other readers.
So good, I read it twice in a row!

Derived From Web

, Feb 25, 2022

I had to go back to Page 1 to get to the printer. I can't wait to hear more from Coco, I think she has it all. It's just that they call it quits."
Blown away by this debut

Derived From Web

, Feb 11, 2022

Pauley, one of the book's co-authors, said: "This is a staggeringly beautiful novel. It pulls you in immediately and I raced through it in less than 48 hours, Mr. Dhaliwal said. The dialogue between the lead and supporting characters is excellent. Some of the sentences are so beautiful, you almost feel like you're reading a book. It's an original and unexpected story, Williams said. One of the best books I've read.
Fun light read

Derived From Web

, Feb 9, 2022

This book is a light read, easy to follow and entertaining, Raymond said. What I didn't like was the fact that Cleo is 24 years old, honestly I don't understand why authors insist on having such young main characters, the maturity they write for these young characters is unrealistic and unbelievable. Anybody who has dealt with young adults knows they don't have much depth nor maturity, Mr. Rule told the judge. I really hope that authors would create main female characters that were not only strong but also witty. I also didn't like the use of drugs through out the show.
Cool Contemporary Fiction

Derived From Web

, Feb 9, 2022

Frank and Cleo meet at a New Years party and start a whirlwind romance that leads to a quick marriage with catastrophic results. They live the kinds of lives that make you wonder exactly how it works, but oddly enough it does. I enjoyed the writing style of this book and while it hasn't been my all-time favorite read, I think the themes and plot of this book are very present. If you enjoy the shows like Friends or Girls, then you may want to check out this. There is a character in here that I kept picturing as Zoe Kravitz, but alas, that is not the case.
The next Sally Rooney

Derived From Web

, Feb 8, 2022

Wow! That was pretty impressive, right? All I can say is that it's great to be back home. This is a beautiful novel, full of exquisite prose. I can't believe it's her debut novel. The writing is witty and the characters are relatable in their own way. I finished this book in one sitting and cannot wait to see more from her!
for fans of literary fiction

Derived From Web

, Feb 8, 2022

His widow, Cleo, married Frank six months after they met, and this is the aftermath. Advertising executive Paul LiCalsi said: "Both are artists. What brought them together doesn't keep them together as their interests and philosophies diverge, he said. Turner said he expects to hear more about the tax cuts next month. This is, however, as much about their circle of friends, some of whom are more interesting than others, it's less plot driven than an ambitious effort to write an ensemble novel. There are, however, some lovely turns of phrase that kept me reading. Thanks to Netgalley for the book. For those who love books, this is a great introduction to the world of fiction.