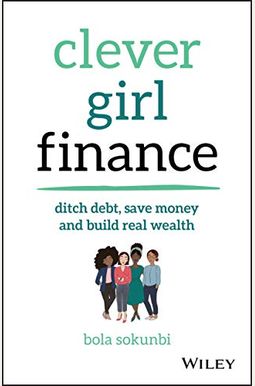 
 
Clever Girl Finance: Ditch Debt, Save Money and Build Real Wealth
Book Overview
Praise for
Clever Girl Finance
An essential guide to financial well-being for women of all ages. Bola's book expertly demystifies handling your money, getting out of debt and creating a sound financial future for yourself. --Farnoosh Torabi, financial expert and host of the So Money podcast
Women are the economic engines of their communities; that's why it's so important they have tools to ensure success. Clever Girl Finance is just such a tool, a wonderful, interactive guide through the daunting world of personal finance. A clever girl will find this book proves, 'to know better is to do better'. --Monique Nelson, Chair and CEO, UniWorld Group
What's keeping you from real financial success?
You're a smart woman. So why do you find financial matters just a little intimidating? Don't worry--we've all been there! We work hard for our money. We're supporting families or sharing the financial obligations of our households. However, we're usually paid less than men and we typically live longer, making our money management needs unique. And that's why it's time for YOU to master the essentials of money: managing it, saving it, investing it, and building a secure financial future for yourself.
Self-made money expert Bola Sokunbi developed Clever Girl Finance to meet those objectives. In this book, she helps you Read More chevron_right
Frequently bought together
Frequently Asked Questions About Clever Girl Finance: Ditch Debt, Save Money and Build Real Wealth
Book Reviews
(7)
Did you read Clever Girl Finance: Ditch Debt, Save Money and Build Real Wealth? Please provide your feedback and rating to help other readers.
This book will change your relationship with money

Derived From Web

, Apr 5, 2021

I had always thought that I would enjoy it because I didn't need to handle money. Bola helped me get rid of all of my limiting beliefs and take control of my finances. If you are thinking of getting this book, I am so grateful. She provides action steps so that you don't just learn but actually change your finances as you read the book. I can't wait to read her next book.
Basic

Derived From Web

, Jan 16, 2021

This is a great book for people who are new to finance, budgeting, and credit. This book is too basic if you have the most basic understanding of it all. I got two pages of the book, but the rest was information I already knew. This isn't the book for you if you want to learn more about budgeting and financial skills. I was not impressed with the silly quotes in the book. I think the goal is to motivate people who spend $10 rather than put it into savings and convince them that the savings aspect is worth it, but most of the quotes are too cliché and take up paper rather than help you reach your goal.
This book isn't just for women! Guys, we need to read it too!

Derived From Web

, Aug 14, 2020

I ordered this book in the middle of May and it was finished in two days. I stumbled upon Bola's show a couple of weeks prior and decided I should read her book since I had more time on my hands. It was worth it. I paid off two of my credit cards because this book helped me shift my mindset so quickly. The book is so well written that it feels like your friend is just talking to you.
Informative, helpful and inspiring.

Derived From Web

, Aug 8, 2020

I started reading last night and am reading again this morning. The book is enjoyable to read. It is clear and concise. The author emphasizes that financial goals are a long time away. As a 29-year-old, I feel like I'm behind in my finances. One of the most important values of the book is to start where you are and take control of your situation. This book is a good one to use if you want to improve. It's always good to learn more about financial literacy. She also offers free classes on her website. The book is worth the money. It is something every woman should read at least once.
Excellent Book!

Derived From Web

, May 18, 2020

The book is easy to read. It is not one of those difficult and confusing books. There are a lot of useful information here. The Take Action section is my favorite part of the book, because it gives you tips and specific steps to take, so you can be successful. The author helps you to hear others' stories and experiences. Thank you to the authors and contributors! Put this book in your cart right now. It is well worth it and you will be happy with it.
Super Informative & Easy To Understand

Derived From Web

, Oct 14, 2019

I instantly fell in love with the show because I want to do better with my finances. The advice in the book is easy to apply and understand. This book provides some good principles, which makes me feel motivated to start budgeting better.
The BEST Finance Book EVER!!

Derived From Web

, Jun 26, 2019

This is a good finance book. I was a young woman with no finance experience and needed to get my finances together. Bola's advice on how to get your finances in check is really useful and well written. If you want to get your finances in shape, you need this book. It's not recommended enough.