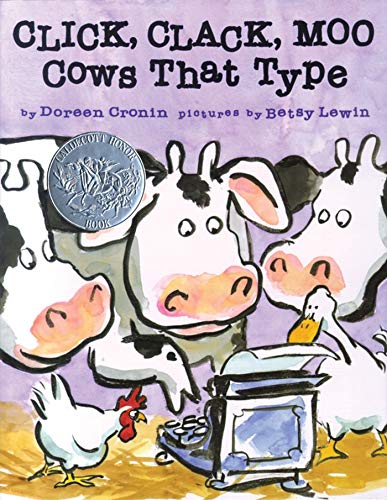 
 
Click, Clack, Moo: Cows That Type
Book Overview
The quirky, hilarious farmyard tale that started it all from New York Times bestselling duo of Doreen Cronin and Betsy Lewin Now the inspiration for a new Christmas special, CLICK, CLACK, MO: Christmas on the Farm.
Farmer Brown
has a problem.
His cows like to type.
All day long he hears
Click, clack,
MO.
Click, clack,
MO.
Clickety, clack,
MO.
But Farmer Brown's problems REALY begin when his cows start leaving him notes.
Doreen Cronin's understated text and Betsy Lewin's expressive illustrations make the most of this hilarious situation. Come join the fun as a bunch of literate cows turn Farmer Brown's farm upside down.
Frequently bought together
Frequently Asked Questions About Click, Clack, Moo: Cows That Type
Books like Click, Clack, Moo: Cows That Type
What should you read after Click, Clack, Moo: Cows That Type Book? Here is a list of books to read if you read and loved Click, Clack, Moo: Cows That Type
Book Reviews
(13)
Did you read Click, Clack, Moo: Cows That Type? Please provide your feedback and rating to help other readers.
It is silly, fun to read, and very creative.

Derived From Web

, Apr 20, 2022

It's silly, fun to read, and very creative, too. The cows and hens type a demand for electric blankets and type a demand for milk or eggs, and the farmer refuses. The cows and hens are happy with their electric blankets, but the neutral ducks take off with the type writer Overall this book has great repetitive phrases like "clickity clack moo" or "hello kitty." The book is also unique because it was written with the assistance of speech and language pathologists. It's a great book, even if you're not a fan of Gillian.
Great story and art, flimsy for a board book

Derived From Web

, Apr 20, 2022

A thinner, more fragile version of "Charlotte's Web" - it will not hold up to the odd bite or love from a toddler, be warned. You don't want to hand it to a kid who hasn't learned to be gentle or handle books with care. My daughter got it out of her hands and mouthed the corner of the spine, the printed areatop layer of paper came right off.
Fun book with fun pictures!

Derived From Web

, Oct 18, 2021

I remember having this book in school, and I've read it. The pictures are great and the story is very funny and cute, Morgenthau said. My son wants to read it every night. If you can look past that, this book is great. The quality of this book is exceptional. Very sturdy and the pages are thick for a hardbound book. I bought a few of these books to give as baby shower gifts to all the expecting mothers and all the expecting mothers have this book so far.
AN ABSOLUTE MUST FOR TODDLERS

Derived From Web

, Apr 16, 2021

While it remains lighthearted and relatable — and teaches children to have self-esteem and self-worth — it also highlights the importance of parity in relationships. It highlights very clearly the difference between respectful relationships versus exploitative relationships, Mr. Abraham said.
Click, Clack, Moo: Cows That Type

Derived From Web

, Jan 2, 2021

My niece is a reluctant reader. For a Christmas present last year, she received a book each month from her Aunt Donna. I picked the winners of the Caldecott Medal for Distinguished Service. She loved every book I sent her and she really got into them, too. She wants me to send her more, Tunick said. Cows That Cows is a parody of the "Moochie" cartoon. And there are the ducks, singing along with the French.
Play set arrived broken...twice.

Derived From Web

, Dec 20, 2020

Please note that my review is JUST for the play set and not the book as a whole, and that I'm not sure if its an item that's defective or the way it was mailed. The second one had two bindings broken, and one of the shelves had fallen off. The second arrived with one of the shelves broken off, leaving the rest of the furniture behind. I'm leaning toward a design or material issue since both arrived with broken shelves. Amazon has been great and is going to investigate to see if this is an issue with the product or the shipping, said Dr. Goin. therefore the book and play set cannot be used separately, and with a toddler it's not exactly practical. DR play set arrived broken two times, buy just the book.
A favorite of the kids and grownups in our house

Derived From Web

, Sep 18, 2020

My son wasn't showing too much interest in books at home and I was looking to refresh our collection, Sosa said. I got a copy for my son when one of his teachers said that he really liked the book. I read the book as soon as it arrived and my husband did too, Ms. Booher said. It's a great story, and I love the twist at the end, too.
My 2nd grade son's FAVORITE book!!

Derived From Web

, Apr 19, 2020

Our 7 yo is on the autism spectrum and it has always been a challenge to get him interested in reading since it is difficult for him. Pete the books were the first ones that got him slightly interested in letting us read to him and in reading himself, and now this book is his absolute favorite! We're not going to lie: The Harrisons are probably the only people who read this entire thing every single day. It's a great book, full of great illustrations. He has a soft spot for a cow and he always sits with her while we read it and often has her read it to us. A wonderful book, said Dr. Julie Gerberding, director of the federal Centers for Disease Control and Prevention. It's great to hear that people are saying positive things about it. Please review this review in case you have any questions. I think PeopleSoft customers deserve better service, Ellison said. Feel free to ask me any questions you have in the comments! **Revised April 23rd, 2001: Added lines: "This is for reallocation."
So cute!

Derived From Web

, Mar 25, 2020

It's one of those books that you can read over and over again. Even if the youngster knows the story, it is a joy and funny, Mr. Dhaliwal said. I have read this to my children through first grade.
Teaches children blackmail

Derived From Web

, Apr 30, 2019

The book is a total mockery of justice, and the lesson is blackmail and trickery. What's more, the government wants to kill the entire thing?