Cyber Week Deals
Cyber Monday Deals are Here! Save 20% on All Books Under $10 - Code CYBERBOOK Learn more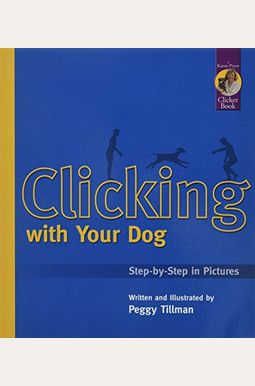 
 
Clicking With Your Dog: Step-By-Step In Pictures
Frequently Asked Questions About Clicking With Your Dog: Step-By-Step In Pictures
Books like Clicking With Your Dog: Step-By-Step In Pictures
Book Reviews
(14)
Did you read Clicking With Your Dog: Step-By-Step In Pictures? Please provide your feedback and rating to help other readers.
Both the dog and I love it!

Derived From Web

, Jun 1, 2022

When I read Reaching the Animal Mind '' by Karen Pryor, I decided that Clicker Training was the approach we should take with Bella and my neighbor agreed. Bella wanted to play-bite way too often, so we taught her to play on command how to play-bite and then gave her the command to not bite. The same goes with barking and some other puppy issues. This is not a quick fix, but it is a template for teaching some alternative behaviors to your dog. Bella knows quite a few additional tricks, but here I show some of her favorites. I hope that this video is helpful. '' Reaching the Mind Clicker Training and What It Teaches Us About All Animals.
perfect

Derived From Web

, Jun 1, 2022

If you want to buy a book to help train your dog, buy this book. If your friends, neighbors or family buy a dog, get this book for them. If you do the things in this book, you and your dog can not fail. I have read many books on animal training, most of them very good.
EXCELLENT!

Derived From Web

, Jun 1, 2022

I recently ordered and received Clicking with Your Dog, Clicker Training for Obedience, Fun and Games with Dogs and 101 Dog Tricks Step by Step... Of these six books, Clicking with Your Dog is my favorite, the very abundant illustrations are very clear and self-explanatory. There are sections on teaching Manners, Practical Skills, Useful Tricks and Games as well as others. When this book arrived, the glue in the binding was not holding any of the pages right, so I spoke to an Amazon representative who e-mailed a prepaid UPS label to return the book in exchange for a substitute. The same day Amazon received the defective book, I received the replacement. You can 't ask better for service than that. I give it 5 stars for the book and 5 stars for Amazon.
If you like reading all the details you can

Derived From Web

, Jun 1, 2022

It sets you up to succeed at training how to train. If you like reading all the details you can, if you like doing the fast track, it is great. You can work it how you want. It is well trained me.
Yes! Good read1

Derived From Web

, Jun 1, 2022

Easy to understand and follow. The images shown help clear any confusion about how to train various commands. I recommend reading it highly!
best training book out there

Derived From Web

, Jun 1, 2022

Whether this is your first dog or you want to explore a different, positive - not punitive approach to training. The best way to train your dog is through clicker training. Mine bug me for training sessions if I try to skip a day!
Good intro to clicker work; but NO to raisins and grapes!

Derived From Web

, Jun 1, 2022

Clicking with your dog is a fairly good introduction to training with a clicker. It will give beginning handlers a good grasp of how-to's. The only problem I have with the book is that the author suggests using raisins or grapes as training treats-no click and treat for her! Grapes and raisins are highly suspected of causing kidney failure in dogs, especially in the amount of food that a dog would eat during a training session.
You'll Be Surprised How Much This Speeds Up Training

Derived From Web

, Jun 1, 2022

We leave it and a clicker right next to her treat jar in the kitchen so that we can pick it up every couple of days to teach her a new trick. Highly recommended ''!
Easy to understand

Derived From Web

, Jun 1, 2022

If you're a beginner or even an intermediate clicker coach, this book is good reading. It offers great written instruction and is paired with clear pictures.
Great Book. Don't Believe 1 star first Review that is on Amazon

Derived From Web

, Mar 12, 2022

This is a very easy to read and follow with the illustrations. The first review of the book you come across on Amazon has a 1 star rating because the author says, the book says's dogs will kill themselves, even in small quantities. You must NEVER feed your dogs grapes or raisins! This is a true statement and a lie. On page 10, Peggy Tillman states that the treat should not be larger than a Rachman. Talking about food benefits during clicker training. And she never said anything about feeding raisins or grapes! And don 't believe every review you read and be consistent in your training. I found that you are far ahead of everyone else if you read and reread everything. May the clicker be with you!