Buy 3 Get 1 Free
Our Best Sale Yet! Add 4 Books Priced Under $5 To Your Cart     Learn more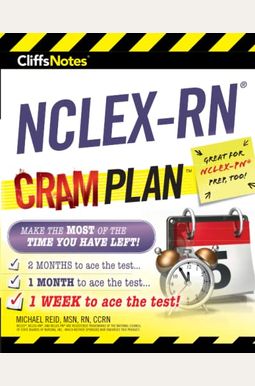 
 
Cliffsnotes Nclex-Rn Cram Plan
Book Overview
CliffsNotes NCLEX Cram Plan is the perfect way to review for your RN or PN nursing exam whether you have two months, one month, or even one week left to prepare

CliffsNotes NCLEX-RN Cram Plan uses calendars to create a specific study plan for test-takers depending on how much time they have left before they take the test. Also included is a specialized NCLEX-PN study plan, meaning that NCLEX-PN test-takers can use this book to pass their nursing exam, too The NCLEX-RN test is taken by individuals who want to become a registered nurse; the NCLEX-PN test is taken by those who want to become a practical nurse.

Features of this plan-to-ace-the-test product include:
Timed, boxed calendars for preparing to take the test--2-month study calendar, 1-month study calendar, and 1-week study calendar
Diagnostic test that helps test-takers pinpoint strengths and weaknesses so they can focus their review on topics in which they need the most help
Subject reviews that succinctly cover need-to-know topics on the tests in a list format
Model practice test with answers and explanations
Administered by appointment year round, more than 230,000 candidates take the NCLEX-RN test annually, and almost 65,000 candidates take the NCLEX-PN. The average passing rate for each test is only 70%.
Frequently Asked Questions About Cliffsnotes Nclex-Rn Cram Plan
Book Reviews
(18)
Did you read Cliffsnotes Nclex-Rn Cram Plan? Please provide your feedback and rating to help other readers.
Gives you all the info you actually need to know!

Derived From Web

, Feb 17, 2022

Michael Mosley's book is the essential guide to the NCLEX exam. Whether you need help with a technical question or just want to know what you're dealing with, he's here to help. The book contains all the necessary corrections and clarifications to help you ace this exam. Stick to this book, know your pharmacology, listen to Michael's tips and you'll be on your way! I hope the fans have a great time, he said.
The Best Book to Study for NCLEX

Derived From Web

, Feb 17, 2022

The book was the best tool I have ever used to study for the NCLEX. Micheal's help and knowledge helped me pass the NCLEX exam. I would highly recommend this book to anyone. Micheal this book and the reasons I passed are the only reasons I ever went to school.
Gives the important details

Derived From Web

, Feb 9, 2022

Second time around, I'll take the test again. After getting this book along with having Michael Reid as my tutor, I am officially a Registered Nurse. Thanks for the book and the help. Simplifying it all down to the last possible number of numbers, it's great.
You will pass

Derived From Web

, May 22, 2021

Listened to Mark Klimek a week before Rn went back to test bank questions, the book worked well. In "The Fifth Estate," Frank Quattrone teaches us what to pick. Buy it Now!
Stay away.

Derived From Web

, Feb 25, 2021

It's just too good a deal, I wouldn't recommend it to anyone. Stick with the books and you will get it wrong, they say. You never seem to get around to it, even with cleft lips and palate. The book tells you to only lay the baby down. Not only does this lead to infection at the site when the baby puts their fresh sutures on the floor, but you will get this wrong! It's just that I passed with a U.S. passing grade of 7.5 on the test, and I'm not tempted by this pass-quick scheme.
The best Nclex study prep ever !!!!

Derived From Web

, Jan 14, 2021

I failed RN exam three times and then I decided to buy cliff notes because I suffer from ADD! !I did it thanks to this book and if I could give this man a huge hug who created this book I would! It saved me from the hell I was going through that exam. I usually take forever to answer all your questions and well not the last time I tested.. It stopped at 78 questions and I passed.. It stopped at 78 questions and I passed. It stopped at 78 questions and I passed. This is great for any nursing student or anyone about to take their boards. I read the entire book about 218 pages and did both tests one in front of book and the other in back of book. Did index cards and wrote all them down to remember all the index cards I didn't know. You will not be disappointed with this book. It really works! This man is a GENUIS, he created an AWESOME book. I could kiss him, Taylor said. It's great to be back home, said Blair.
The reason I passed the NCLEX!

Derived From Web

, Dec 22, 2020

Straight forward to the point. I was a repeat test taker and felt absolutely devastated and lost after failing the first time with UWorld and Mark K. audio. I found this book and the author sent me a study plan and I was on my way to college. There are so many resources out there that have absolutely no value, so sift through them and find what you need to know. Michael helped me with the strategy and correct thought process to pass the test. I know I couldn't have passed without him. Don't spend a lot of money on multiple books. Only this one can save your life. Thanks to NXLEX and Michael Cram for the tip. I forever am grateful.
I Passed My NCLEX PN !

Derived From Web

, Sep 14, 2020

This Book helped me a lot on My NCLEX and I Passed.I used the Two Weeks Schedule. Ive read this entire book and I'm very happy with the results. This book is a gold mine for me, because I am a registered nurse.
Passed the first time because of this book!

Derived From Web

, Jul 13, 2020

I only used this book to study for the NCLEX-RN exam. I spent a week and a half reading the entire book. I passed my NCLEX exam the first time. I would highly recommend this product to anyone.
5 stars!

Derived From Web

, Jun 30, 2020

Loved the book, Simon said. It was the only book I passed on trying and I truly felt like this was the most beneficial. It's great to hear from people who have used it.