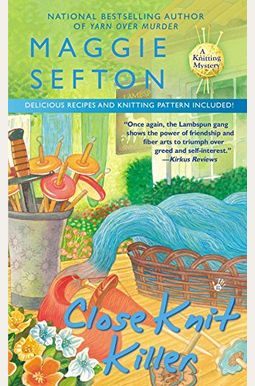  
Book Overview
Springtime in Fort Connor, Colorado, is a breeze until a veteran con man shows up in town. Everyone--including the House of Lambspun knitters--is up in arms, and once again it's up to Kelly Flynn to untangle the threads of a complicated crime.
Years ago Jared Rizzoli operated a Ponzi scheme that defrauded countless Fort Connor residents--including Barbara, one of the shop's knitters. Jared went to jail for his crime, but after being released for good behavior, he's back to ruin more lives. When Jared is found dead in his car outside of Lambspun, Barbara becomes a prime suspect, much to the shock of the knitting community. Kelly and her friends now need to sort through a long list of fleeced suspects to pin the crime on the true killer.
Frequently Asked Questions About Close Knit Killer
Book Reviews
(9)
Did you read Close Knit Killer? Please provide your feedback and rating to help other readers.
Boring

Derived From Web

, Feb 8, 2022

Sefton's writing is boring. I have followed the mystery series because of the interest in the characters, but this book made them say the same thing over and over again. There was no response. Kelly is filling up her coffee mug while gossiping at the knitting store. I don't plan on following this series in the future. I don't waste my time on mysteries.
Another great knitting mystery from Maggie Sefton

Derived From Web

, Feb 8, 2022

Another knitting mystery is presented by Kelly and her friends in Ft. Collins. Kelly is like Nancy Drew because she works and socializes with her friends. It wasn't a lot of knitting done, but it was a great read. There is still a lot of drinking coffee and eating great food from the shop across the street from her cottage. There was a lot of interaction with yarn. A new character was 888-269-5556 888-269-5556 888-269-5556. Everyone takes her under their wing. I can't wait until next summer when the story will continue.
But I have loved all 12 books and loved them

Derived From Web

, Feb 8, 2022

The Knitting mysteries have received not- so- good- reviews. I loved all 12 books. A page turner with a surprising ending, a good example of real friendship, and a lovable group of friends, this one is no different. I would recommend it to people who have read previous ones.
Boring!

Derived From Web

, Feb 8, 2022

This one seems like it wasn't written by her, but it's cute, interesting and fun. The sentences aren't always tied to what is going on. This is very difficult to read. I can't keep my attention on the book.
Editing

Derived From Web

, Nov 24, 2020

I was surprised by the editing inconsistencies. The mix up of Barbara and Madge when repeating a conversation and using ' Fort Collins' Ambulance', when you meant to say ' Fort Conner'. My sister has lived in Northern Colorado for the last 46 years, first in Greeley and now in Fort Collins. I have visited both Fort Collins and Estes Park. When Estes Park was just an artists conclave and a pit stop drive to higher into the mountains, I have the memories of the founders.
Kept my attention

Derived From Web

, Sep 19, 2020

The characters and plot lines of this book kept me interested. I had no idea who the murderer was. I like the way a mystery ends.
Nice addition but fiber-annoying

Derived From Web

, May 9, 2020

I have bought all of the series. I love to visit the world of the characters. In this story, there were basic fiber inconsistencies that dragged me out of my reading zone. Fleece is what you have before yarn is spun. A lot of fiber in a bag needs to be spun into fleece. The old woman was not up all night spinning to get some fleece. A little fiber- knowledgeable reading could have caught this. I'm hoping for no more discontinuities, but I will read the next in the series.
Love these characters !

Derived From Web

, Apr 25, 2020

It is a must read for fiber artists. I am a big fan of mysteries. The series is one of my favorite ones.
Lots of excitement in this book!

Derived From Web

, Apr 28, 2018

I would feel right at home at Pete's Cafe and lambspun if I could just hangout there with all the characters in this series. I think I' ve hung out with Kelly many times, I thought the person that was the murderer was me.