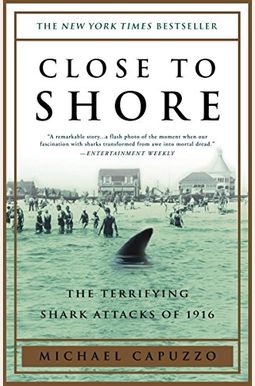 
 
Close To Shore: The Terrifying Shark Attacks Of 1916
Frequently Asked Questions About Close To Shore: The Terrifying Shark Attacks Of 1916
Books like Close To Shore: The Terrifying Shark Attacks Of 1916
Book Reviews
(15)
Did you read Close To Shore: The Terrifying Shark Attacks Of 1916? Please provide your feedback and rating to help other readers.
Informative, exciting in places, but suffering from a flat ending

Derived From Web

, Jun 2, 2022

The book-about a series of East Coast shark attacks that inspired the writing of JAWS-held my interest and provided a glimpse into the social life of a period that I did not know much about. There were memorable real-life characters, plus some blood-in-the-water thrills. If you want to understand sharks in a way that goes deeper than headlines and more scientific than JAWS, this book will probably please you. It cites a number of world-class sharp experts. But ultimately, I felt that Close to Share was a saggy shark story. This was perhaps because the author was determined to tell the truth. I admire him for assuming this position. But somehow, the dramatic parts of the book created an expectation that there would be a previous conclusion. And that expectation was not met.
New Jersey summer 1916

Derived From Web

, Jun 2, 2022

A good story about a difficult summer on the NJ coast in 1916. I had heard about this incident, but had not read anything about it. The thought of being attacked by a shark is frightening to think about. Reminds me of the USS Indianapolis, a US Navy cruiser, which was sunk in 1945 by a Japanese sub and drowned in shark infested waters before those who were still alive were rescued 3 days later, I believe. A good read.
Read like fiction but was true life

Derived From Web

, Jun 2, 2022

Interesting read-both about life in earlier days as well as the perception of sharks and the reality of what happened. Read like fiction, but was true life.
Tremendous nonfiction story of shark

Derived From Web

, Jun 2, 2022

Michael Capuzzo has written a spellbinding story about a man eating a shark off the New Jersey coast. He is a wonderful writer and I highly recommend this book.
Fascinating!

Derived From Web

, Jun 2, 2022

My commendations to Mr. Capuzzo for a wonderfully written, non - fiction, period timepiece! To say that this book is a page turner that touches only the surface!
Sharks!

Derived From Web

, Jun 2, 2022

A little dry at times, but also quite an eye opening. I had no clue of these events and, honestly, I am not even in the water since I read the book. Must read for all shark lovers, maybe not so much for just non - fiction fans.
Intense and frightening

Derived From Web

, Jun 2, 2022

The author did a wonderful job with making you feel that time period.
Scary Times.

Derived From Web

, Jun 2, 2022

We have spent time on the shore of New Jersey always. I will only go in the ocean with eyes on the alert as deep as my ankles.
Well-Written and Engaging

Derived From Web

, Jun 2, 2022

I enjoyed the author's approach of focusing on the period and personalities in this story thoroughly. I am sure he uncovered all the available material on the attacks and he fashioned a very nice story around them.
A glimpse into the past events that shaped so much of our perception of sharks and the shore.

Derived From Web

, Aug 9, 2020

Super Book : It was not just the history of the sharks ; it was a total taste of the time. The language, descriptions, and flavors were all there to create a magnificent and disturbing story, seen through the eyes of the people of 1916. It was not portrayed as bad guys and good guys. It was perception, a new misconception and a new experience in life for those who wanted to enter the water.