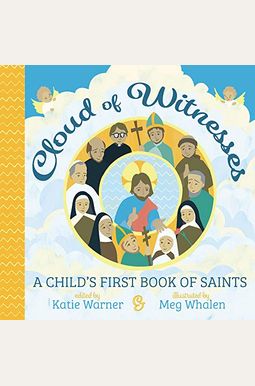 
 
Cloud of Witnesses: A Child's First Book of Saints
Book Overview
Cloud of Witnesses: A Child's First Book of Saints will be your child's favorite introduction to friendship with the saints in heaven--and probably yours, too Filled with simple but profound lessons from well-known saints, each page will give your child a short, memorable quote accompanied by a beautiful illustration of the saint who spoke or wrote it. Get ready to fall in love with the wisdom, colors, images, and holy men and women in these pages

Frequently Asked Questions About Cloud of Witnesses: A Child's First Book of Saints
Books like Cloud of Witnesses: A Child's First Book of Saints
Book Reviews
(9)
Did you read Cloud of Witnesses: A Child's First Book of Saints? Please provide your feedback and rating to help other readers.
Above my child's reading level? Yes. Something I want written on her heart? Absolutely.

Derived From Web

, Apr 17, 2019

The illustrations are simple, yet detailed enough that you can tell who the saint is without reading the name, and they have selected some excellent saints. Each quote was carefully chosen, especially for young souls growing up in a world like ours. I was thrilled to find the prose part of St. Patrick's breastplate, as well as a final translation of St. Teresa of Avila's Nada te turbe. It is not hollow, something I appreciate since so much of my own formal faith formation was intended to be age appropriate and ended up being dumb. I look forward to the moments I get to spend with my daughter teaching her about these godly people and reflecting on their words.
very disappointing

Derived From Web

, Mar 30, 2019

I've been looking forward to an accessible way to acquaint my 3 and 5 year old with the Saints ; this is not it. The idea is pretty sweet and the images are nice, but the content is nothing more than the name of the saints and a quote. Nothing about who is the person, what they did, why they are a saint. Nothing is oriented in language towards children. I'm bummed that my life missed me and I missed the opportunity to return this.
Completely Useless to Me

Derived From Web

, Mar 13, 2019

This is a board book that I missed somehow, so that I can 't return it. It is therefore designed for children who are not old enough to read, yet this is not a book that a toddlwr can read. There isnt enough material to be of interest to him or to be of any use. Honestly, I don 't know who this book is designed for? A 4 year old who can 't yet read or understand the concepts? I bought and now and stuck with two of these books, Cloud of Witnesses and Scripture.
Cute book

Derived From Web

, Jan 20, 2019

I purchased this for a baby and while I like the book, the baby does not. The interior pages are a lot of text. Text isn 't typically a bad thing, but it is not exactly engaging for very small children. I've been using it as a teaching tool for my older children, and seems to get more use out of it, so that although it is not read as intended, it is still a useful book.
Beautiful gift for Baptism, Easter, Christmas, birthday . . .

Derived From Web

, Jan 15, 2019

The Saints are some that my family already has a connection to, so we had such fun identifying them as we read them. The illustrations are lovely-simple, but helpful-and the quotes are thoughtful and the quotes are helpful to reflect on for parent and child alike. I appreciate that the quotes are not in toned-down child language because it opens the way for conversation. Recommendation is highly recommended.
Perfect saint book!

Derived From Web

, Dec 20, 2018

Beautiful kind of minimal illustrations, excellent quotes. I received this as a gift for a year old and wanted to keep it myself! It is his favorite mass book and his parents love it.
Sweet and honest

Derived From Web

, Nov 17, 2018

It fits well in my purse to come to Mass often with one of the Shining Light Dolls that I match with these Saints. Some books in this drama have images so creepy that they are cartoonish, but these illustrations are beautiful and attractive to children.
Delightful little book of saints

Derived From Web

, Nov 8, 2018

I got this just for my 2.75-year-old. It is simple and sweet, and I loved the quotes of the saints and the artist's use of color. It is a first book of the saints, a perfect book.
Beautiful Illustration

Derived From Web

, Oct 30, 2018

This book has beautiful illustrations of some of our most famous friends in heaven. The author added a beautiful saint quote for each. The quotes mean much to me, but I felt that the wording was at a level where children do not grasp the vocabulary used. I had to quote many of the quotes to my first grader. I purchased the book to add to our collection for the feast of All Saints.